Viscount Bottom Bracket Spindle
See other failures under 000.html.
---
Spindle failure and repair
All text and pictures from http://bikecult.com/works/parts/bbViscount.html as of 2004/01.
The crank axle broke between the square taper and a groove for a snap ring.
The original bottom bracket had press-fit cartridge bearings and a square-taper spindle with grooves for c-clip fittings.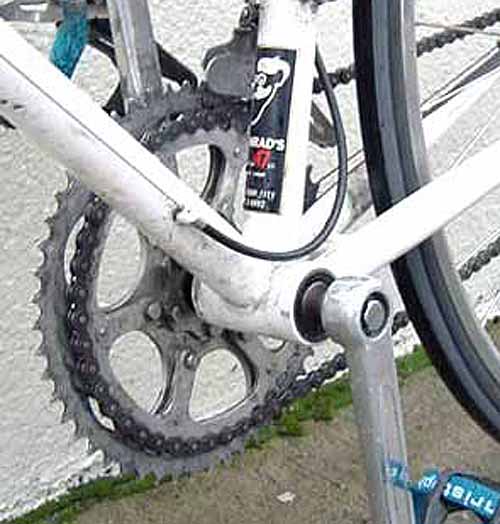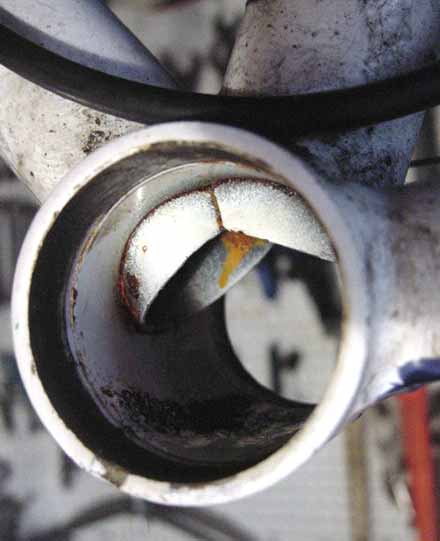 The original spindle measures 123mm long. The square-tapered ends, measure 12.7mm wide at tip, 13.6mm wide at shoulder, and 15.5mm long from tip to shoulder. The bearings are 6003, measuring 35mm OD x 17mm ID x 10mm Thick.

The c-clip grooves may have contributed to spindle failure.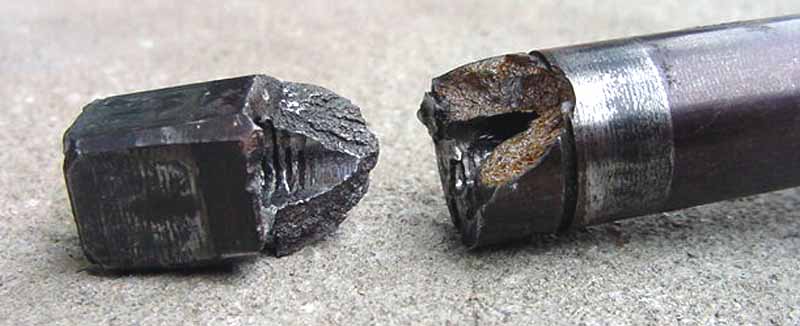 We missed this NOS Viscount-Lambert BB set with tapered-end stainless steel spindle, from Hilary Stone.

Perhaps it is better to replace it with Phil Wood. 6003 sealed cartridge bearings and 123mm stainless steel axle.
The shimano-type taper appears to works fine.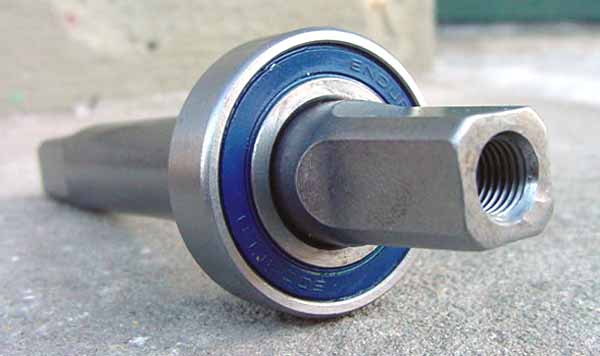 Other comments
A note at http://www.cyclingforums.com/showthread/t-81929.html as of 2004/01 by Tim McNamara says
My old Viscount had the exact same thing happen in 1984, at which time it was only 8 years old. That BB spindle was a poor design thanks to those grooves. The PW spindle ought to outlast the current owner...
In a separate post he says
The BB spindle was also infamous for breaking, thanks to the circlip grooves located right at a high stress point- this can be quite dangerous as it is usually the left side that breaks and can throw the rider into the path of cars and trucks (in countries that drive on the right).
He also notes about the Viscount
Another well-known failure point was the seat tube right above the fillet joint at the BB shell.
Another post on the same page reports that the bearings are press-fit (``interference fit'') in to the shell and the spindle press-fit in to the bearing races. A tight fit makes assembly and service more difficult but eliminates the need for the c-clip feature. The post goes on to note that many automobile half-shafts are held in place with a press fit, no clips or glue.
---
See also FAIL-067.