Campagnolo Super Record Left Crank Failure
See other failures under 000.html.
---
Campagnolo Super Record, broken at pedal eye. Note it is a newer model without a vanity groove on the face.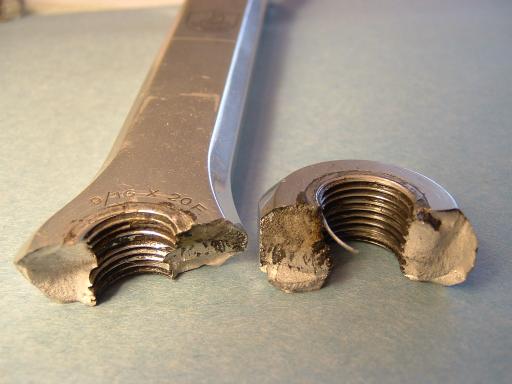 The crank was used an estimated four years and 35,000km by a rider weighing about 70kgf. The crank was inspected periodically. It was last inspected several hundred km, several weeks, and substantial climbing before the final failure.
A notable portion of the broken face near the embossed ``20F'' is dark-colored. The darkened area typically indicates an area that has been cracked for a while, likely before the last inspection. The light-colored region typically indicates the final failure area. There is also a dark-colored region on the face nearer ``9/16'', indicating some cracking there also before the final failure.
Note the pedal spindle contact area is slightly recessed. When new, the same area was flat. The recess was likely worn by repeated small pedal axle motions gradually eroding the face. The wear debris may have contributed to the initial crack formation.

---
See also FAIL-014.