Crank failure, seatpost failure
See other failures under 000.html.
---
Crank broke on first downstroke after standing up crossing a bike bridge. Rider's foot hit pavement but kept control while "sitting" on the top tube and holding the handlebars. Minor injury from saddle nose.
Rider continued riding one-legged. Soon, the rider leaned back on seat to clip remaining foot in, whereupon a bolt on the seatpost broke, releasing the saddle and dumping the rider.
Component notes:
Parts age unknown. Derailleur on same bike marked Patent 1973.
First owner big/strong rider who raced for University of Michigan.
Second owner purchased in 1980. Fit rider, typical weight 77kgf (170#) to 82kgf (180#)
Used for commuting and occasional touring and racing until 2000
Used rarely 2001-2005.
Used for light commuting (70 mi/week) 16 months 2004-2006 until crank and seatpost/seat bolt broke.
Crank: Campagnolo, Marked "Strada 172.5" and pedal eye marked "9/16 X 20 F."
Seatpost: Zeus. Standard 1970's two-bolt design with bolt heads above saddle rails reaching down to threaded barrels inside the seatpost. Marked "27".
Failure notes:
Left crank shows classic "beach" lines indicating failure started in the root of the outside "vanity groove" and progressing until the crank was cracked nearly half-way across. Thus weakened, the crank presumably failed due to overload in the remaining section.
Root of "vanity groove" shows machining marks rather than a smooth polish. Marks may have acted as stress risers and contributed to failure. Note the part of the "vanity groove" nearest the pedal may have highest stress for loads applied near the bottom of the pedal stroke.
Following failure, the right crank was examined. It shows significant cracking of both leading and trailing "webs" supporting the chainring spider. It appears relatively common that when one arm fails the other is near failure.
Forward seatpost bolt failed. Bolt shows smooth/oxidized evidence of prior cracking: some on the leading edge and more on the trailing edge, overall reading area by about 50%.
These failures are interesting in part because of apparent "cascading". Both parts were near failure, but the first failure caused increased load to the second. Although the first part failure did not damage the second part, it nonetheless served as a trigger to increase the load on the second part.
Crank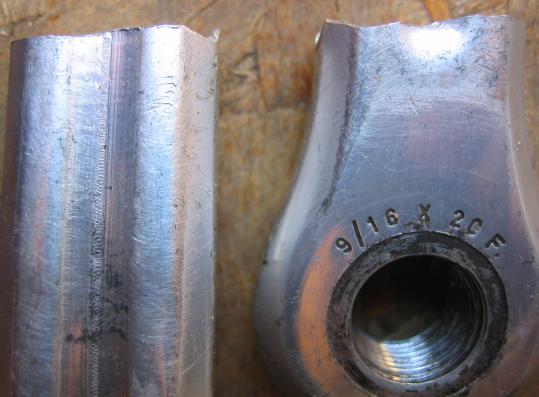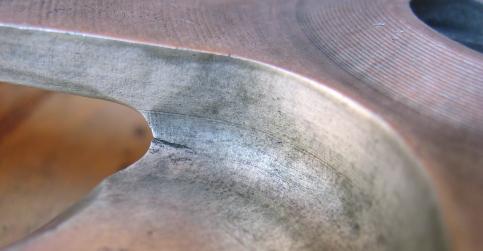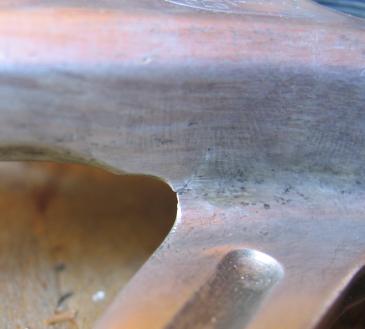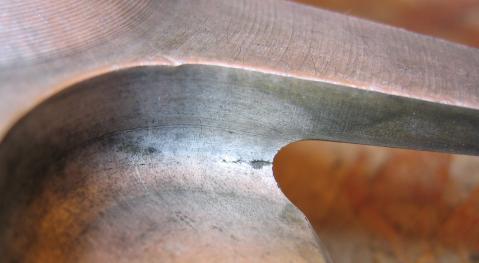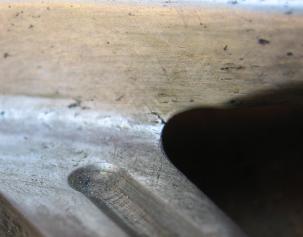 Seatpost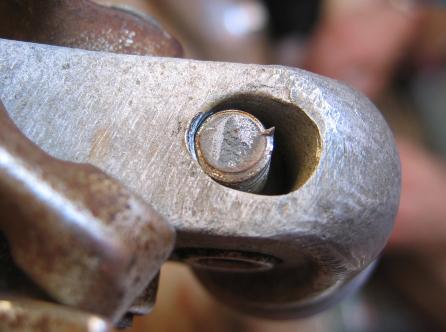 ---
Arm/spider failures occur because the load is transferred along a thin tapering knife-like edge that concentrates the greatest force along the edge. An alternative is to use a flattened transition, as in the following non-failed Sugino crank.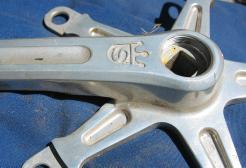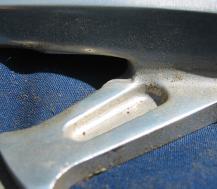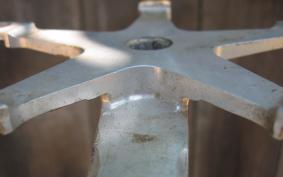 ---
See also FAIL-039.html
(FAIL-038.html for more broken seatposts)