Crank Failure
See other failures under 000.html.
---
Ritchey crank failure from http://groups.google.com/group/rec.bicycles.tech/browse_thread/thread/cba5bfd30305a312/07c0a05e81d181ce?lnk=raot&hl=pt-BR as of 2007/08/02.
<! http://www.whitemountainwheels.com/blog/wp-content/uploads/2007/05/RitcheyPro1-.jpg>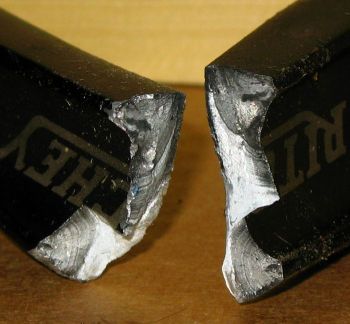 With accompanying text
I inspected them right before leaving for Gila, and didn't see anything unusual... but a mile from the finish on stage 3 the left arm snapped when I stood up. They had ~ 13,000 miles. No racing and hardly any sprinting on them either before Gila.

Yes I crashed. It was right after a sharp turn though, so I was going less than 20mph and wasn't hurt badly... made it in on one leg [...]
Note that the failed crank has a "C" section, similar in structural reduction effect to a groove used in older cranks.
---
See also FAIL-052.html.