From http://www.yellowjersey.com as of 2006/07/16.
Text comments are not from the Yellow Jersey.
---
A Shimano 105 crank which failed at the end of the hollow section.
Also appears at FAIL-029.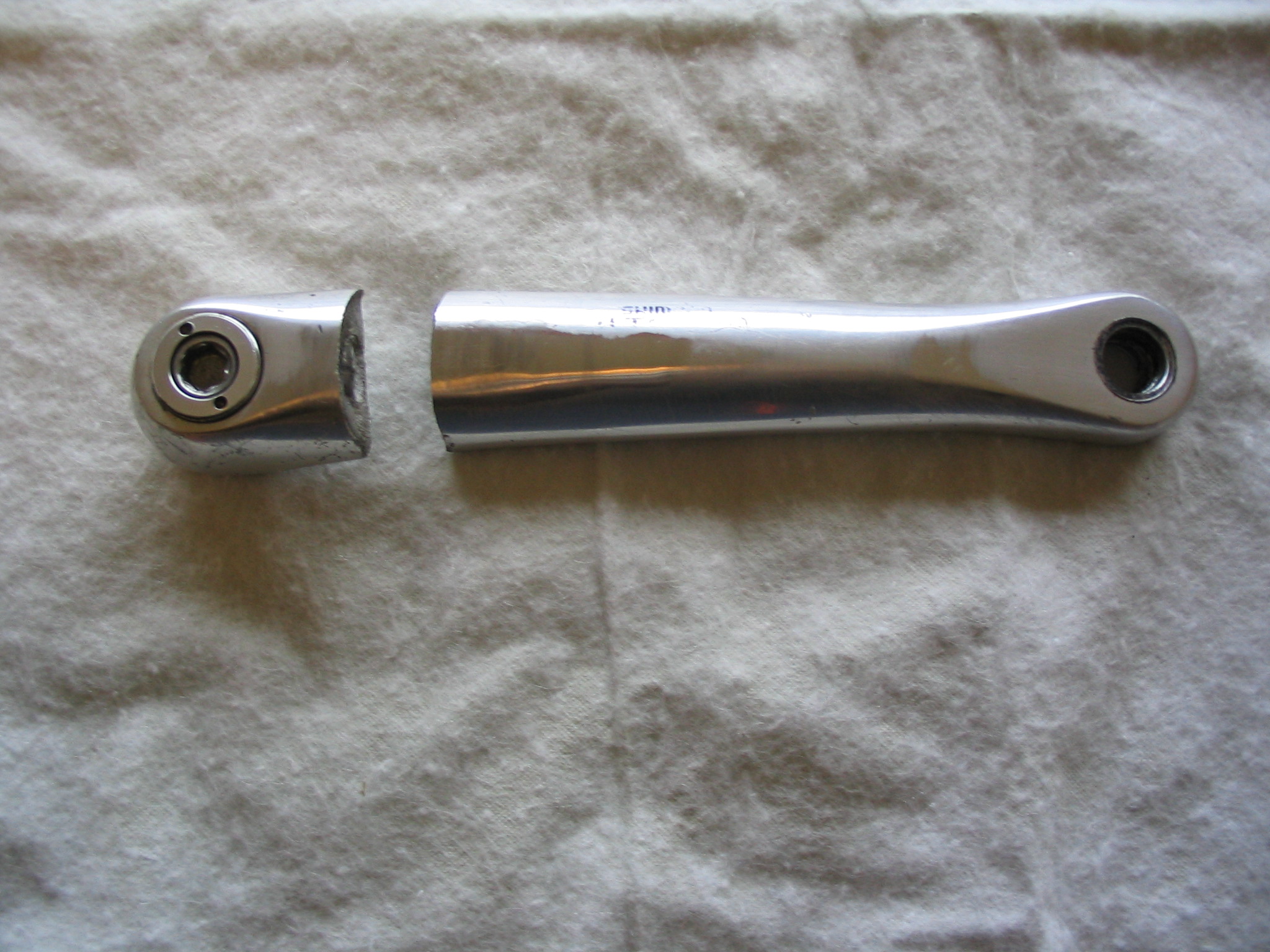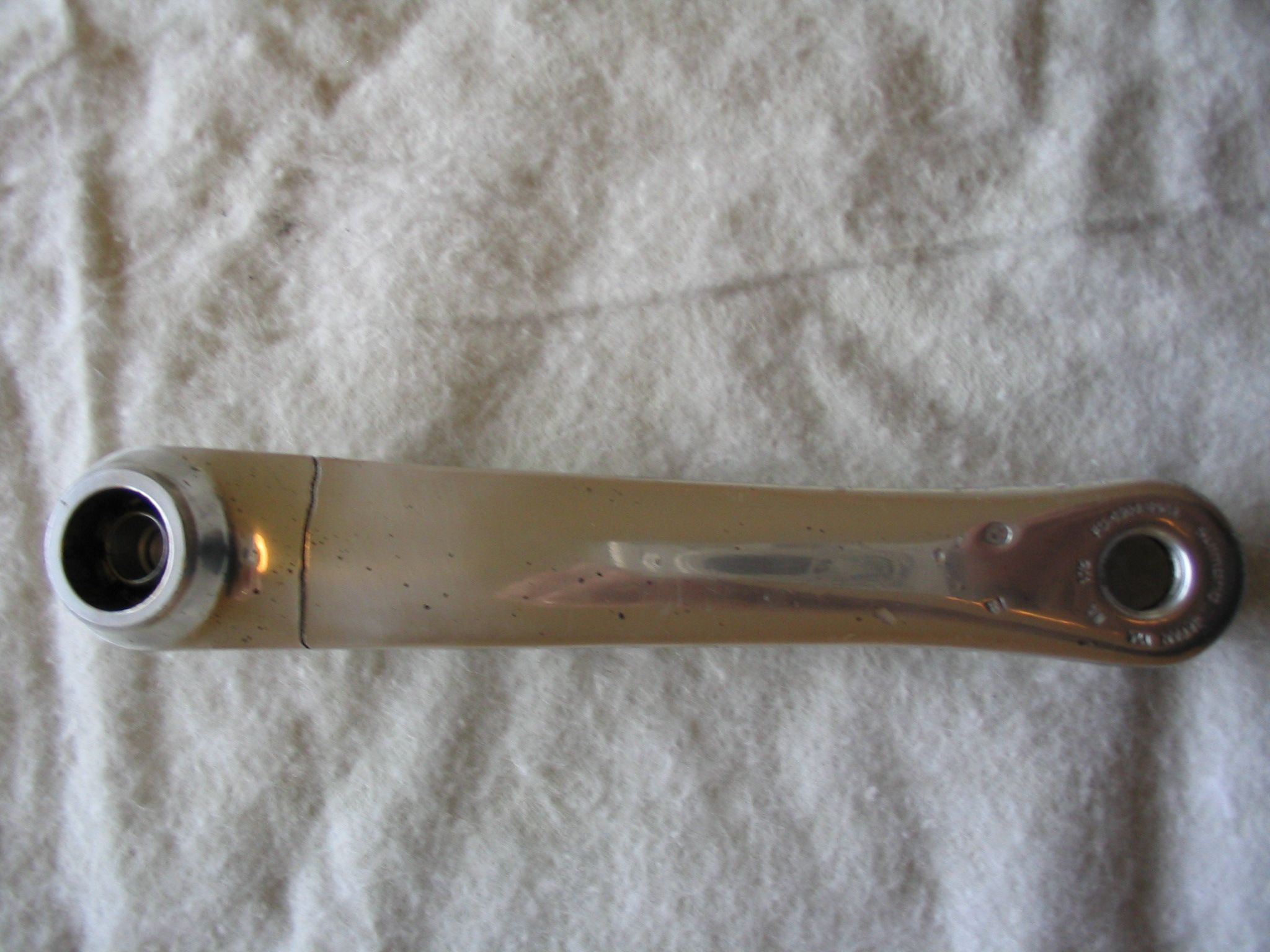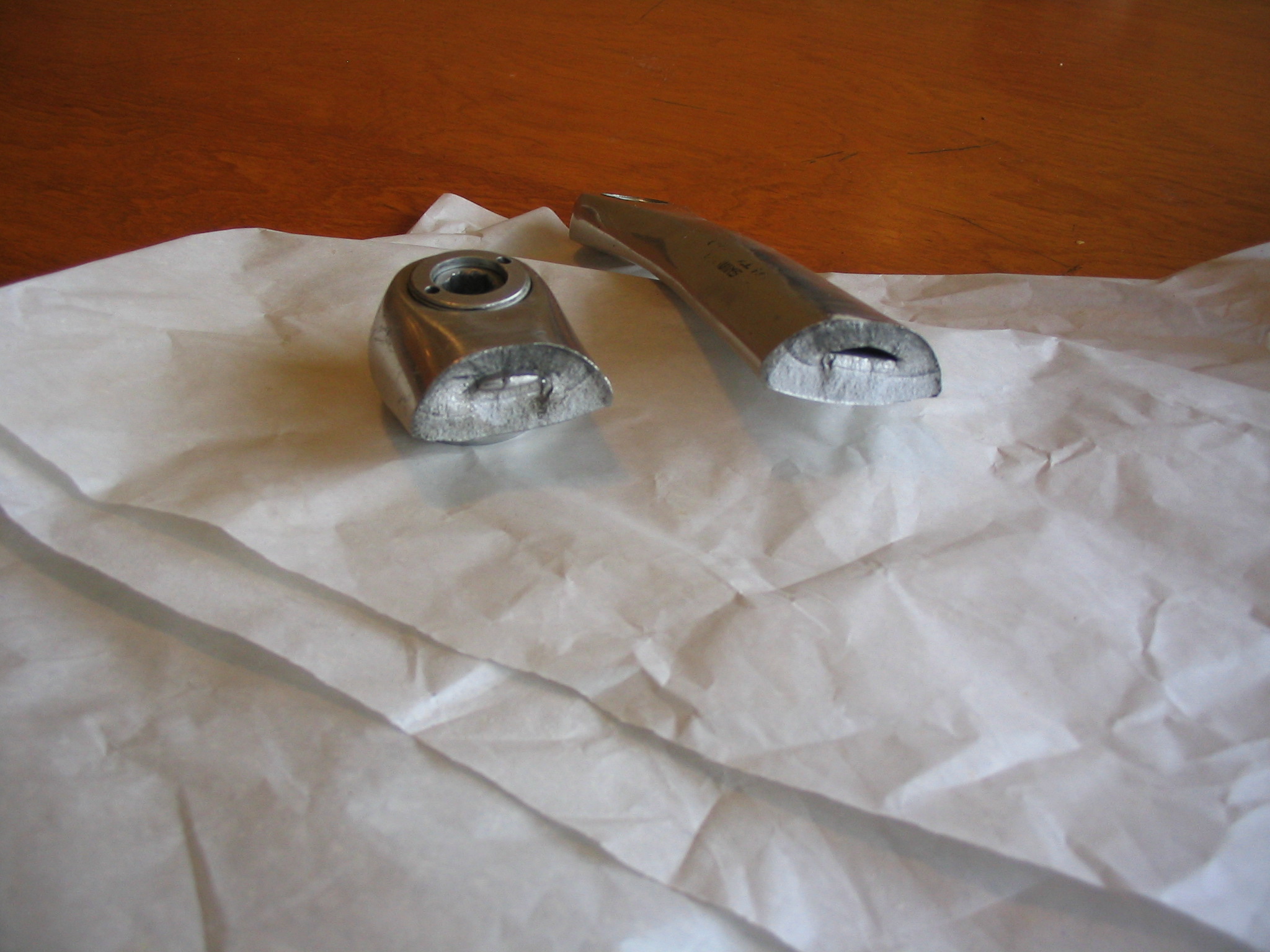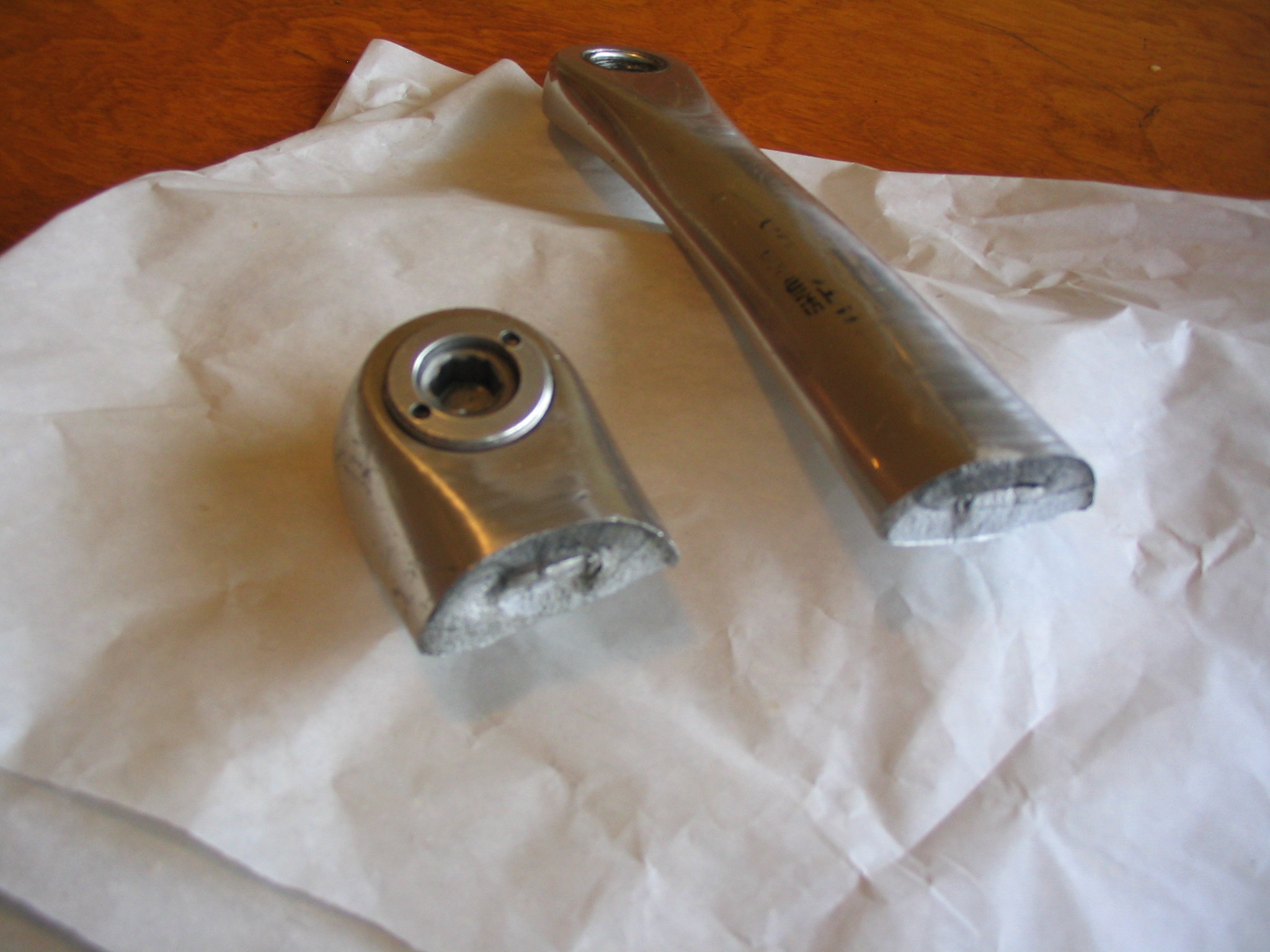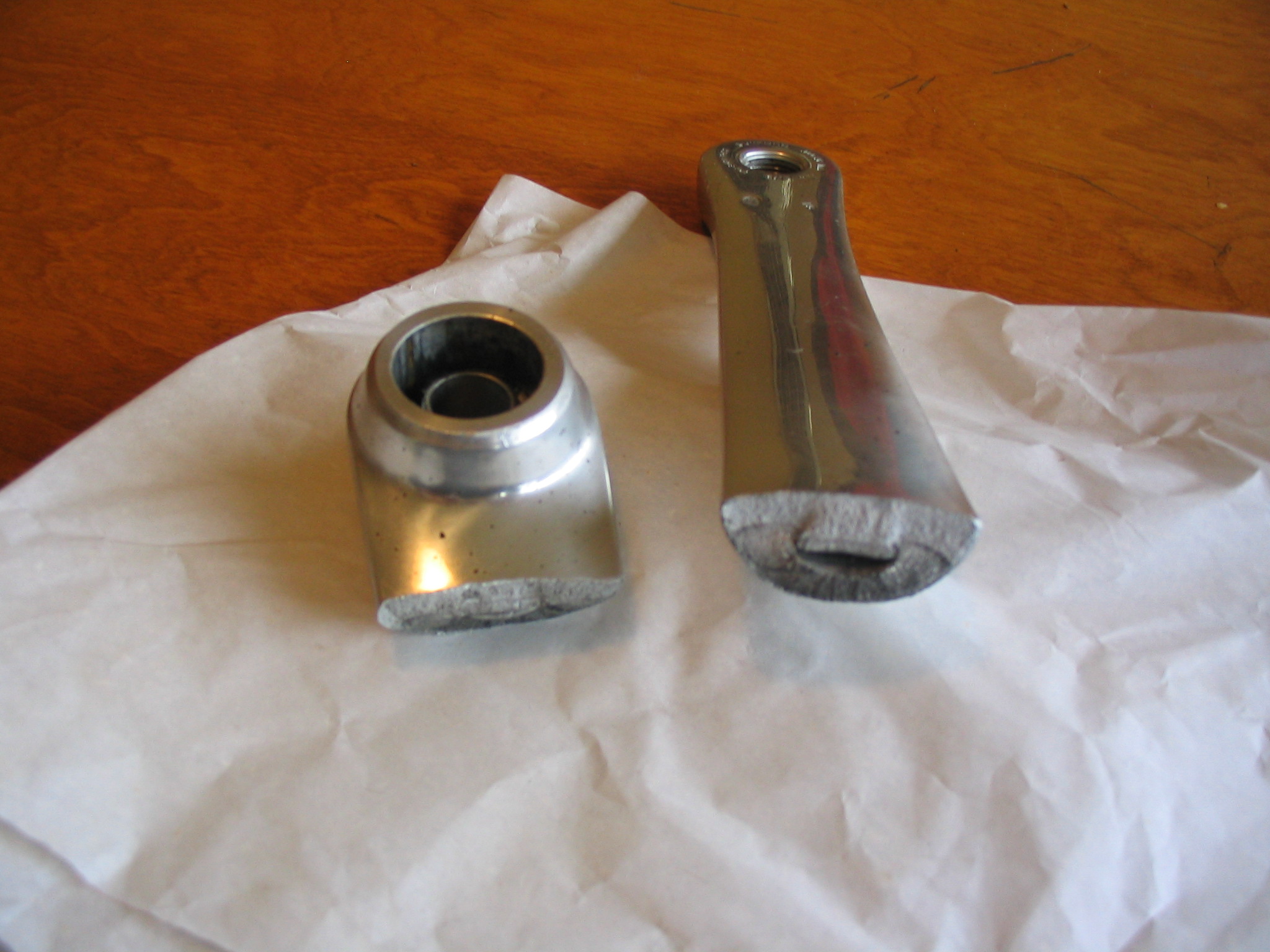 ---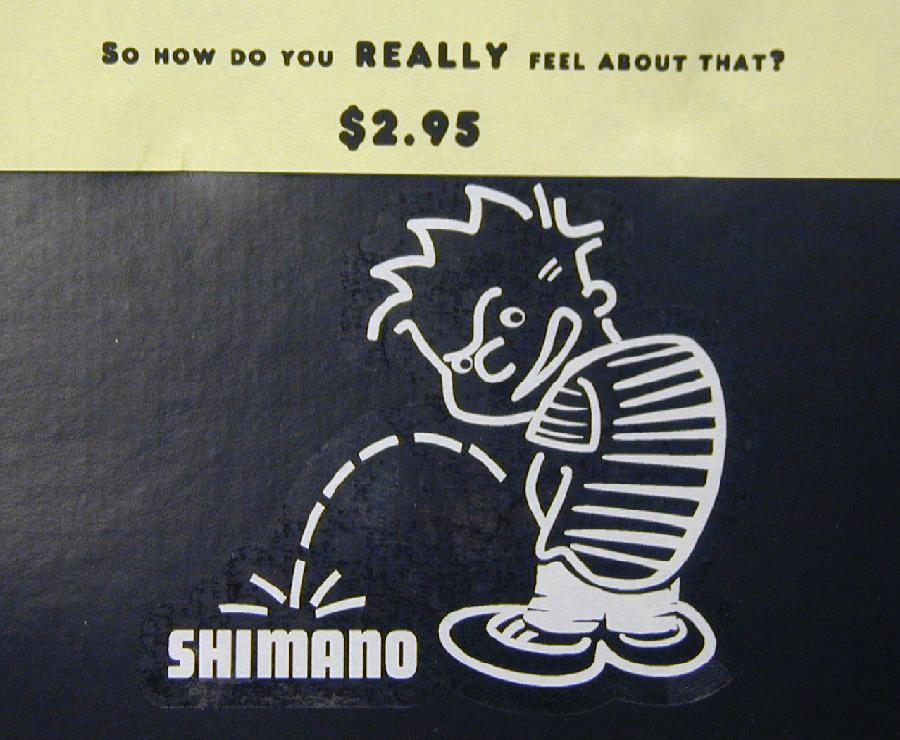 ---
Note tubular tapered stress relief on chainstay but not on seatstay.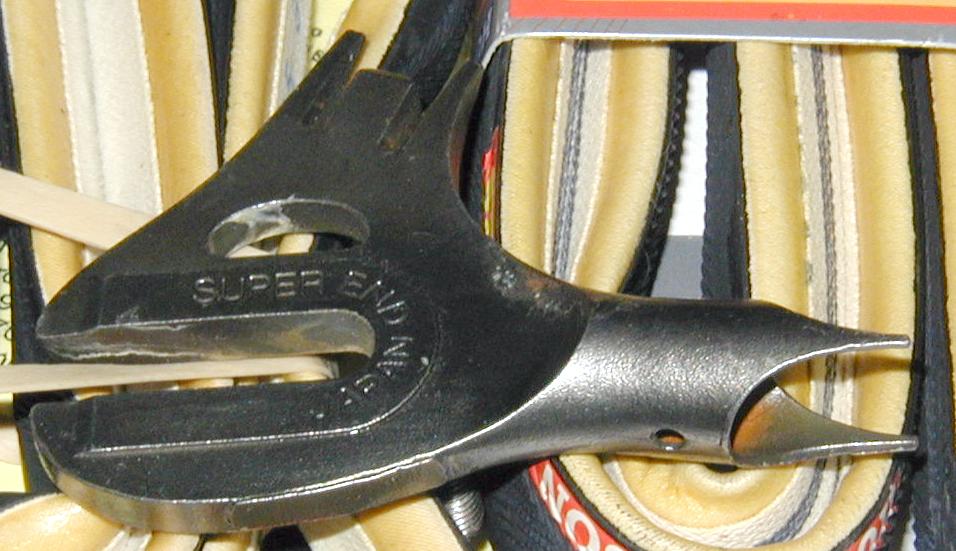 ---
Twice as much rolling drag! Too bad vertical axis units are illegible on reproduction, it would be interesting to estimate what percentage this is of total power.

---
---
Overside bottom bracket cup. Probably for use in damaged BB shell.
Note also spiral in cup bore. This is approximately a labyrinth seal, with the spiral designed to push out junk during forward pedaling.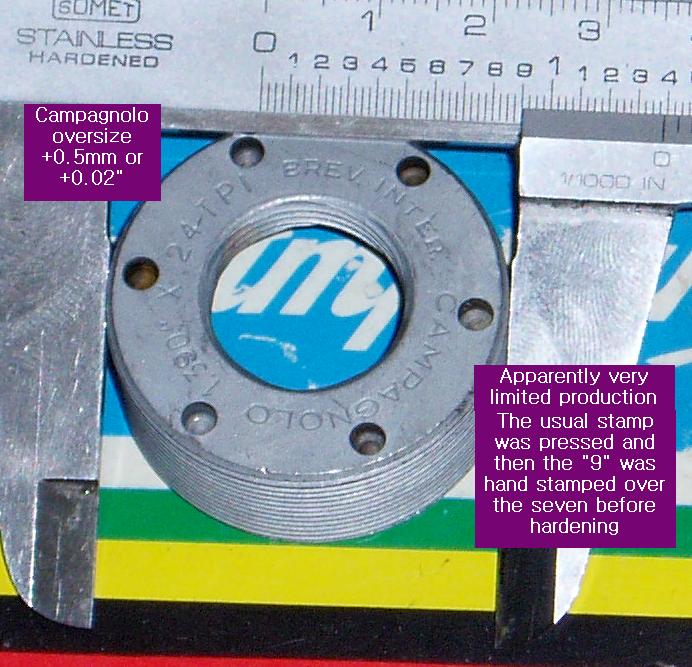 ---
Why, oh why, did Campagnolo make one hole 2mm off? An advantage of symmetry is the ring can be rotated to equialize wear.
---
Even tools fail.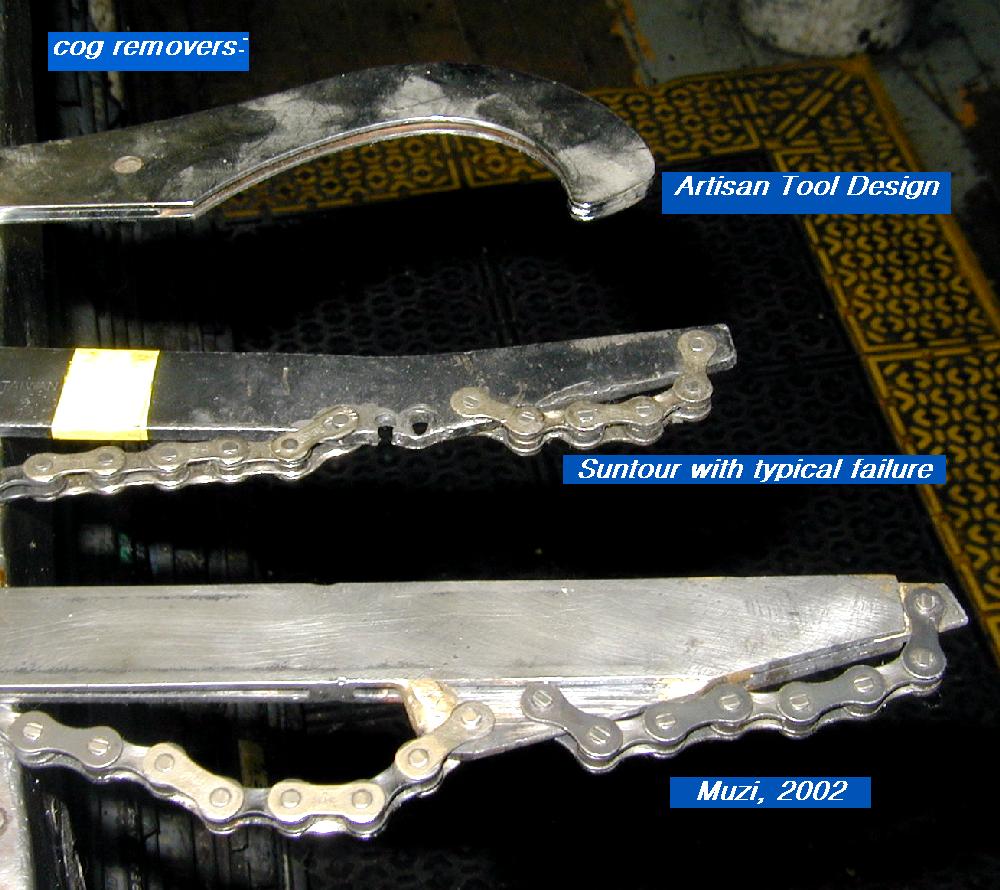 ---

---
Rim wear due to braking. If wear continues indefinitely, the rim bead folds over or separates from the rest of the rim. The tube can deflate suddenly with a bang and loss of control.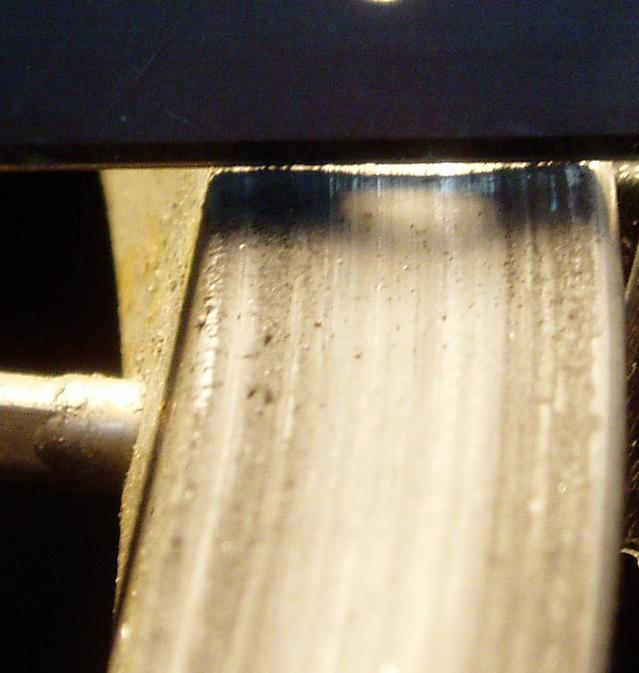 ---
The Sugino AT also established the 74/100 BCD standard.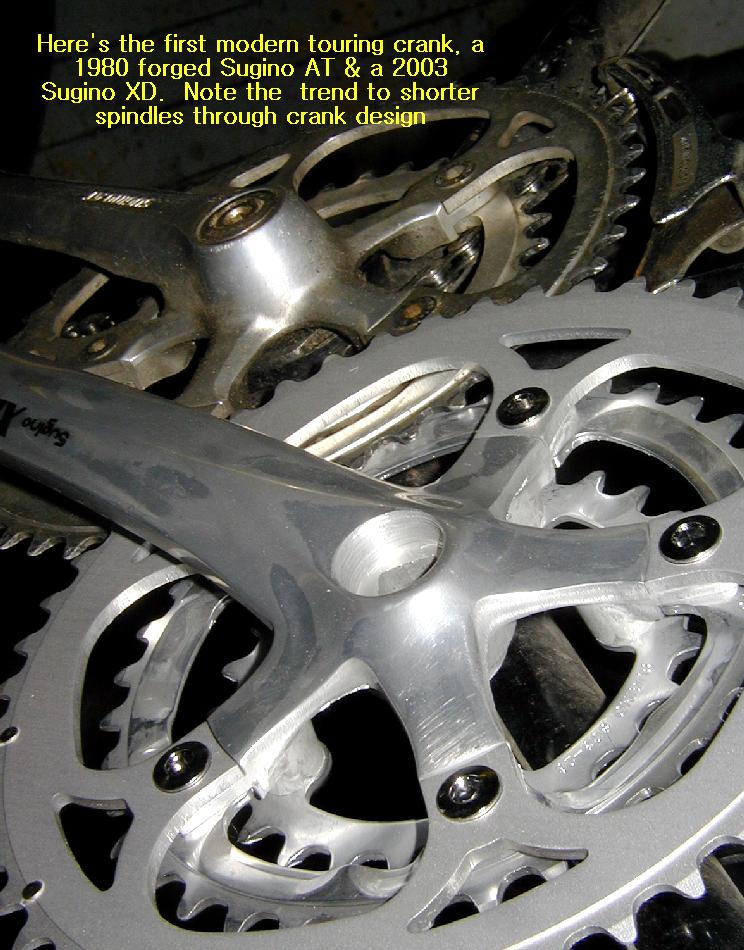 ---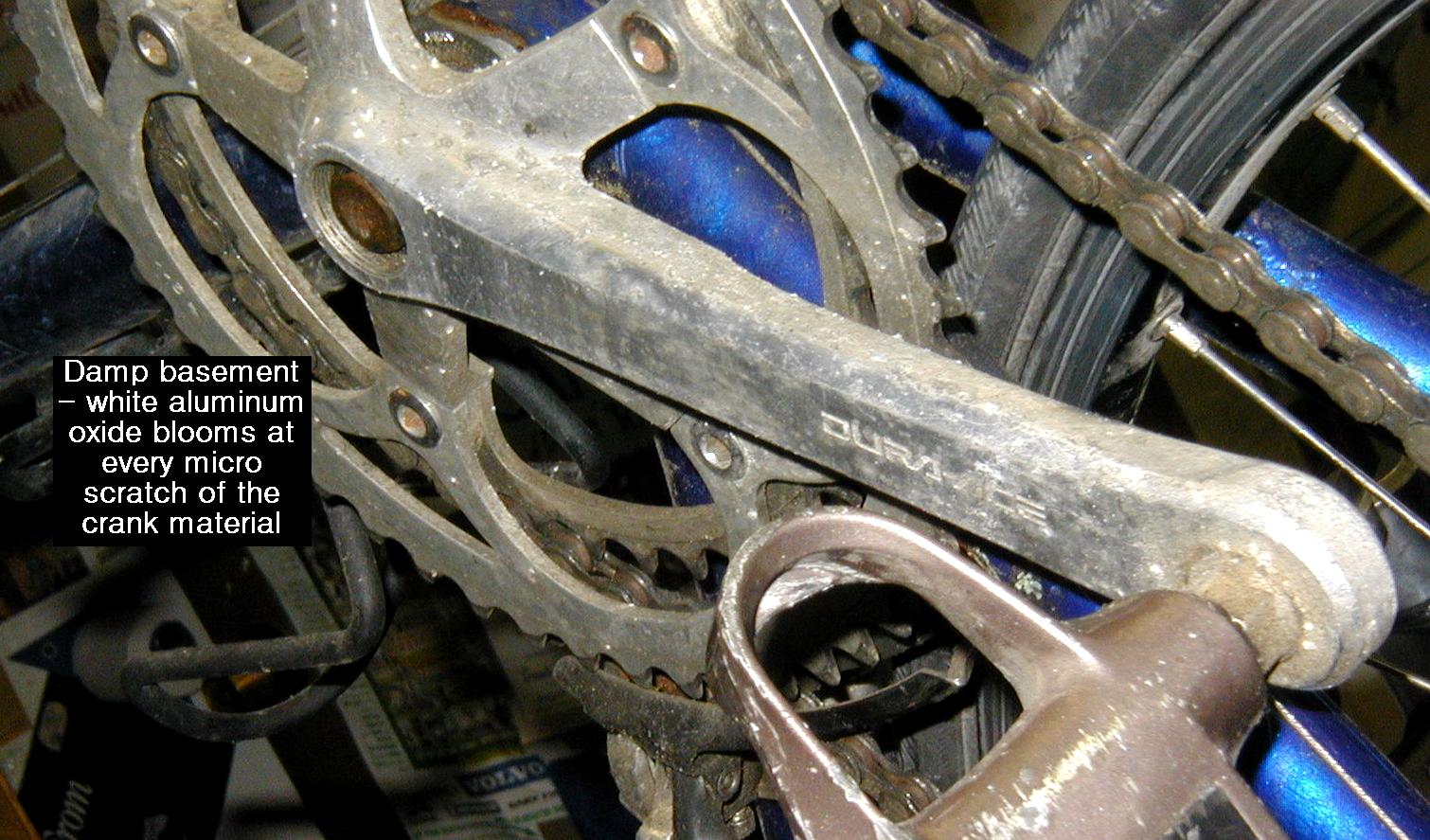 ---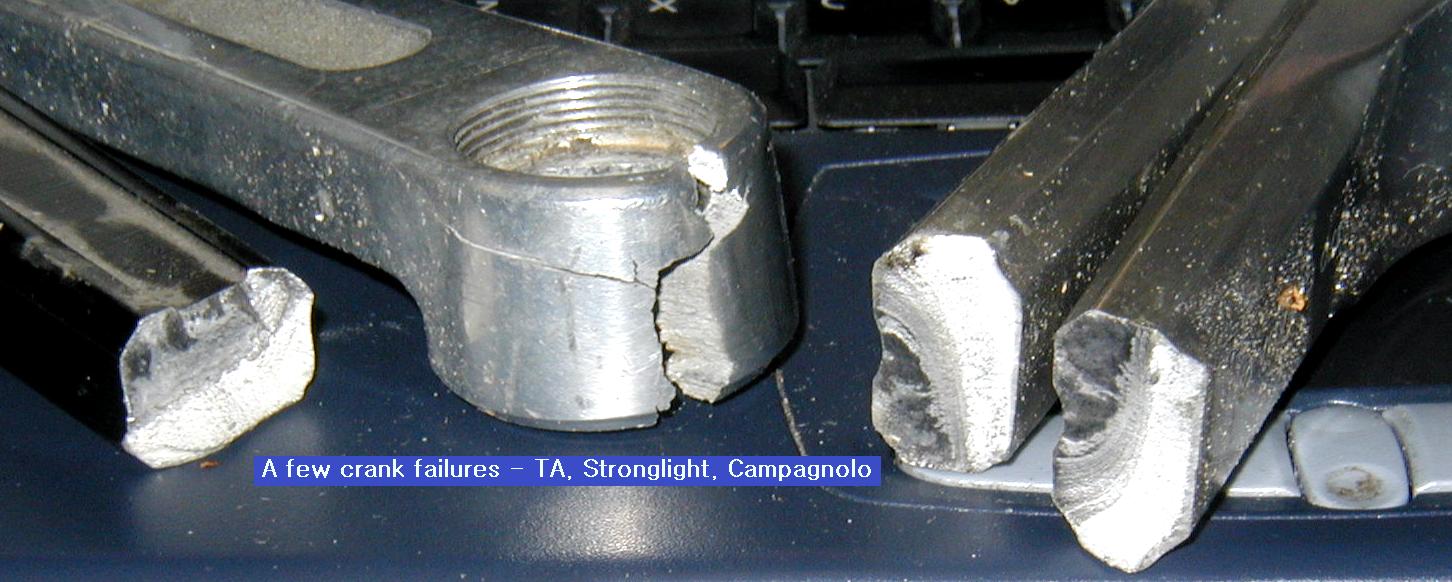 ---
Usually only right rear dropouts fail, and they typically fail from bending the derailleur hangar. If a bike is ridden with a broken axle (and broken axles are relatively common with freewheel hubs) the dropout can break forward or above the axle.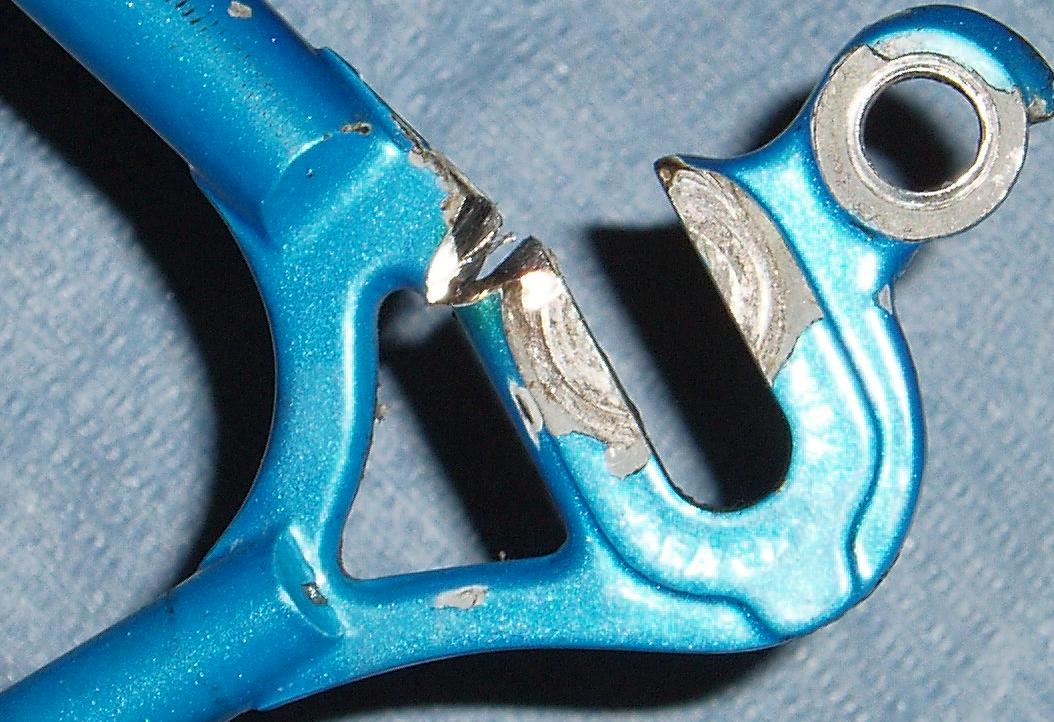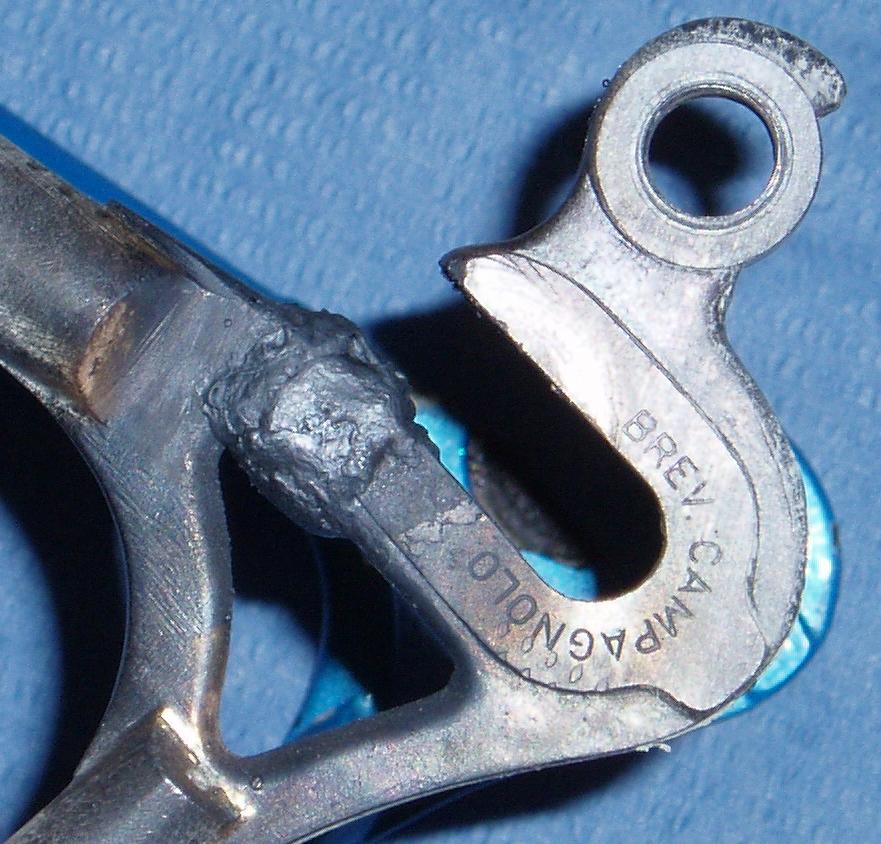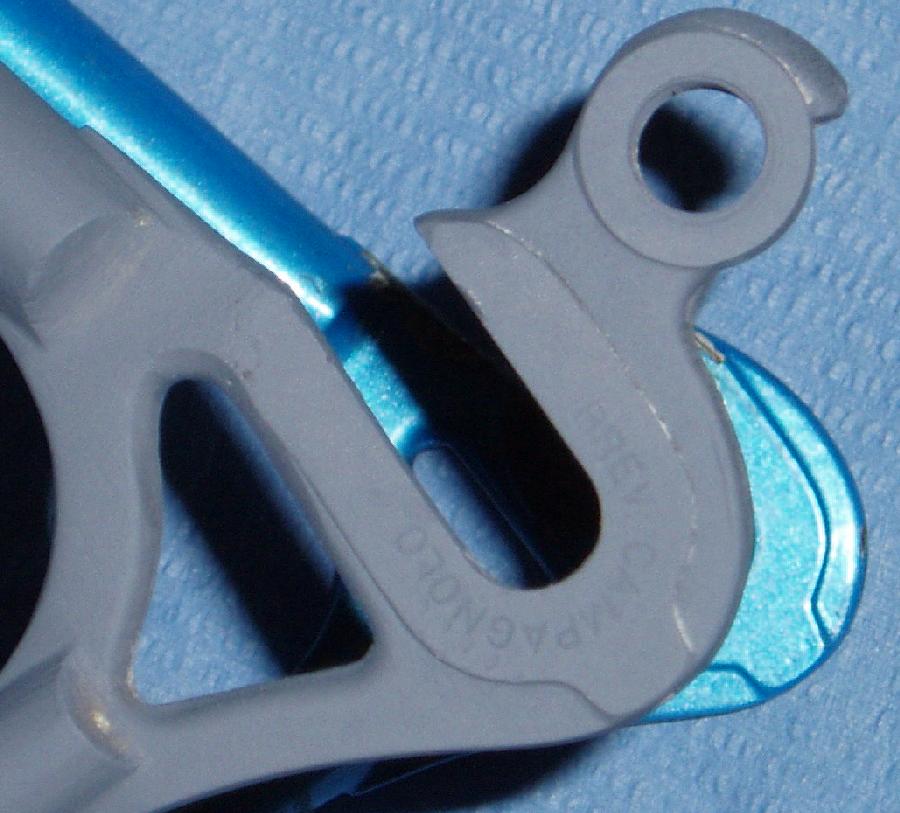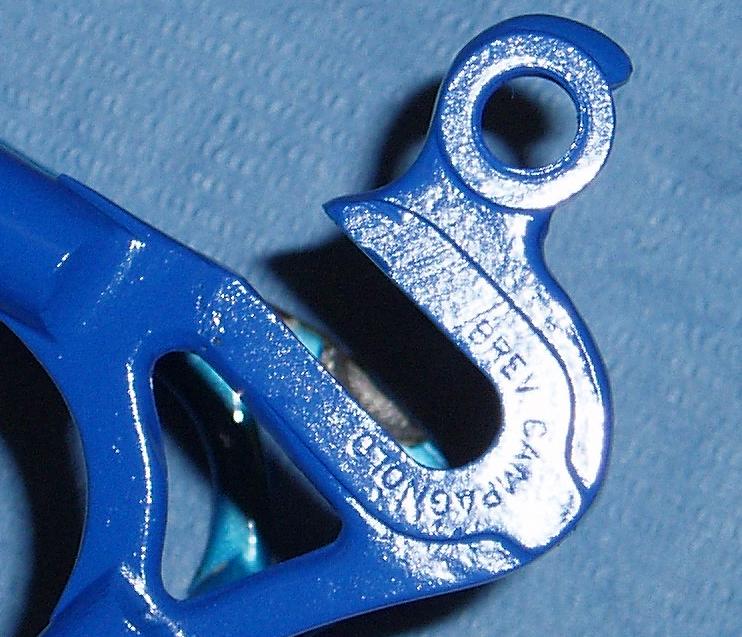 ---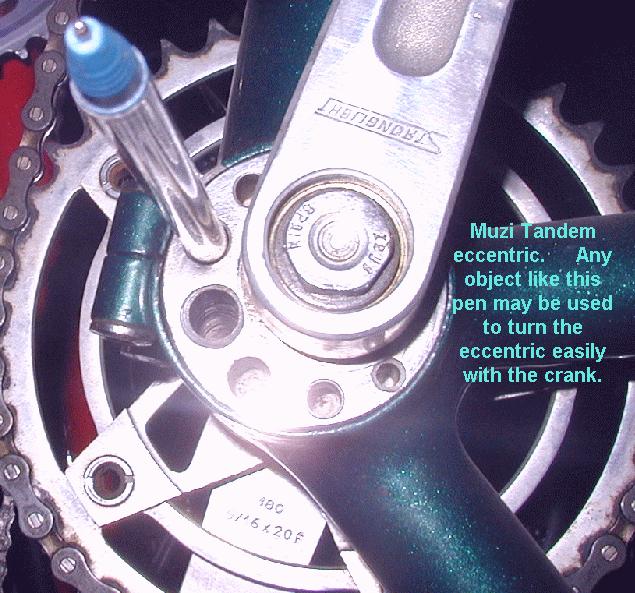 ---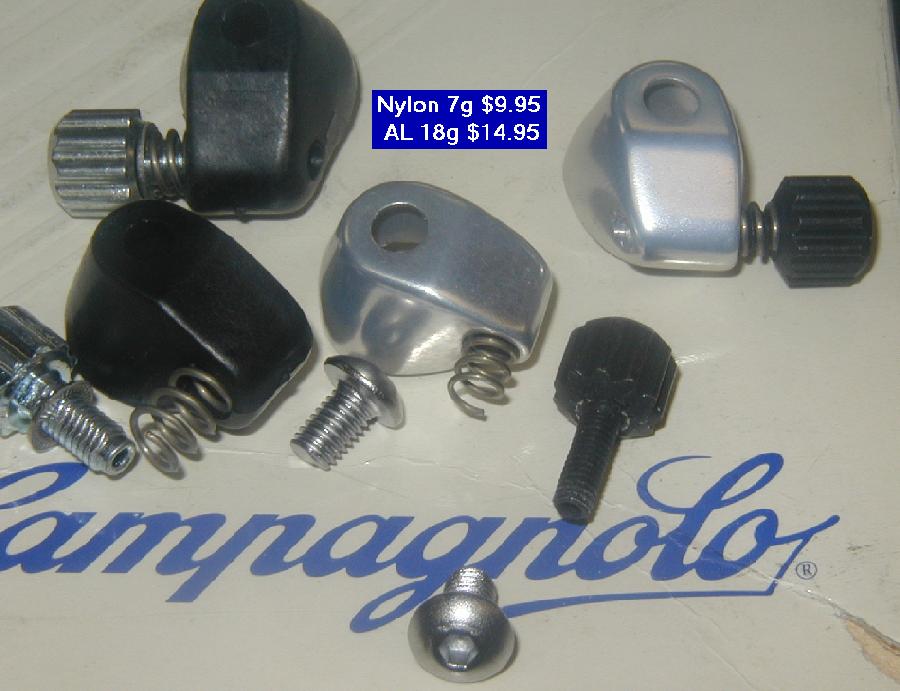 ---
Note that many small balls typically has lower load capacity than a few large balls. This bearing appears to use an offset-fill (Conrad) bearing which is not filled completely with balls. Modern cartridge bottom brackets often use slot-fill full-complement bearings.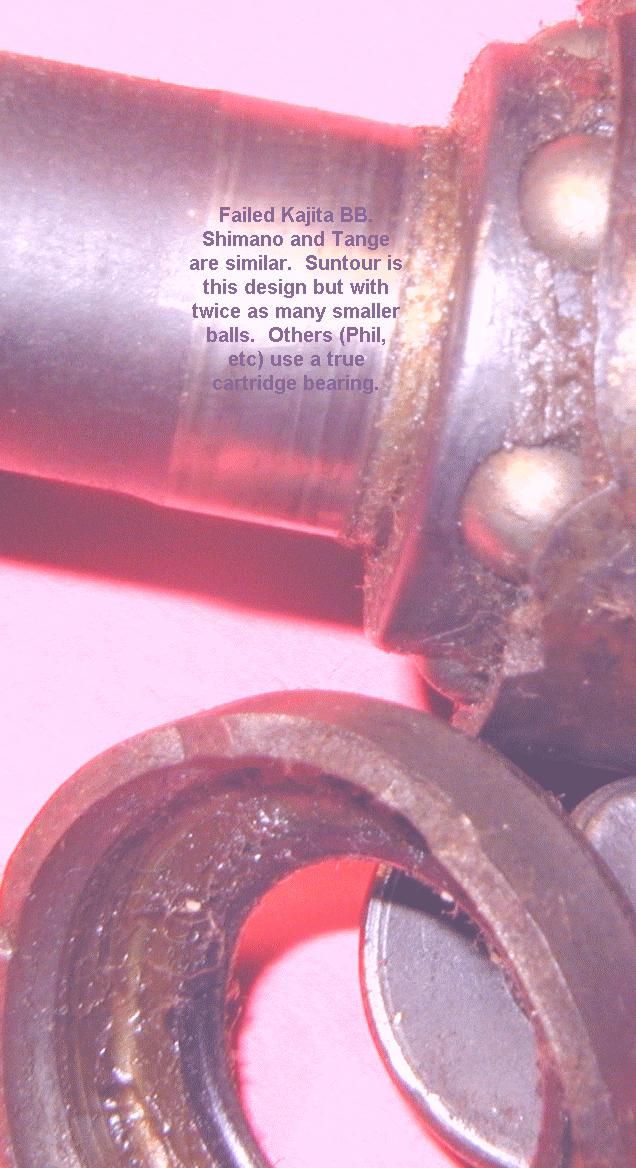 ---
A commonly-cited advantage of cartridge bearings is when bearing surfaces fail, all can be replaced. However, once upon a time various brands of hubs were made with replaceable bearing cups, so all wear surfaces (cups, cones, bearings) could be replaced.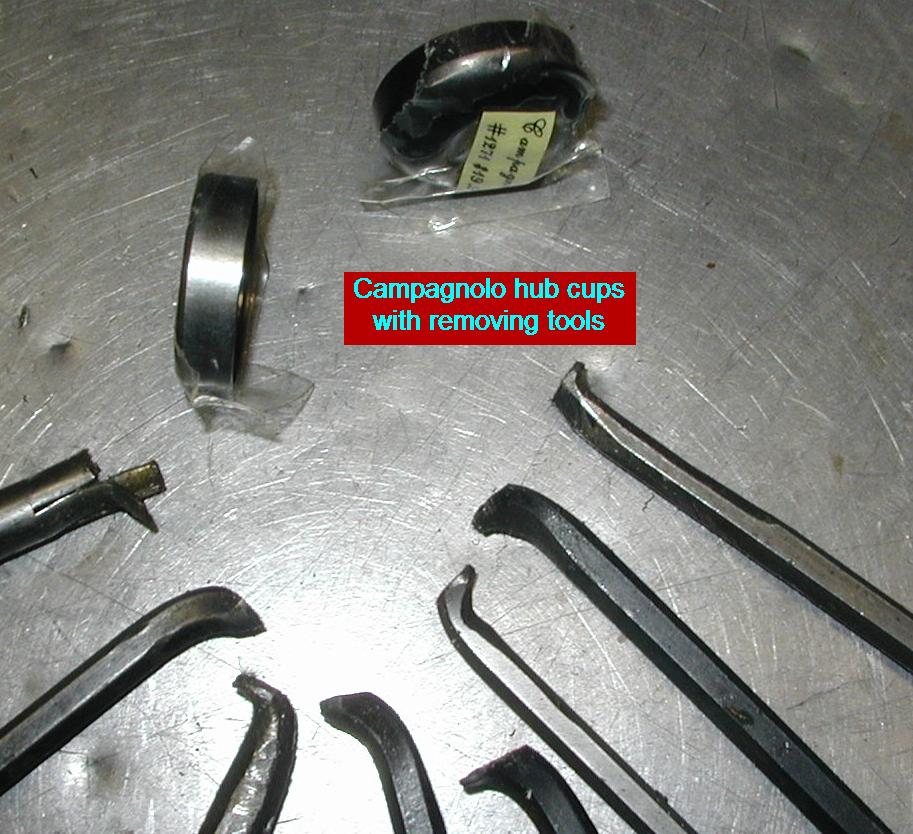 ---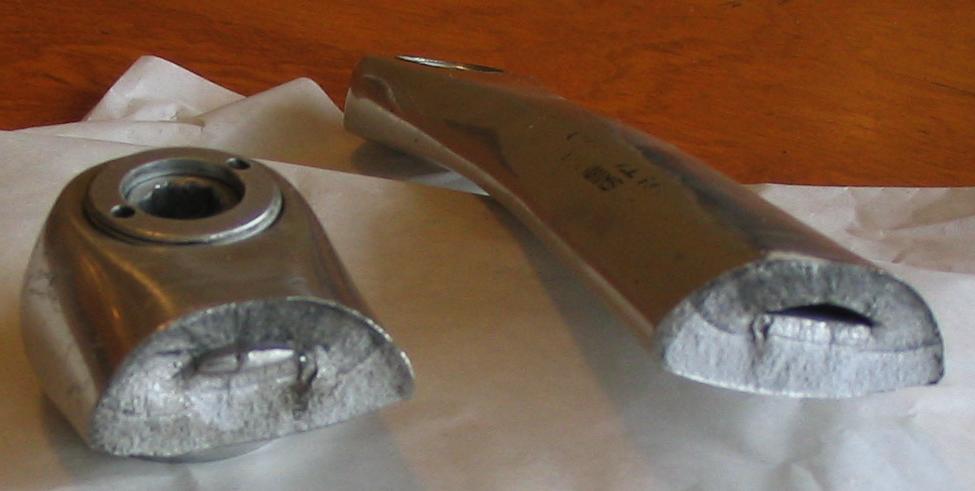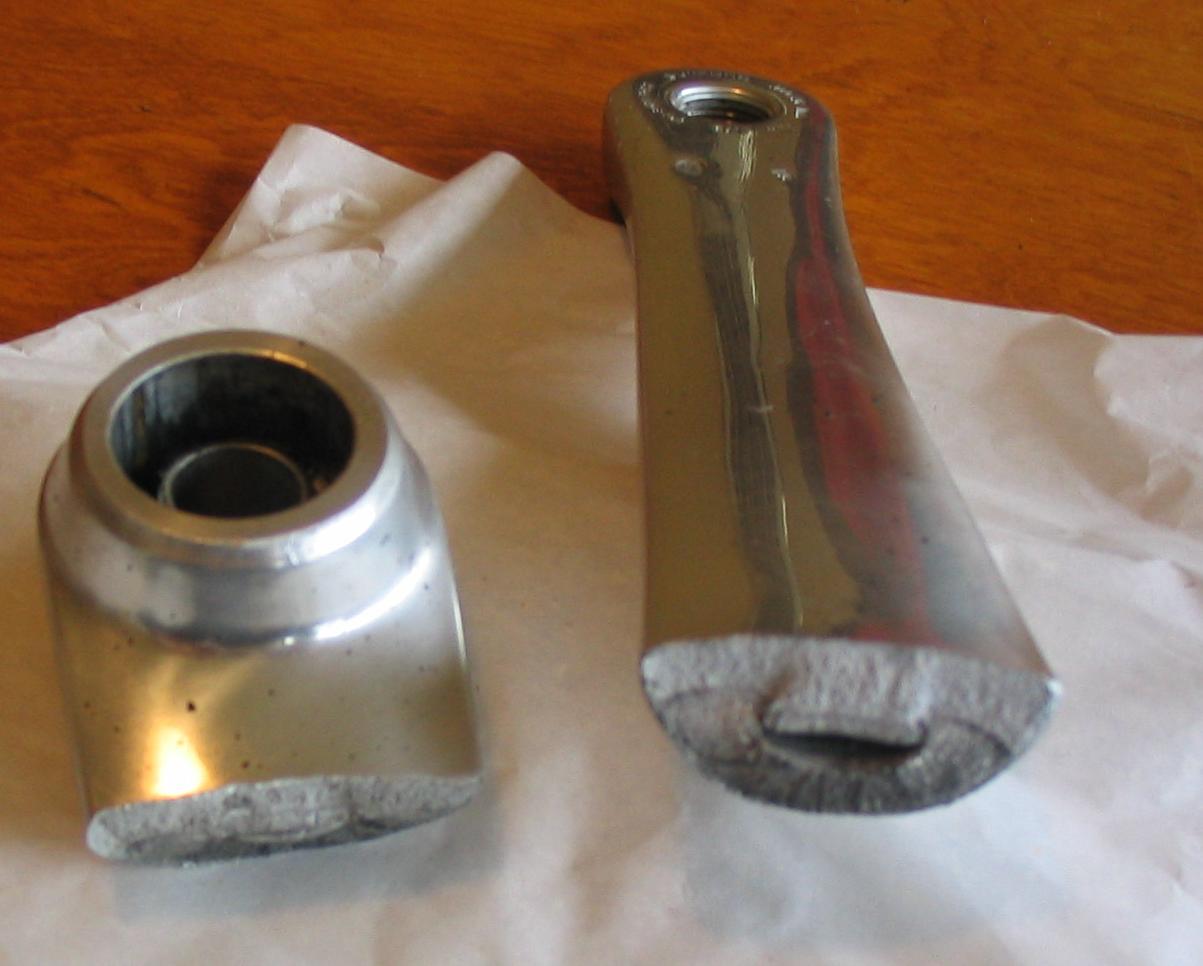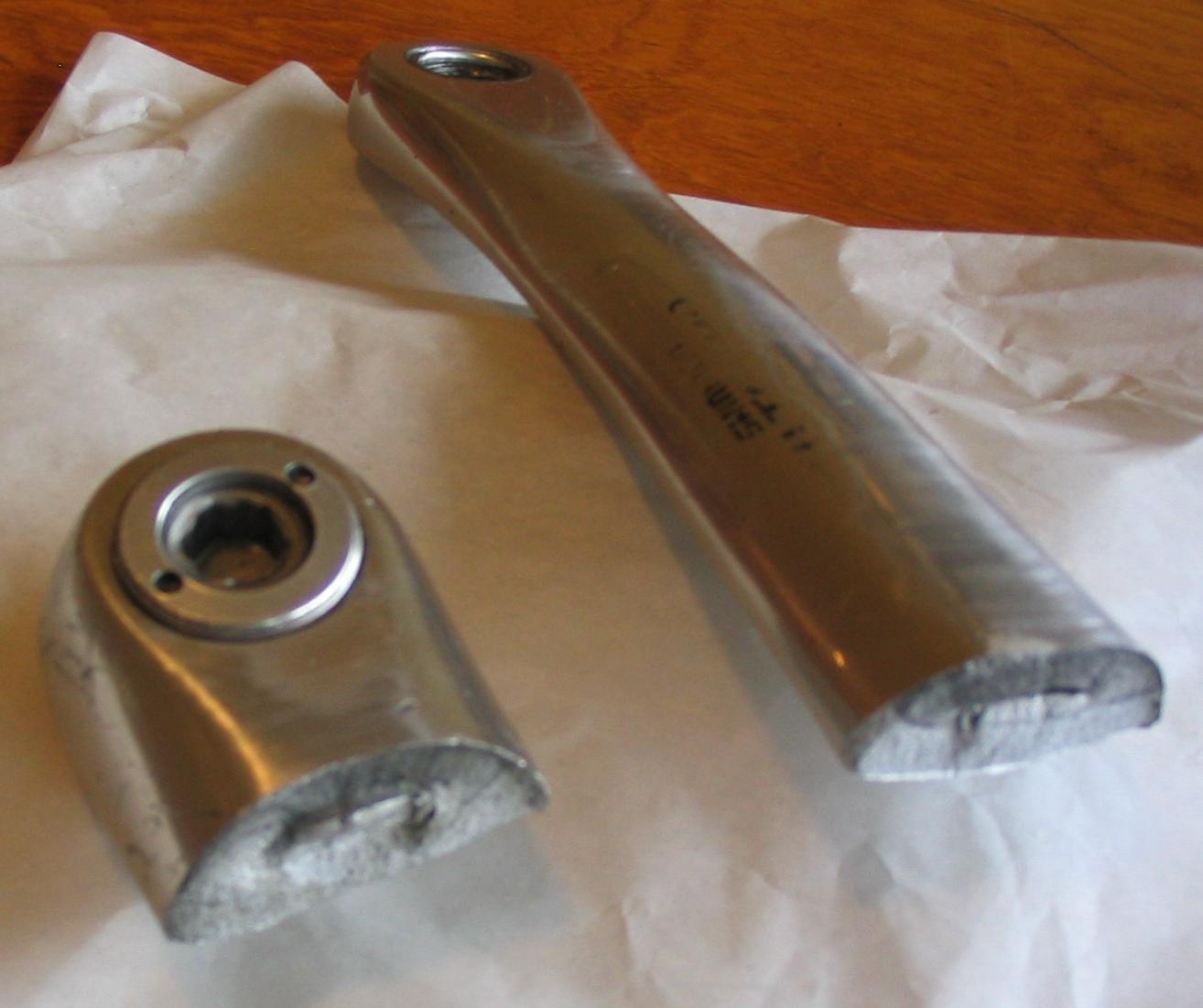 ---

---
Typical failure either from derailleur bending loads or attempt to straighten bent hangar without wheel clamped in dropout.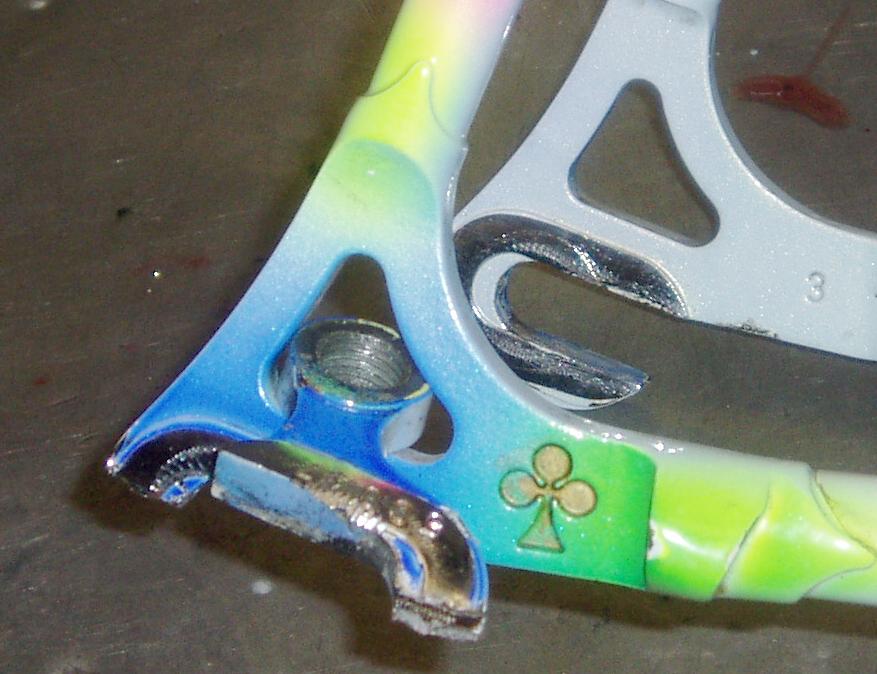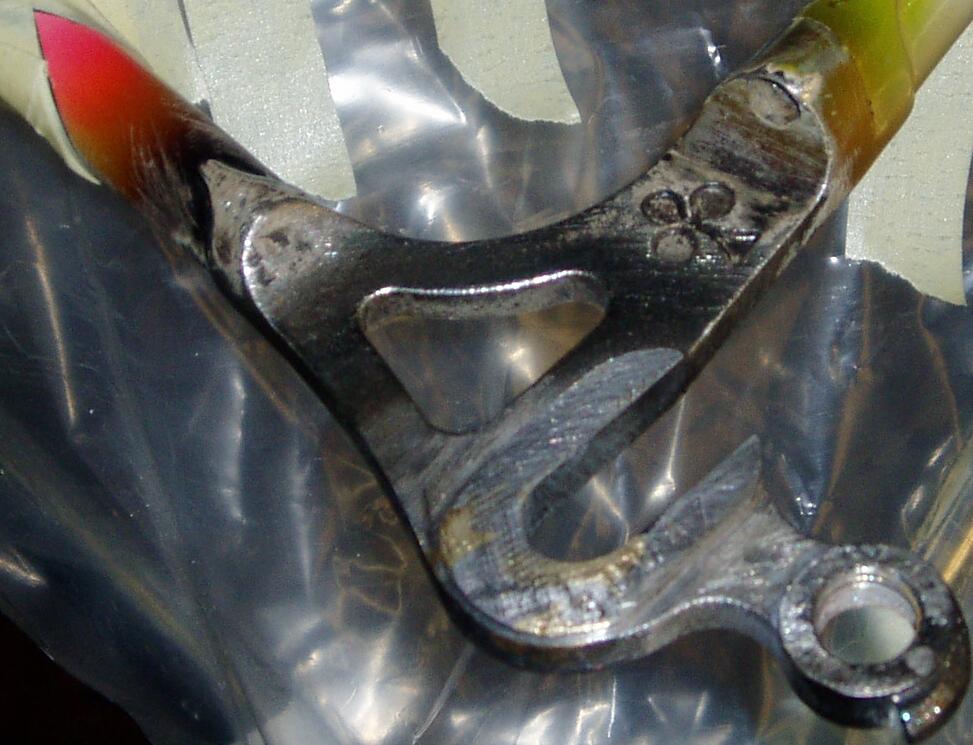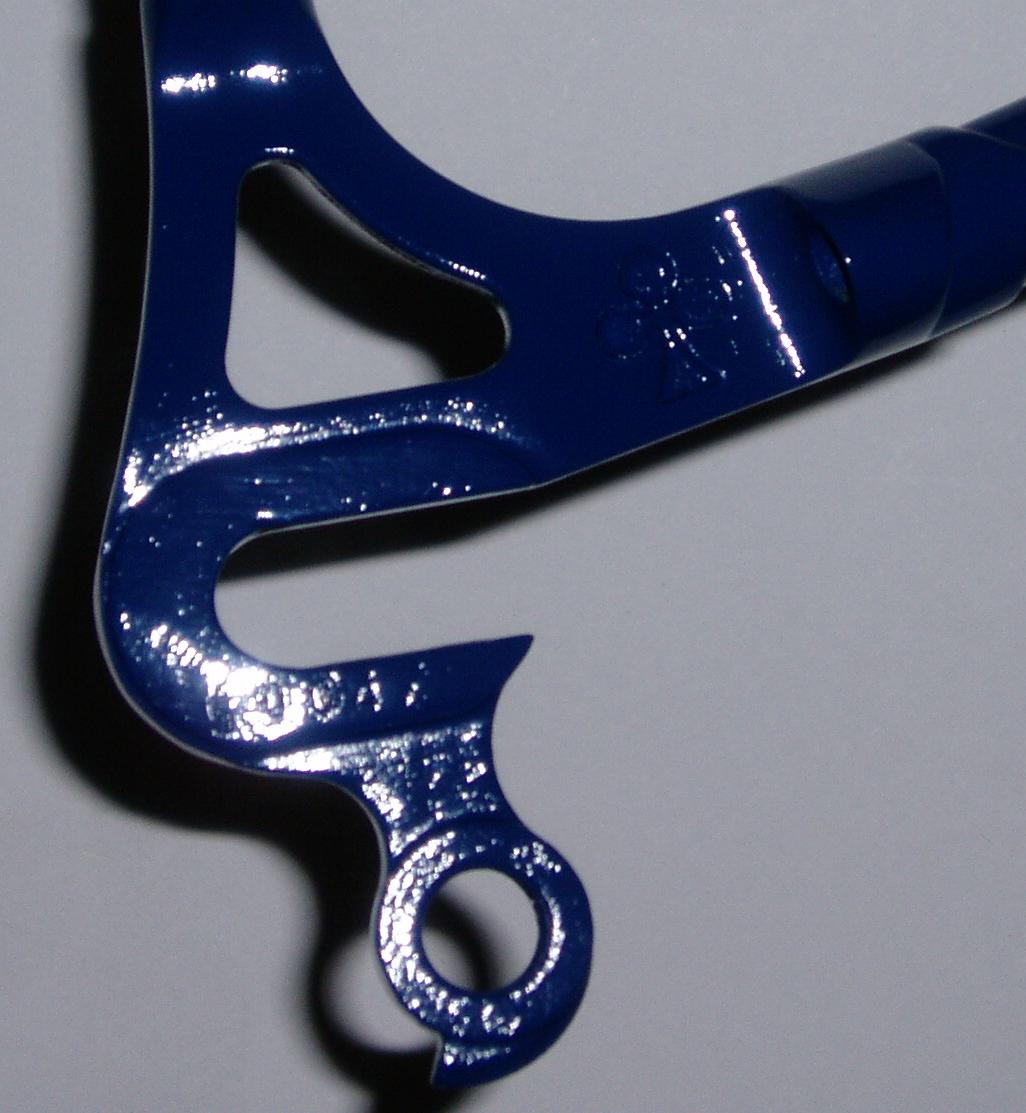 Mavic 571/577 freehubs were known for fracturing on the face ratchet.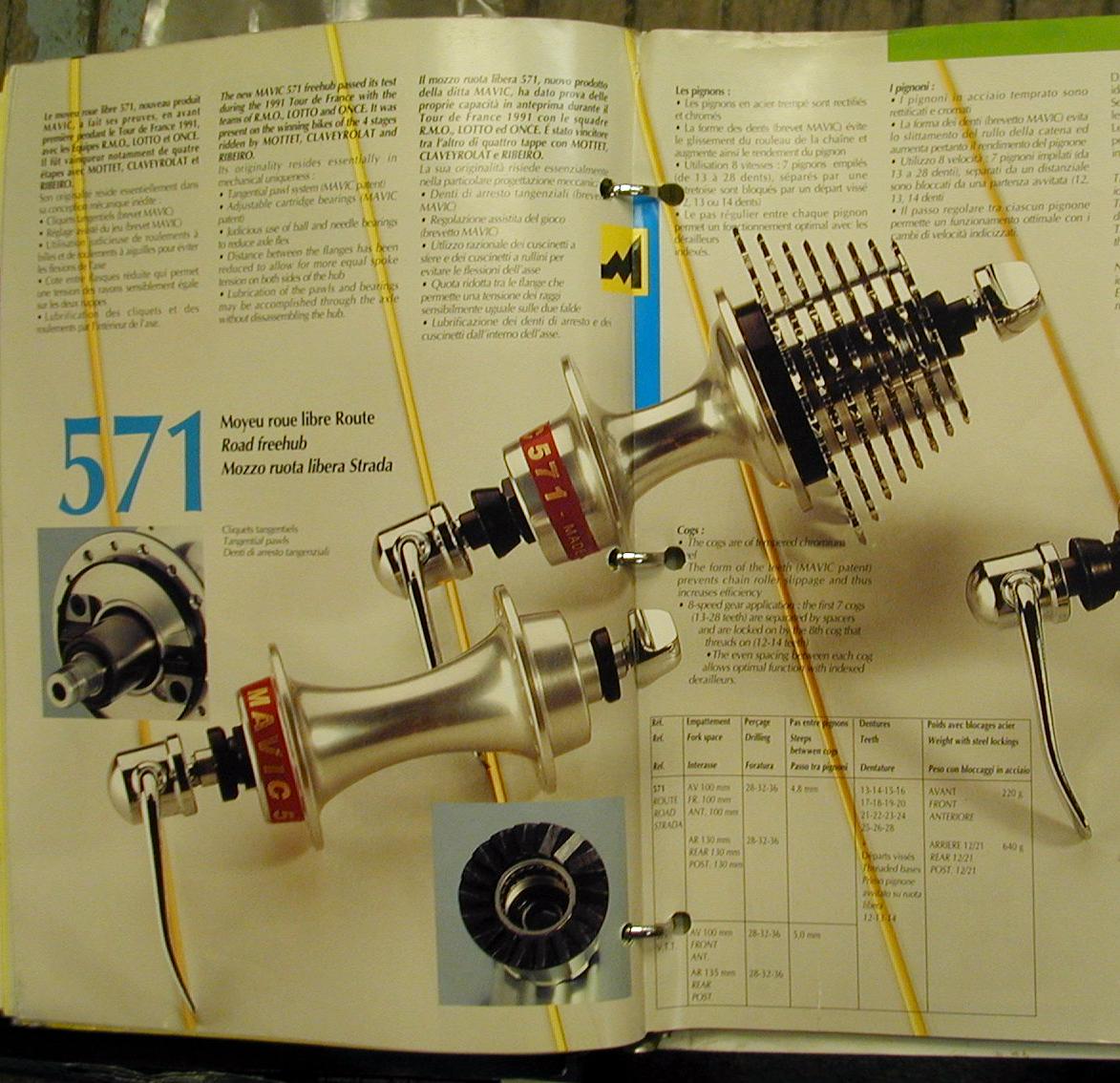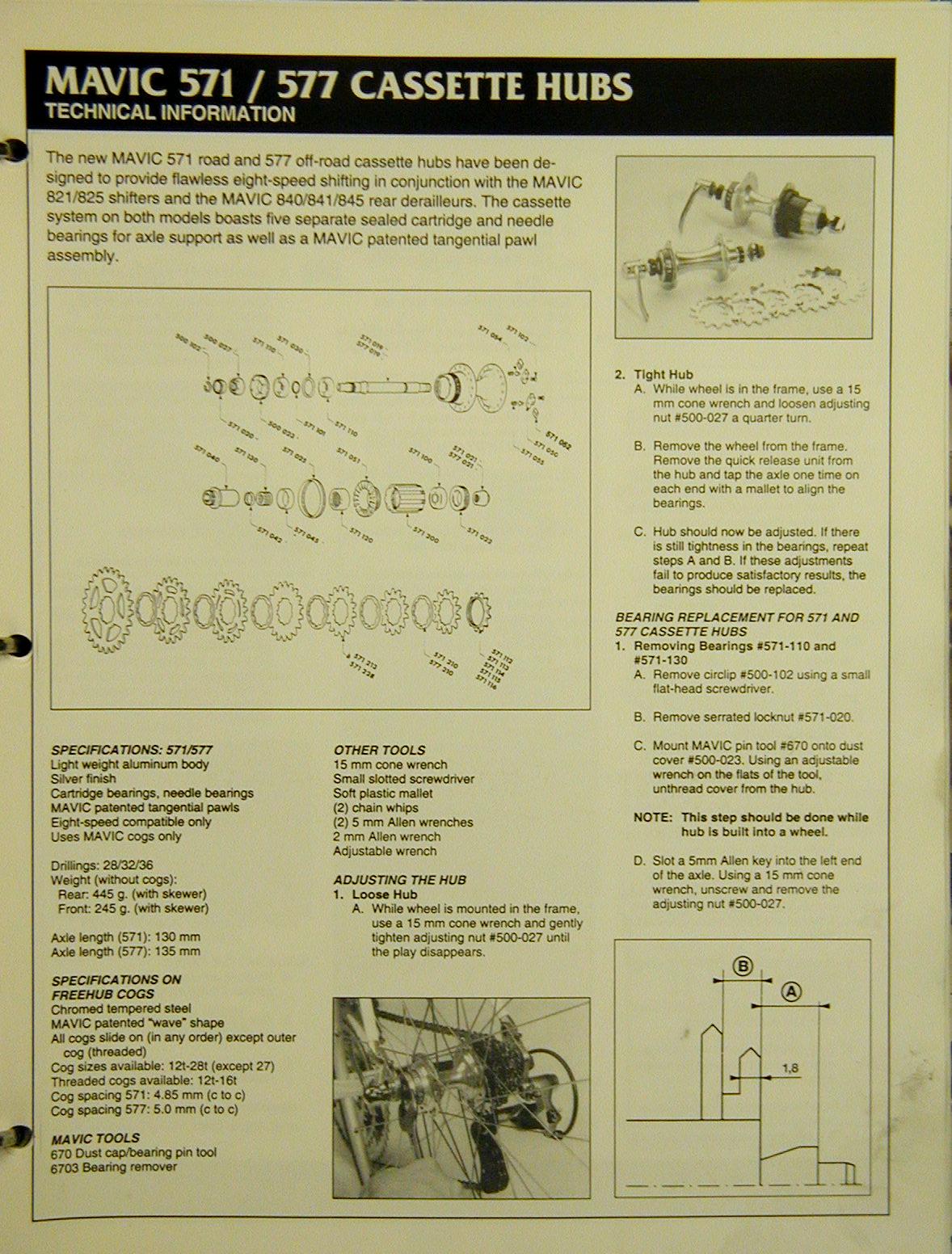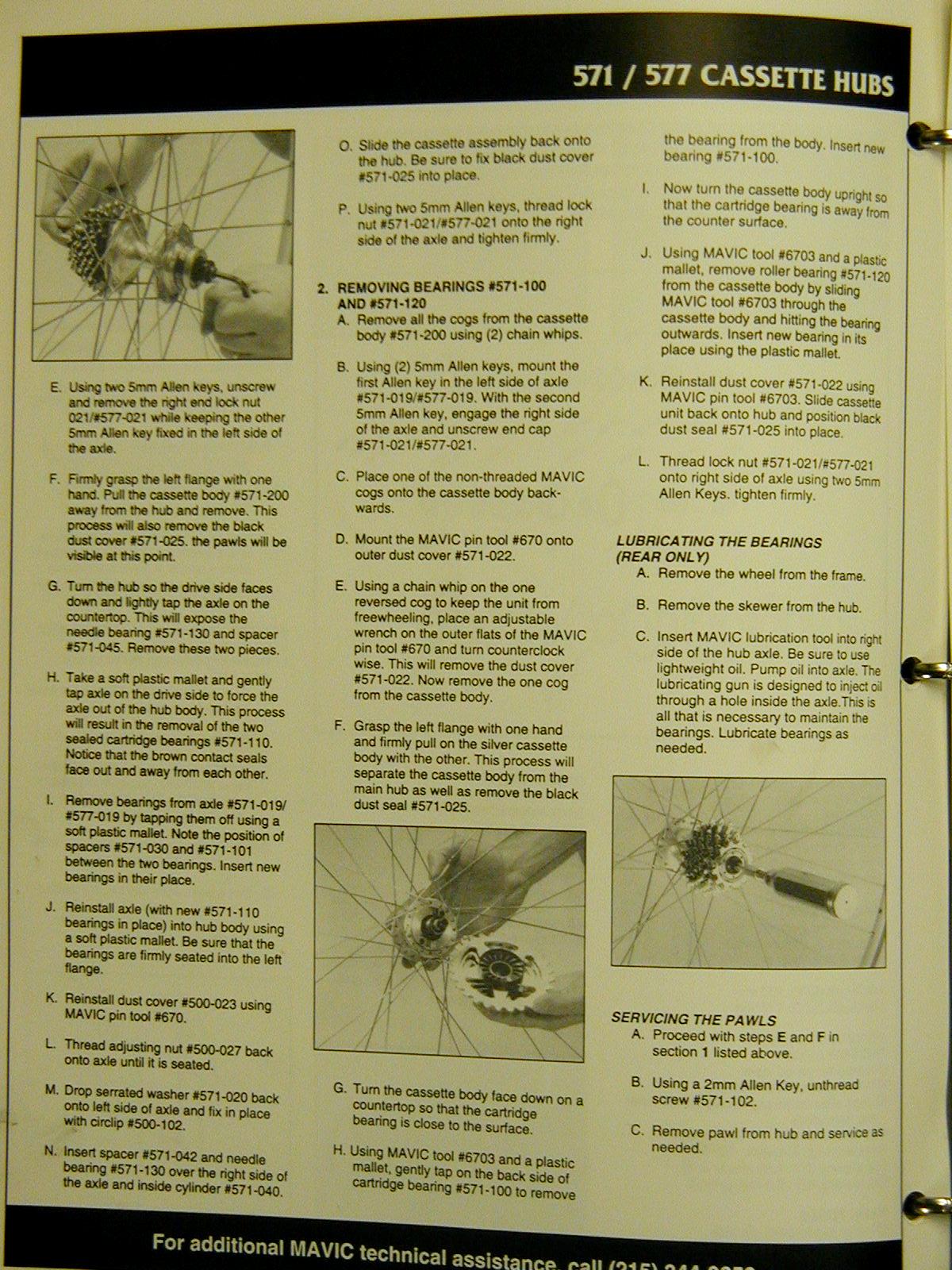 ---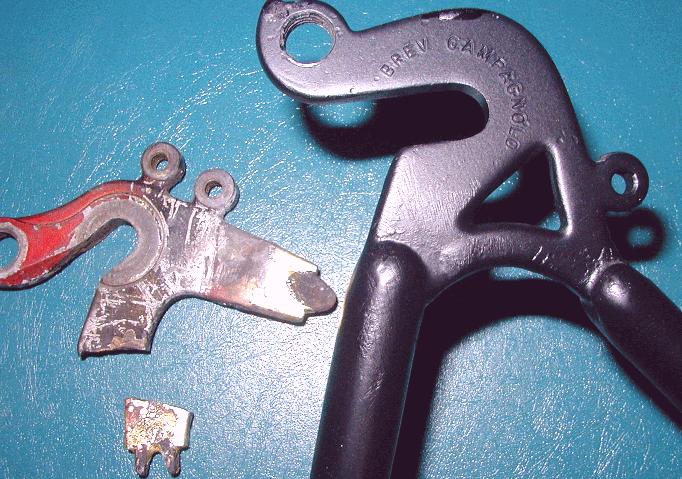 ---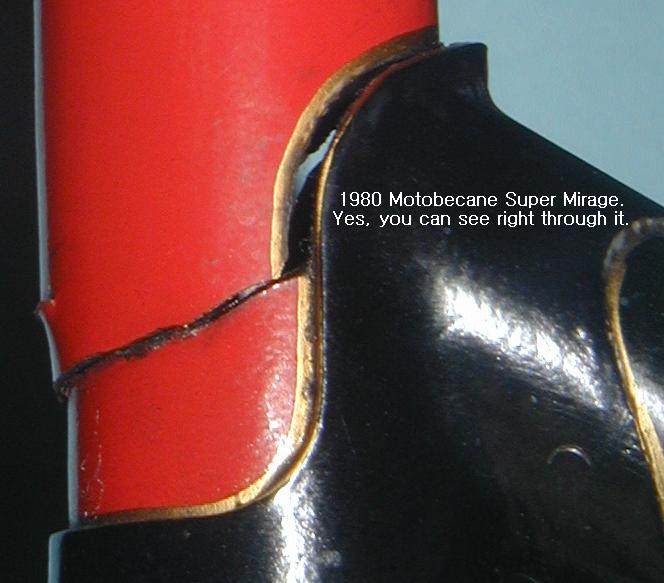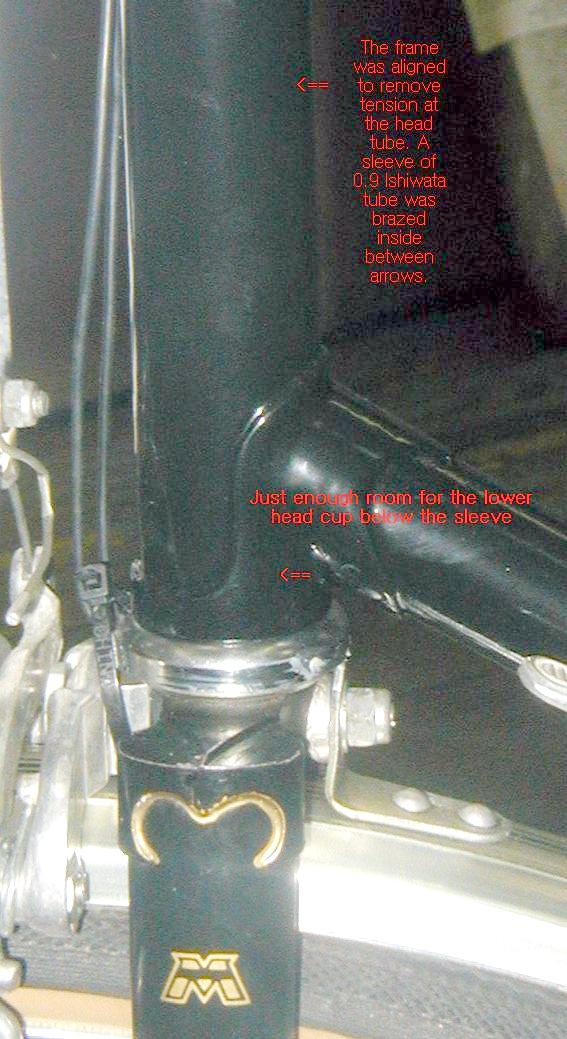 ---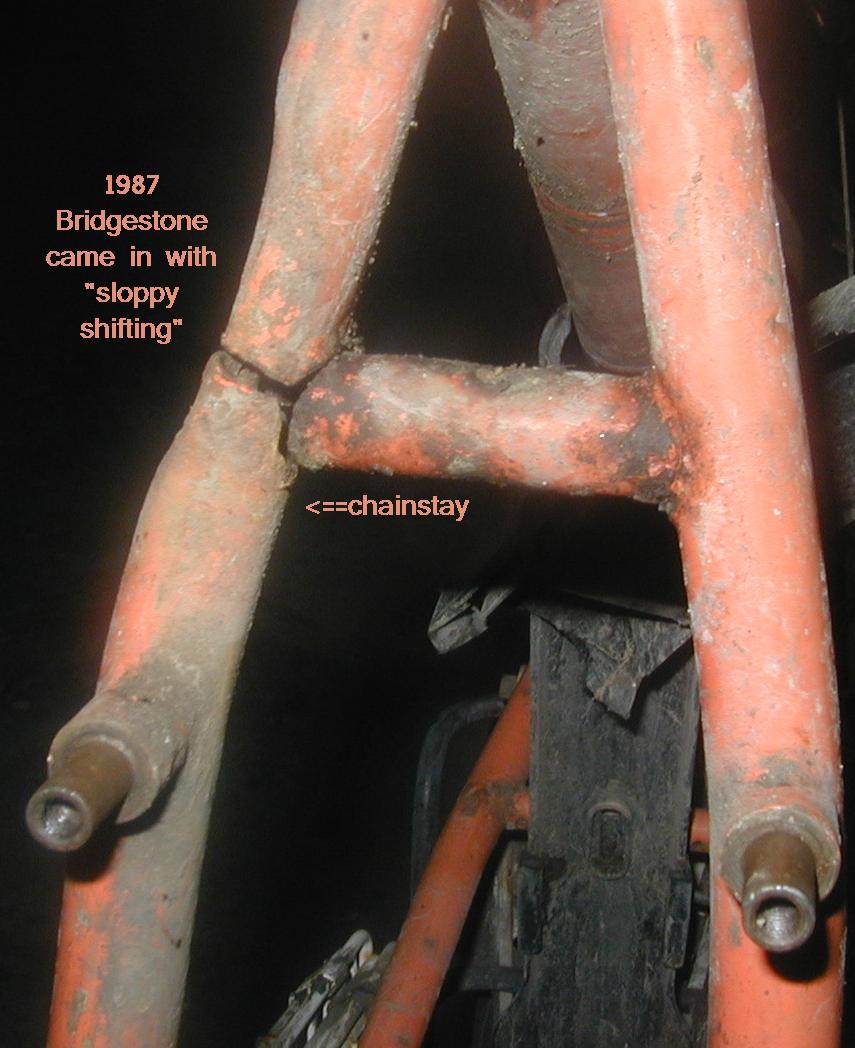 ---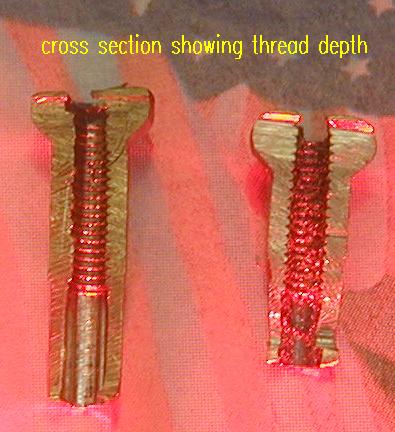 ---
Campy OR was beautiful but dysfunctional. The thumb shifter mounts bent under shifting loads. The cantilever brakes used a thin aluminum tube as a bearing surface. The crank used splined freehub sprockets for chainrings -- a great "reduce, reuse" idea, but the small bore and lockring forced the crank so far outboard that running the middle chainring and large sprocket in the rear would cause the chain to shift to the small chainring unless the front derailleur cage was kept rubbing on the chain to hold it in place.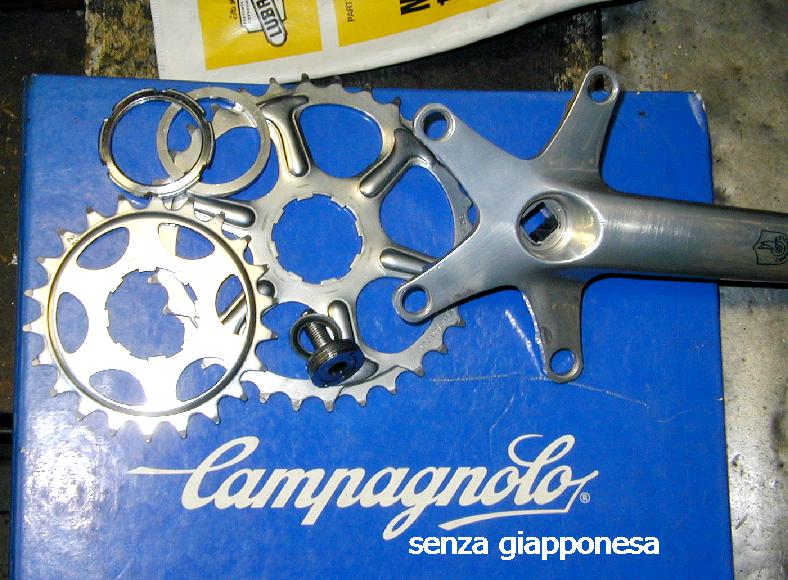 ---
Note that there are at least two classes of bearing retainers for BBs: full complement and not full complement. The one on the left looks like it is probably full complement, which is better. Both full and not-full may be available in both styles.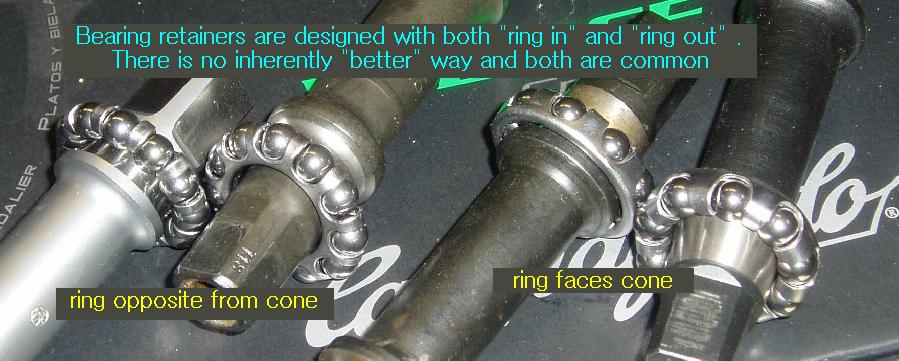 ---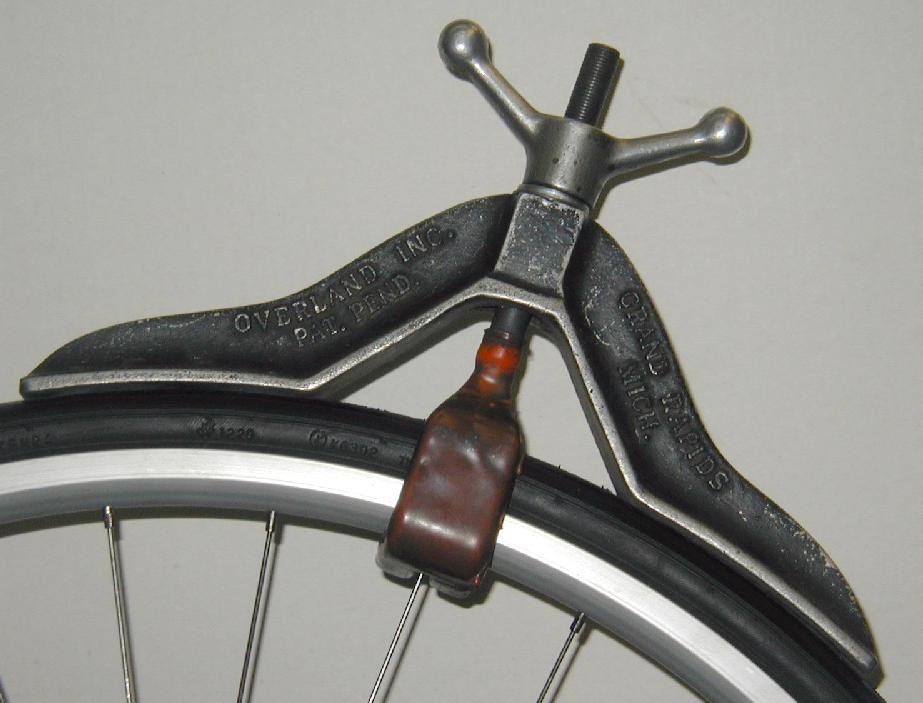 ---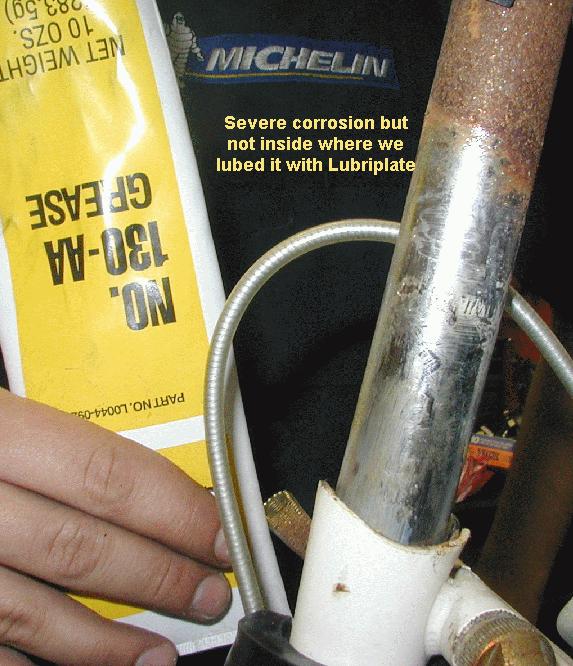 ---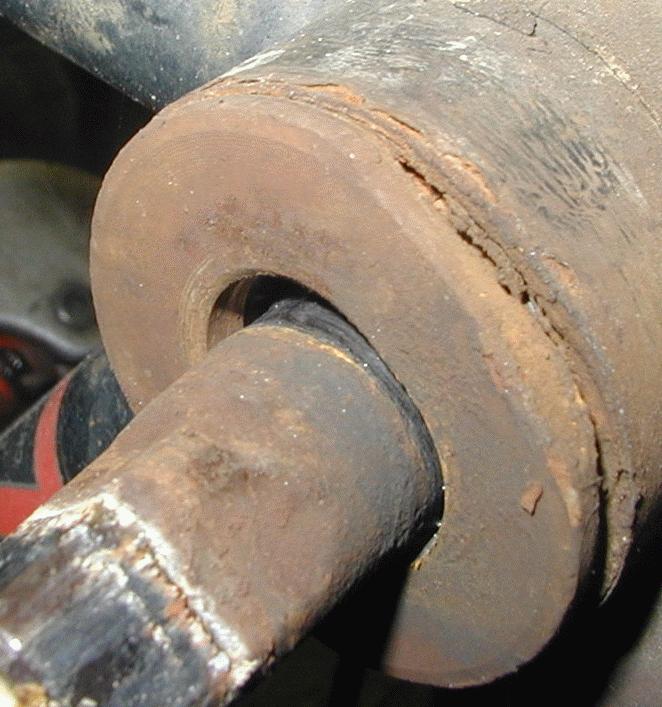 ---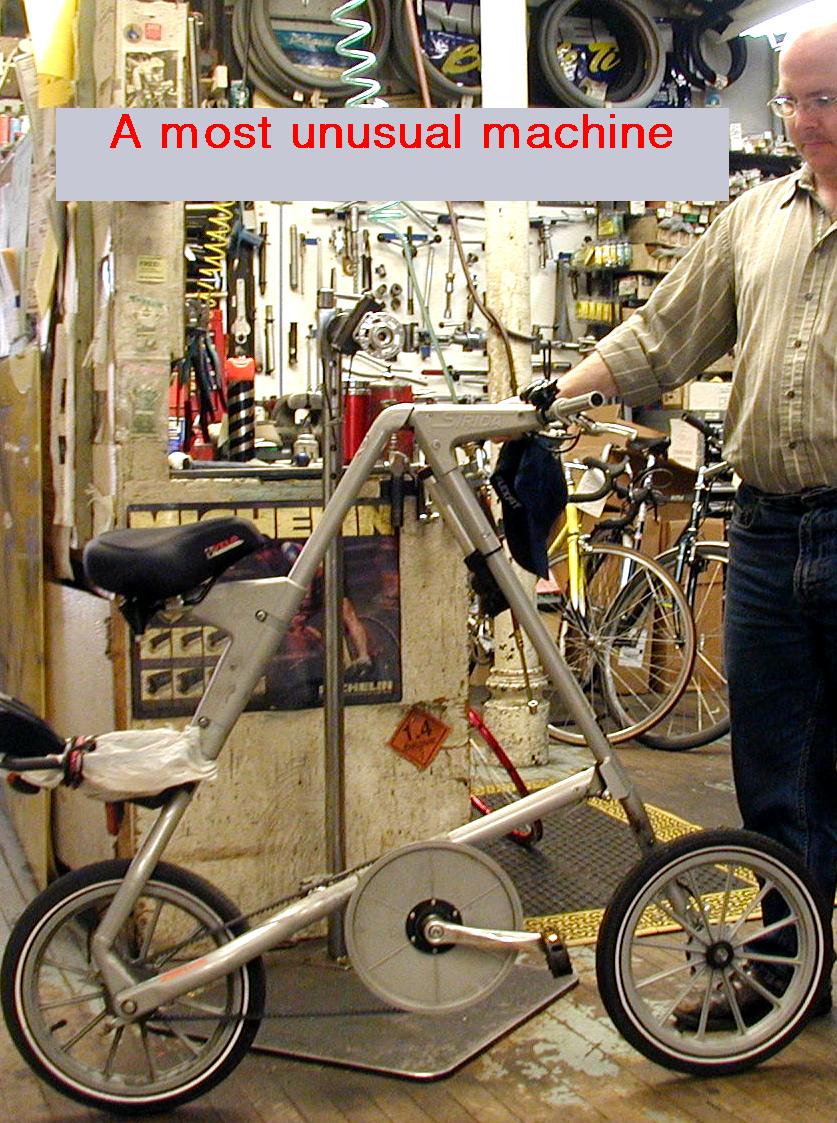 ---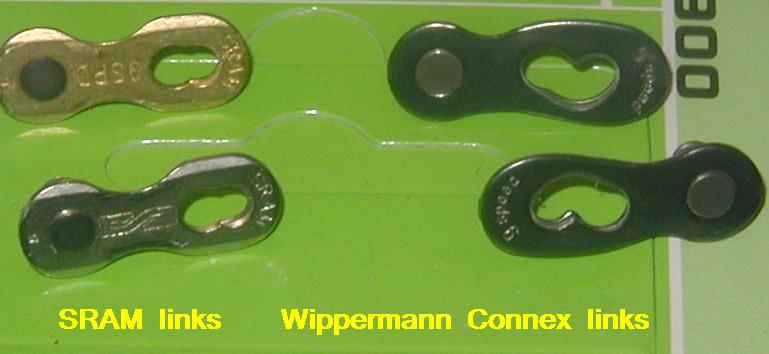 ---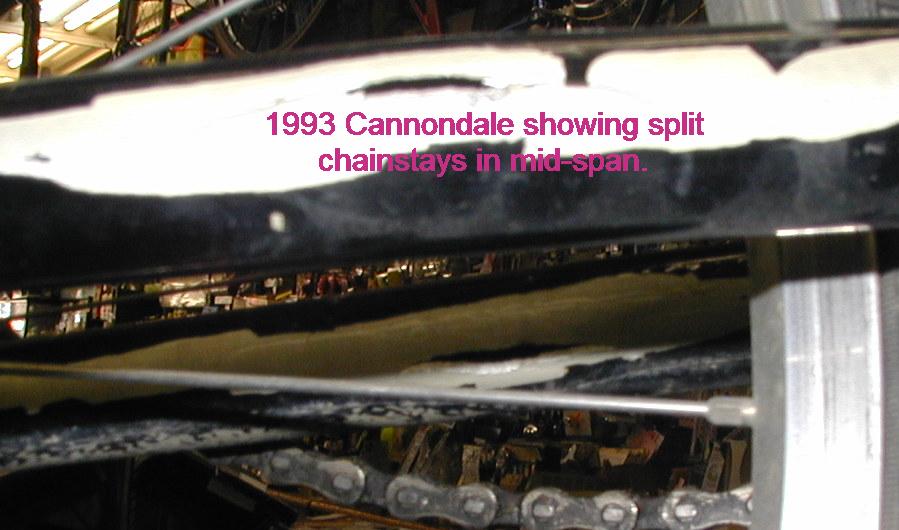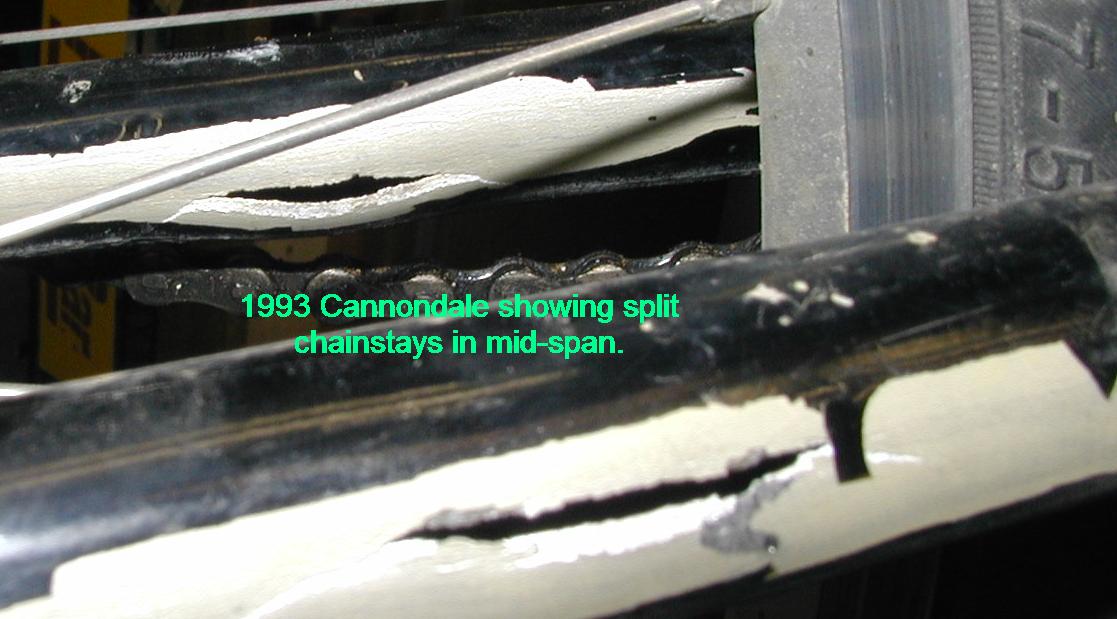 ---
Strange that Shimano did not reuse its existing standard and instead came up with something new; but Campagnolo used the pre-existing Shimano standard.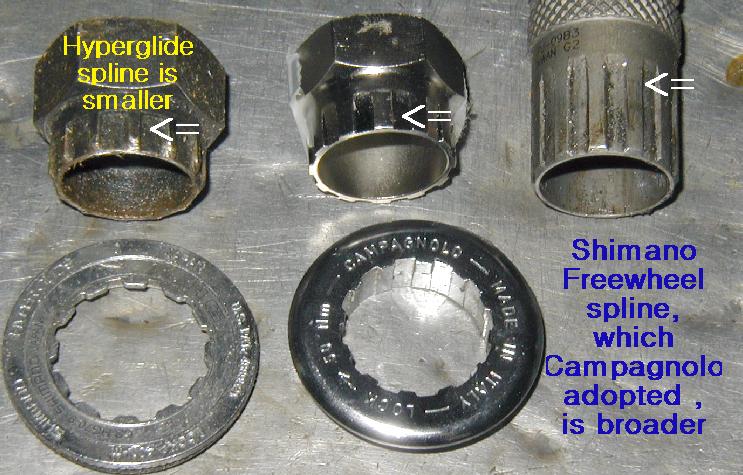 ---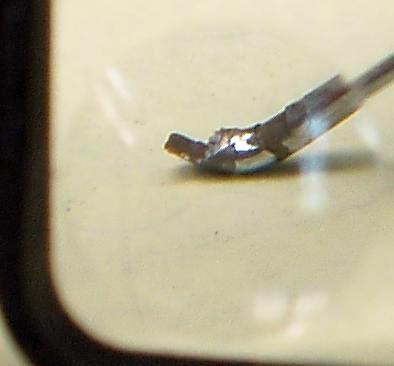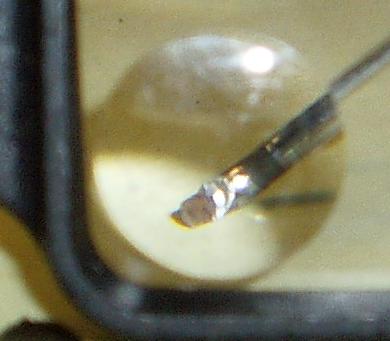 ---
Action-Tec used to make a BB drain valve. Dunno how well it worked, but does show somebody else also had problems with water in the bearings. Ironically, this BB probably has the WTB "grease guard" feature, which allows you to purge the dirty/wet grease with clean/dry grease.
Seals hold water in -- but churning together water and lubricant makes a creamy emulsion which is a poor lubricant but which does not evaporate off the water, even without seals. I have an oil/water sample mixed in March 2005 and sitting in a cup that is still an emulsion in July 2006. (It does have an oil layer on the top resisting evaporation.) If water gets in, the best response is to purge it and install new lubricant.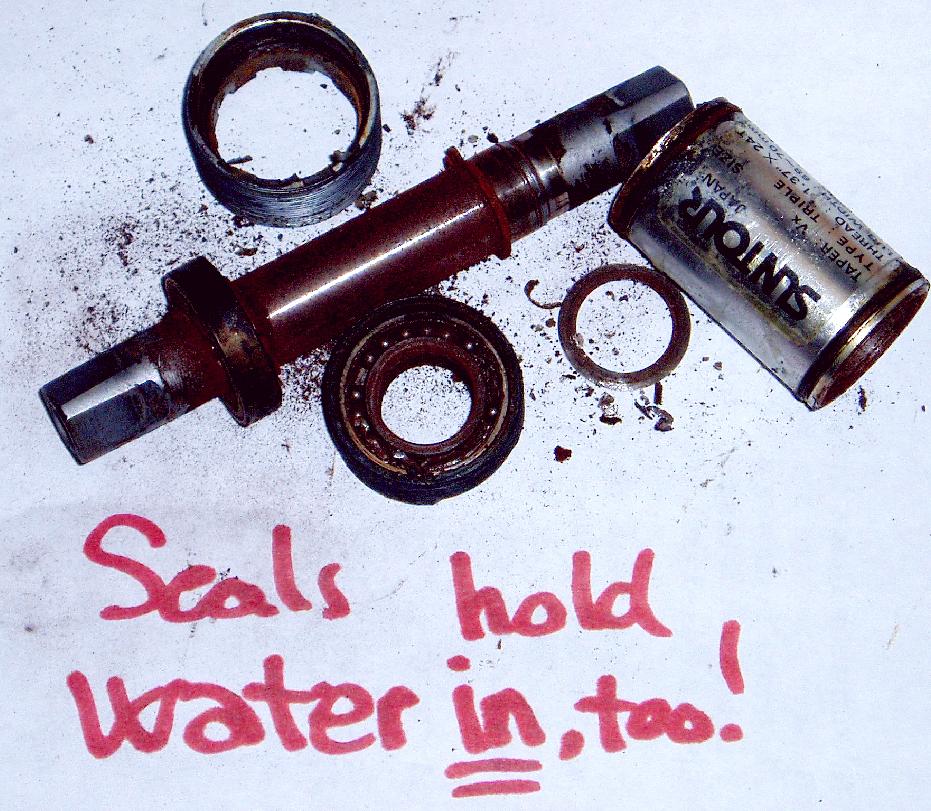 ---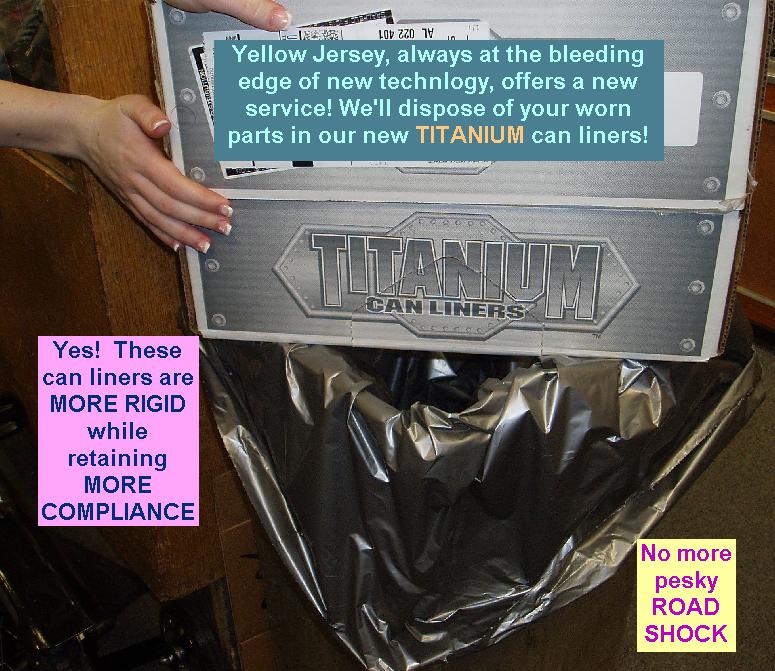 ---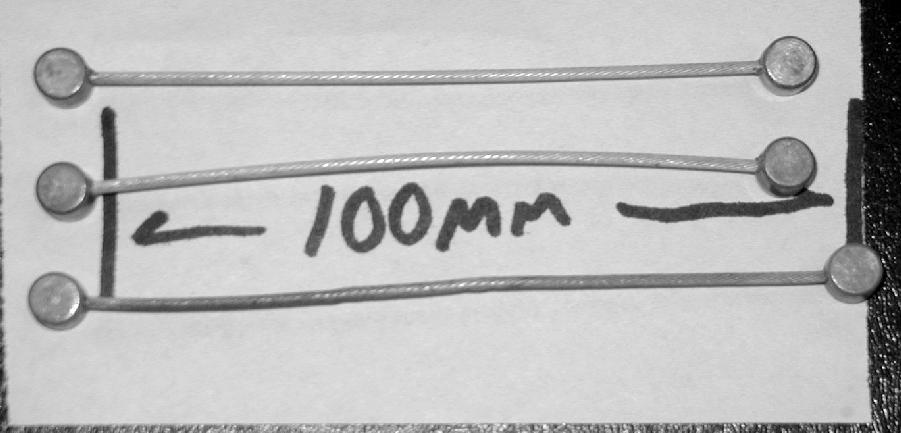 ---
Proving once again that "in the real world, all things are made of rubber" (Jobst Brandt).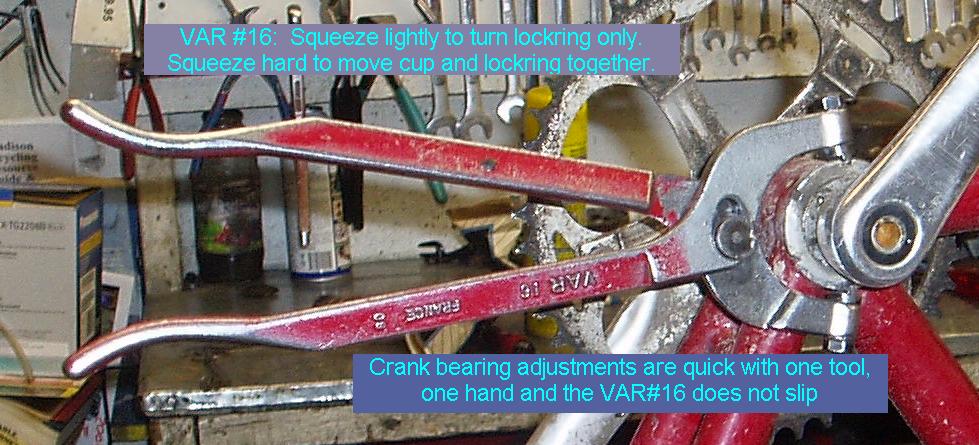 ---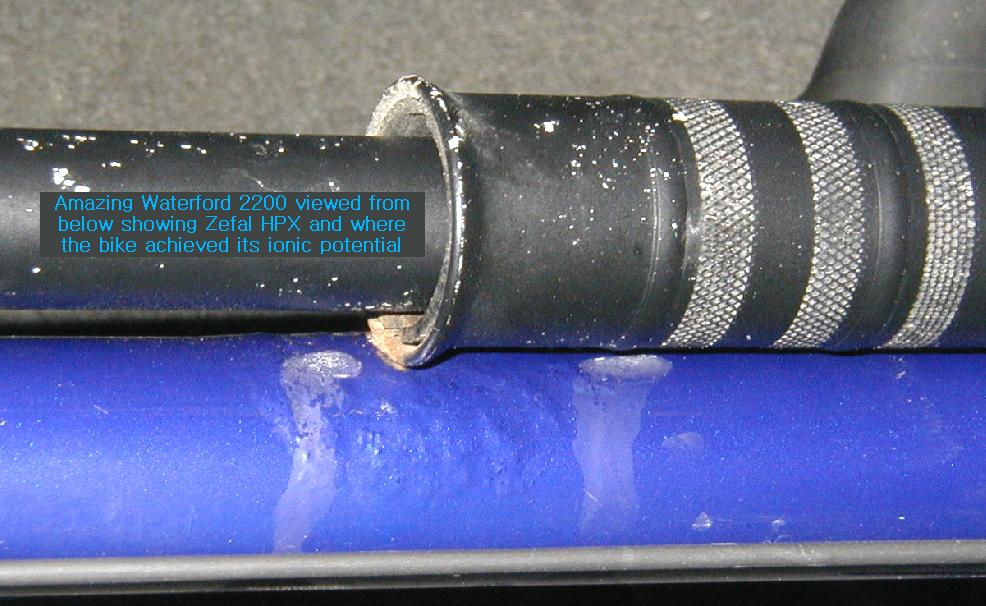 ---
Spokes fail for the same reason.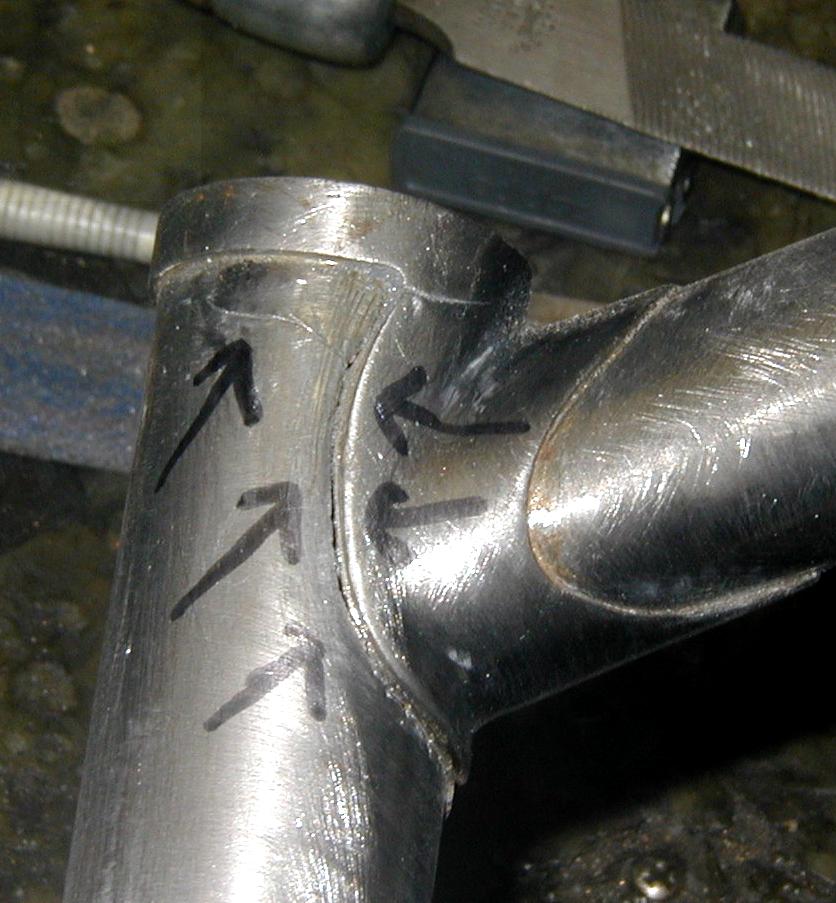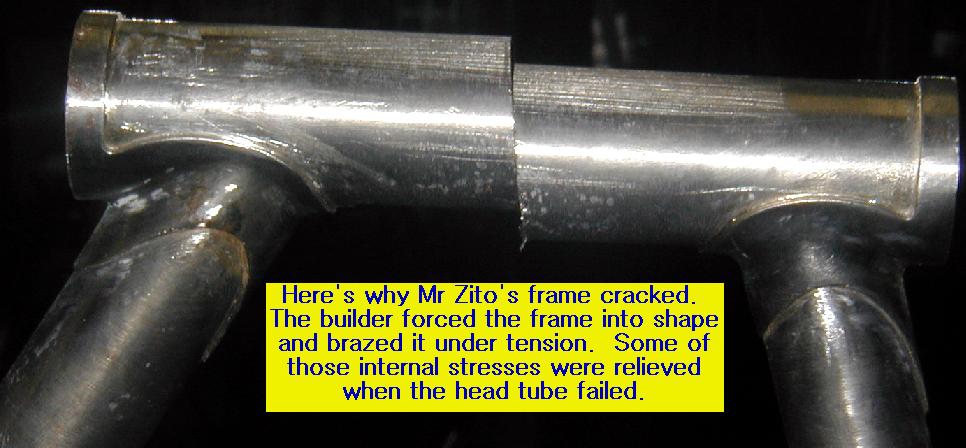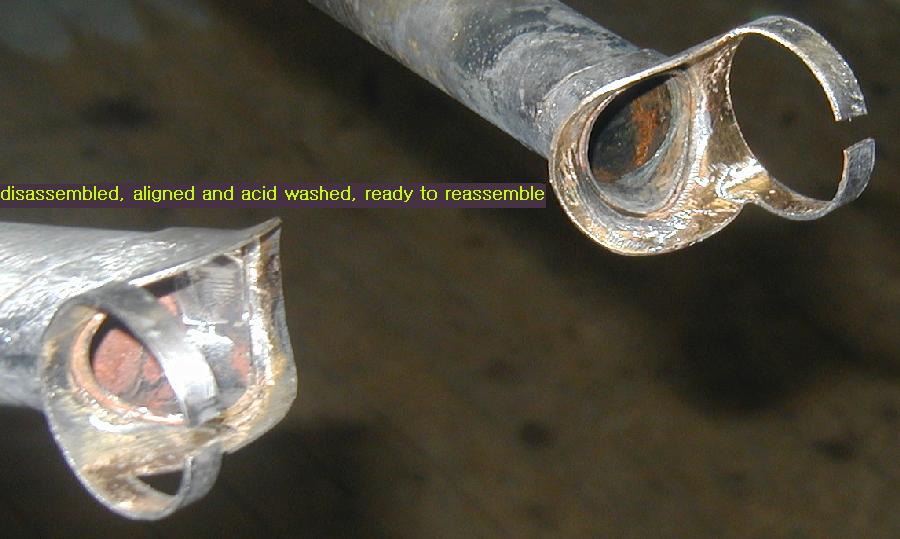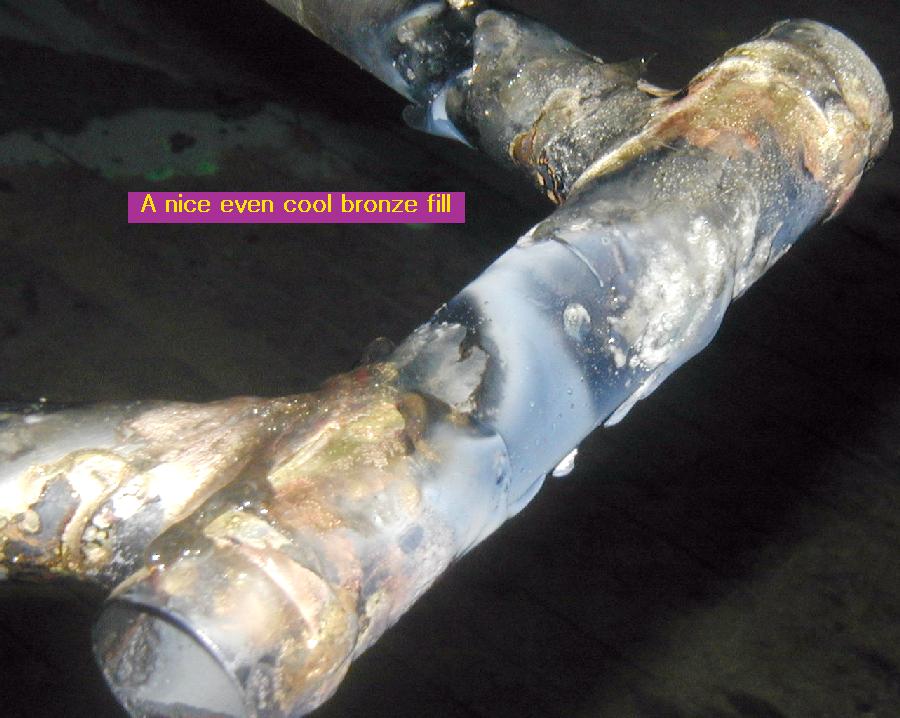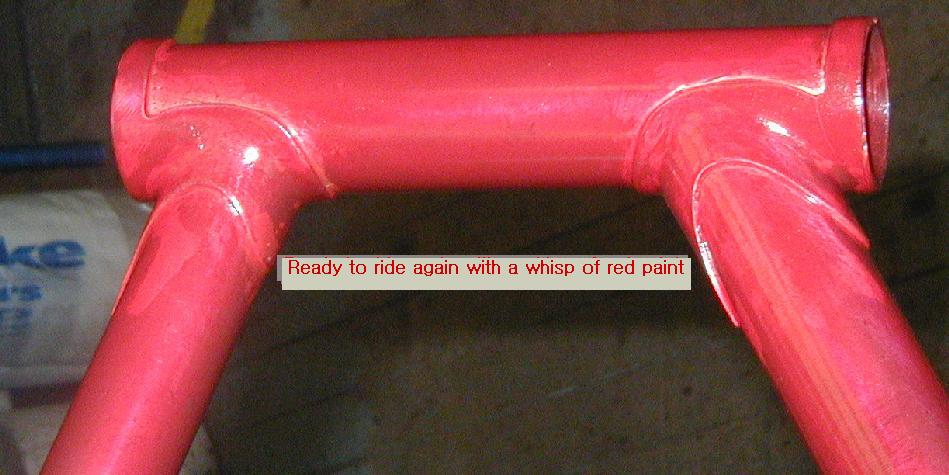 ---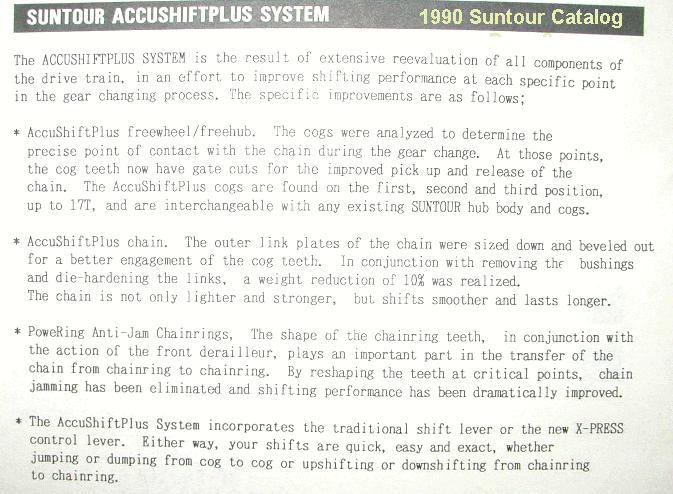 ---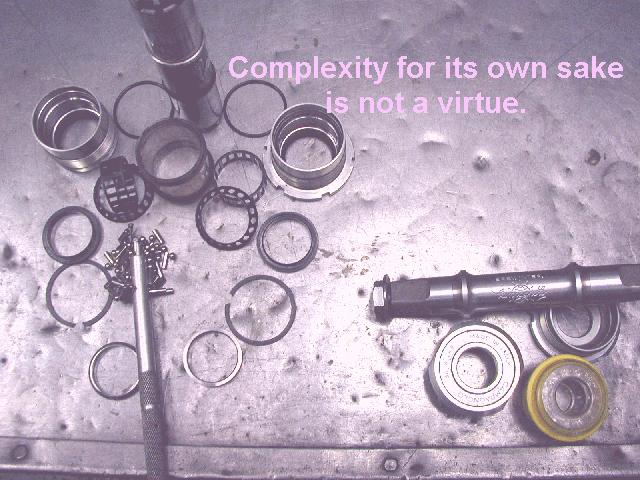 ---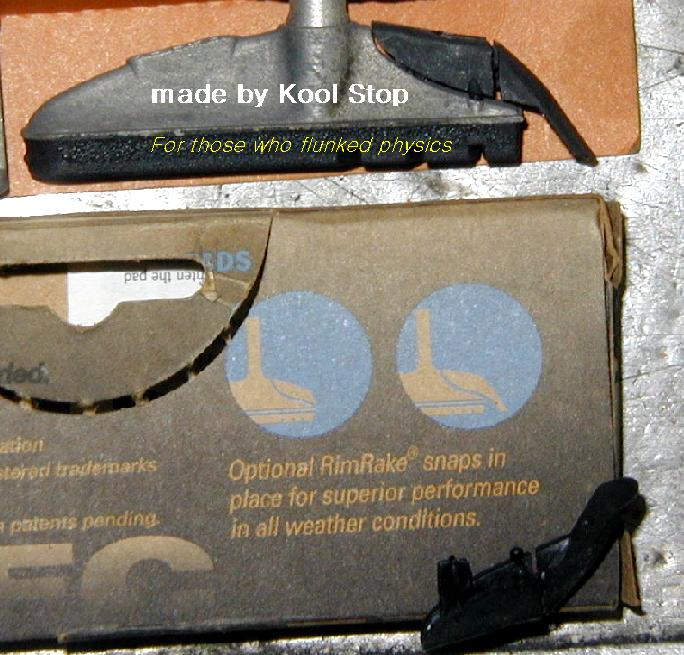 ---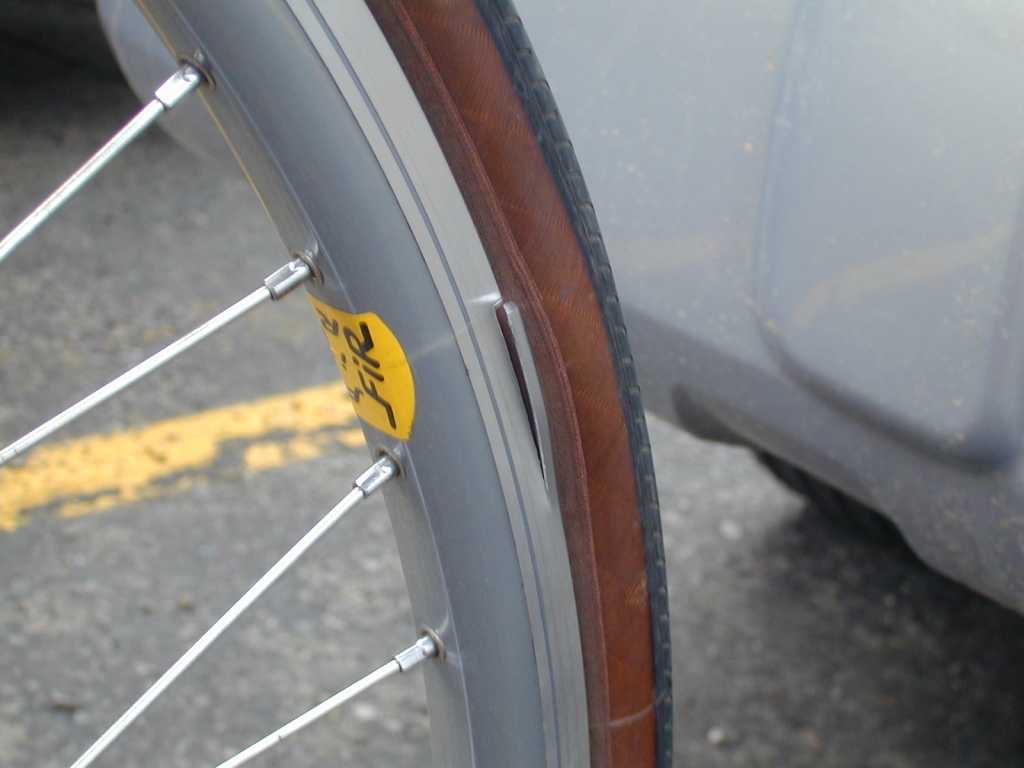 ---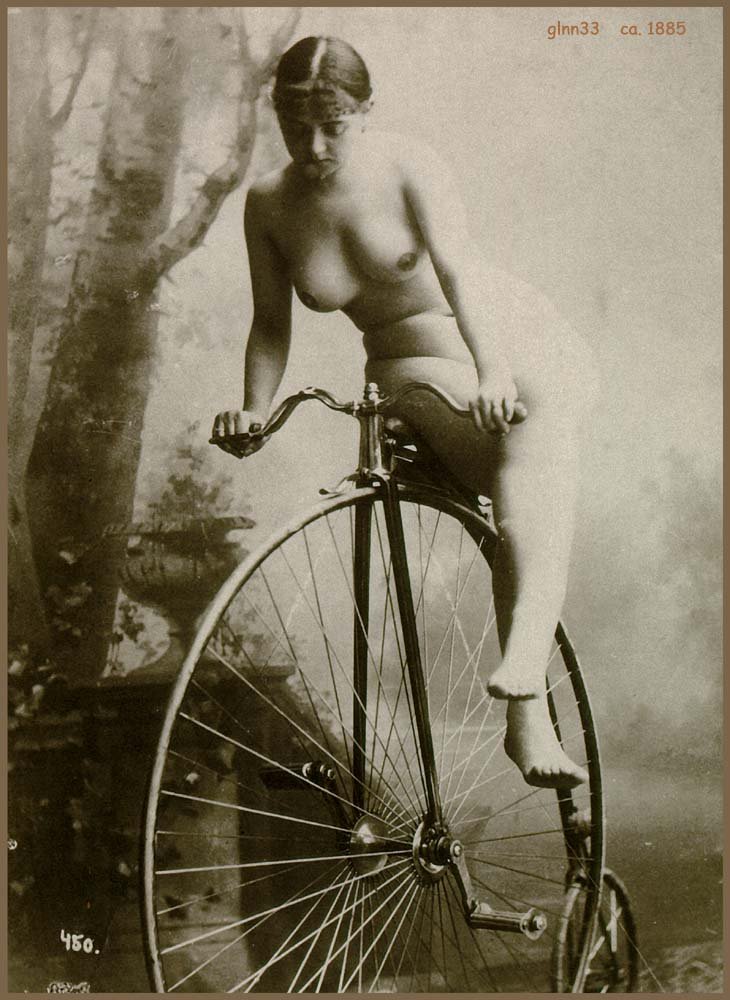 ---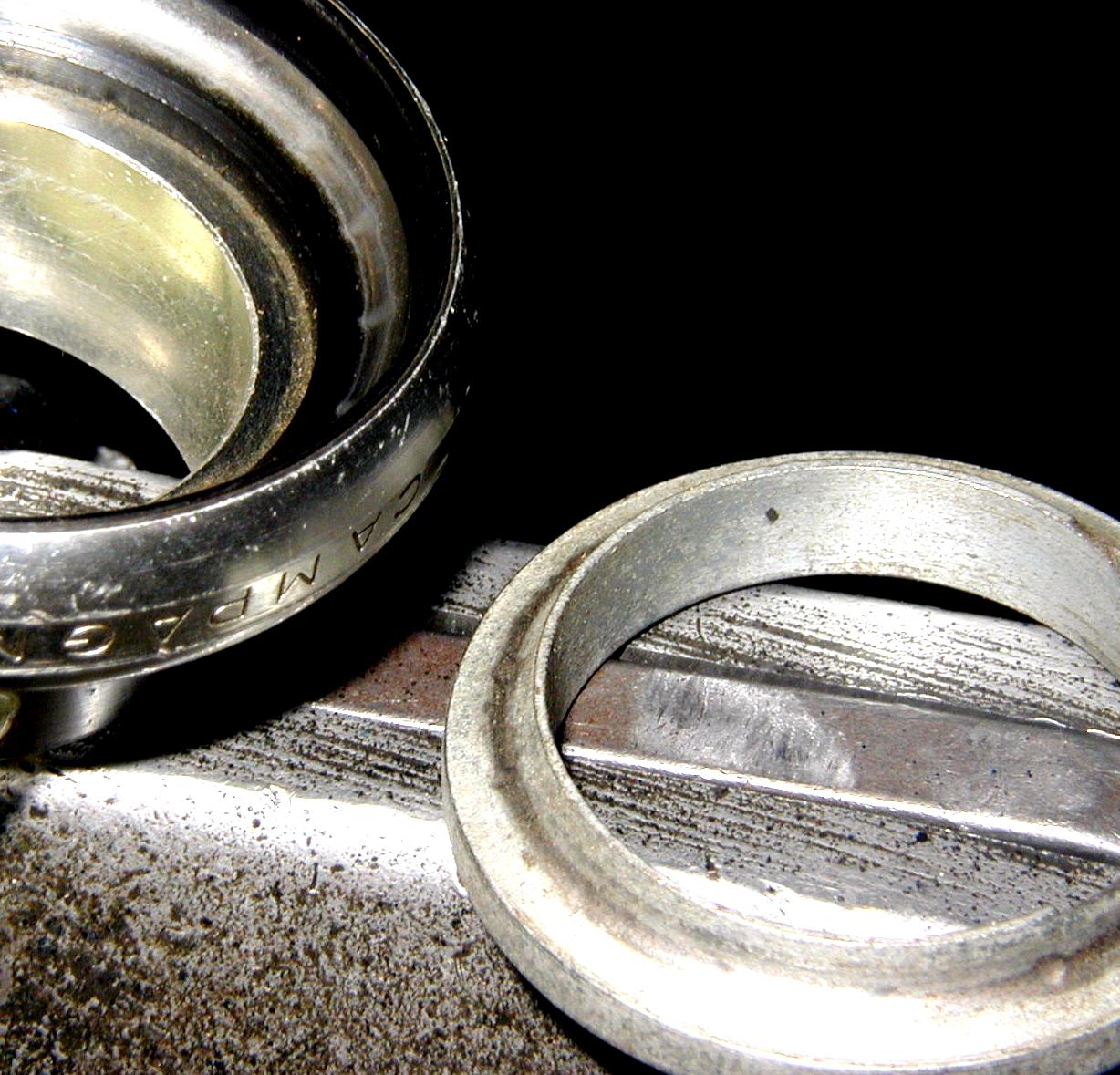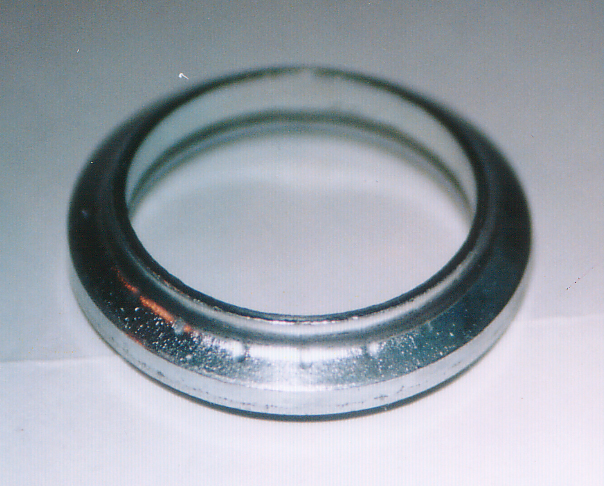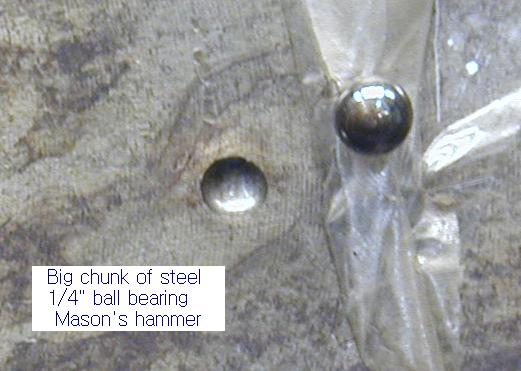 ---

---
Many brakes have been made with variable leverage, but all but the Positech vary the leverage based on position rather than based on force. As a result, when the pads wear the brake lever suddenly runs to the handlebar.
Note this is 1981, maybe before the first WTB roller cam brake.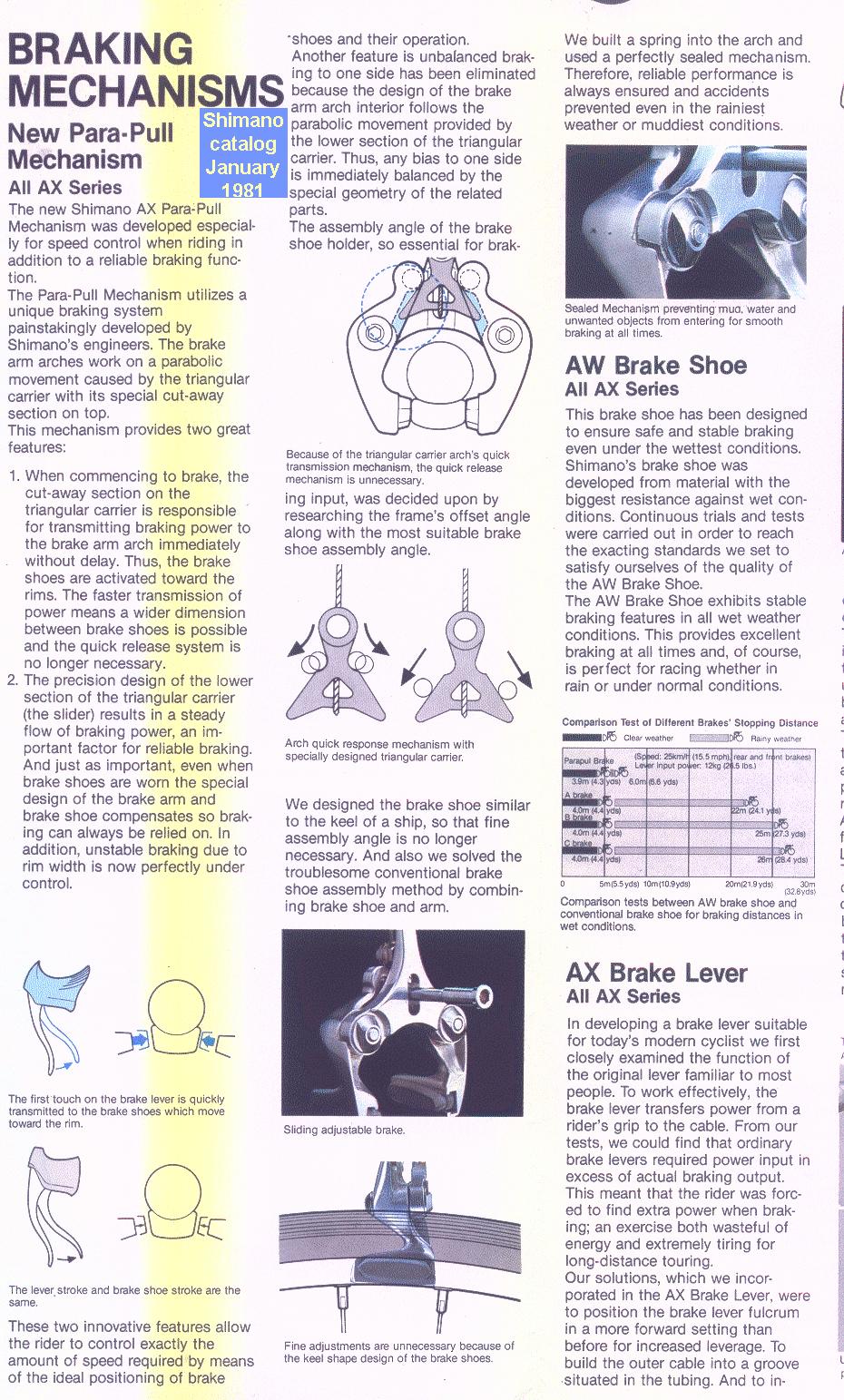 ---
Raleigh and Rudge approaches to built-in locks.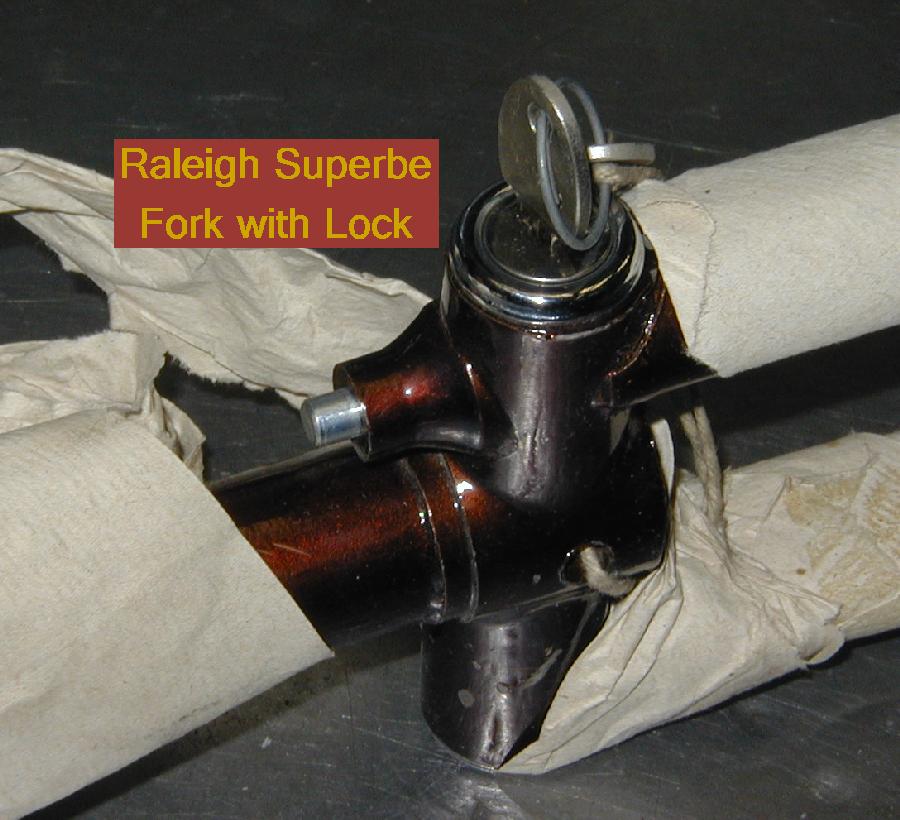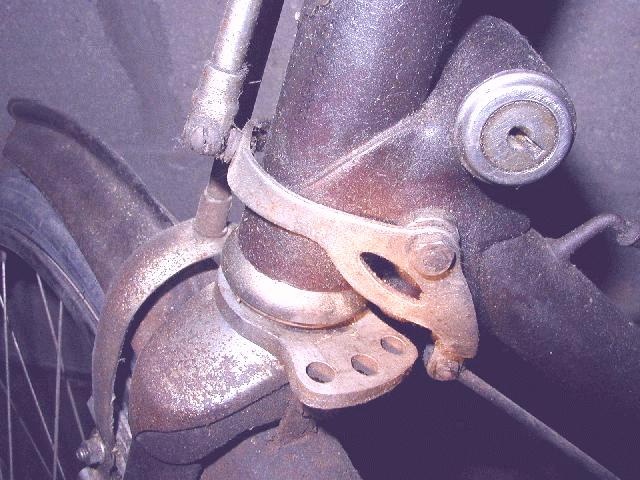 ---
A special hazard of low-spoke-count and paired-spoke wheels.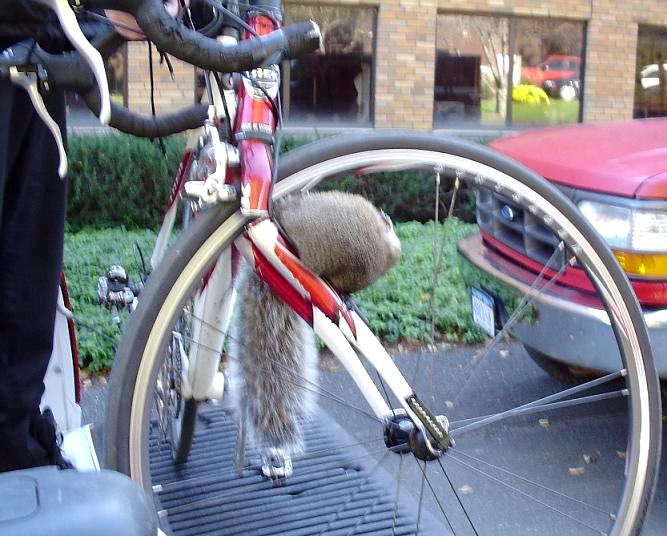 ---
SunTour index shift info.
---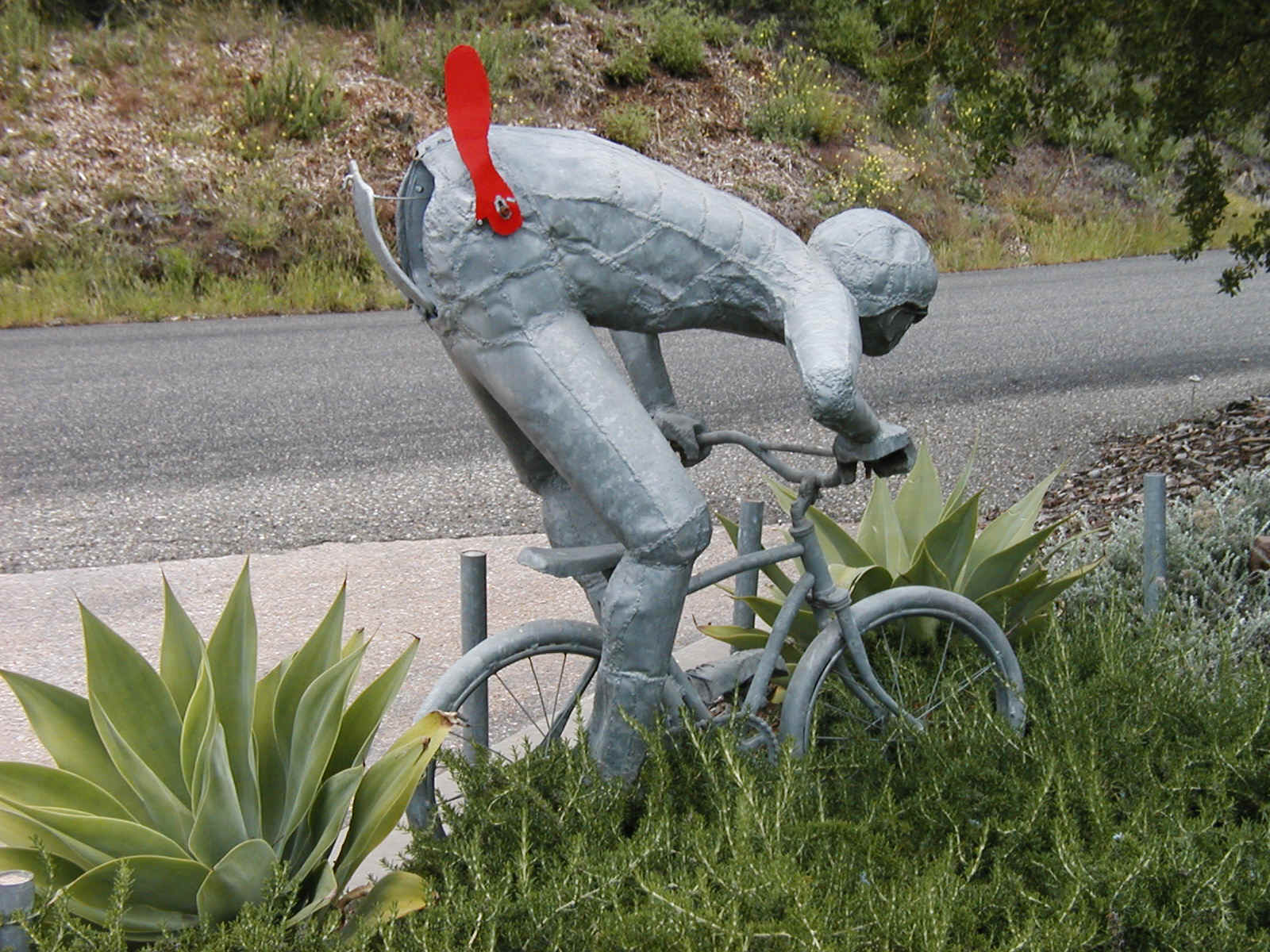 ---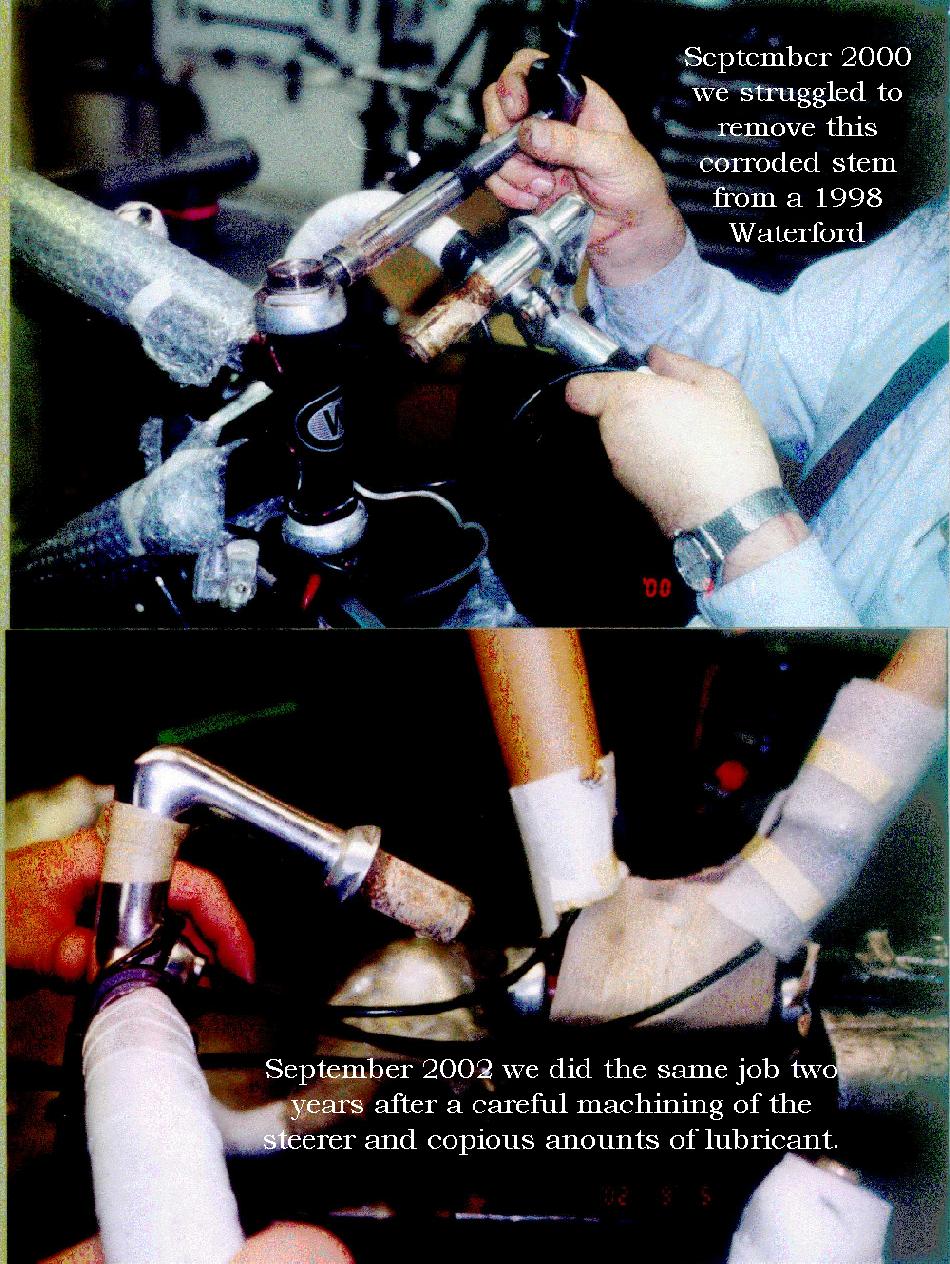 ---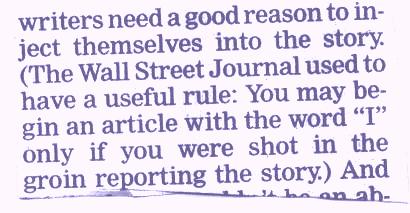 ---
The following picture is titled "yeasowat.jpg". Note, though, that with a symmetric rim, the change of just 2mm represents about a 10% change in the amount of dish on the sprocket side of the wheel!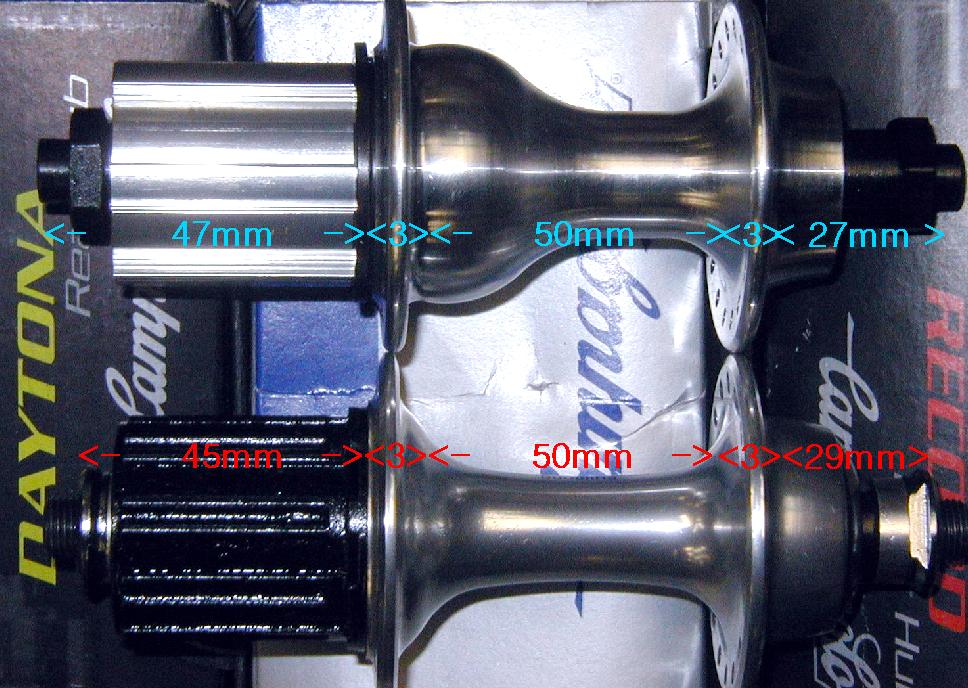 ---
---
Rear hubs were originally made with one rear sprocket about in line with the right bearing. As more sprockets were added, the bearing moved towards the center and the loads got more overhung, but the axle size was typically not increased. As a result, axle failures with freewheels were common even for light riders.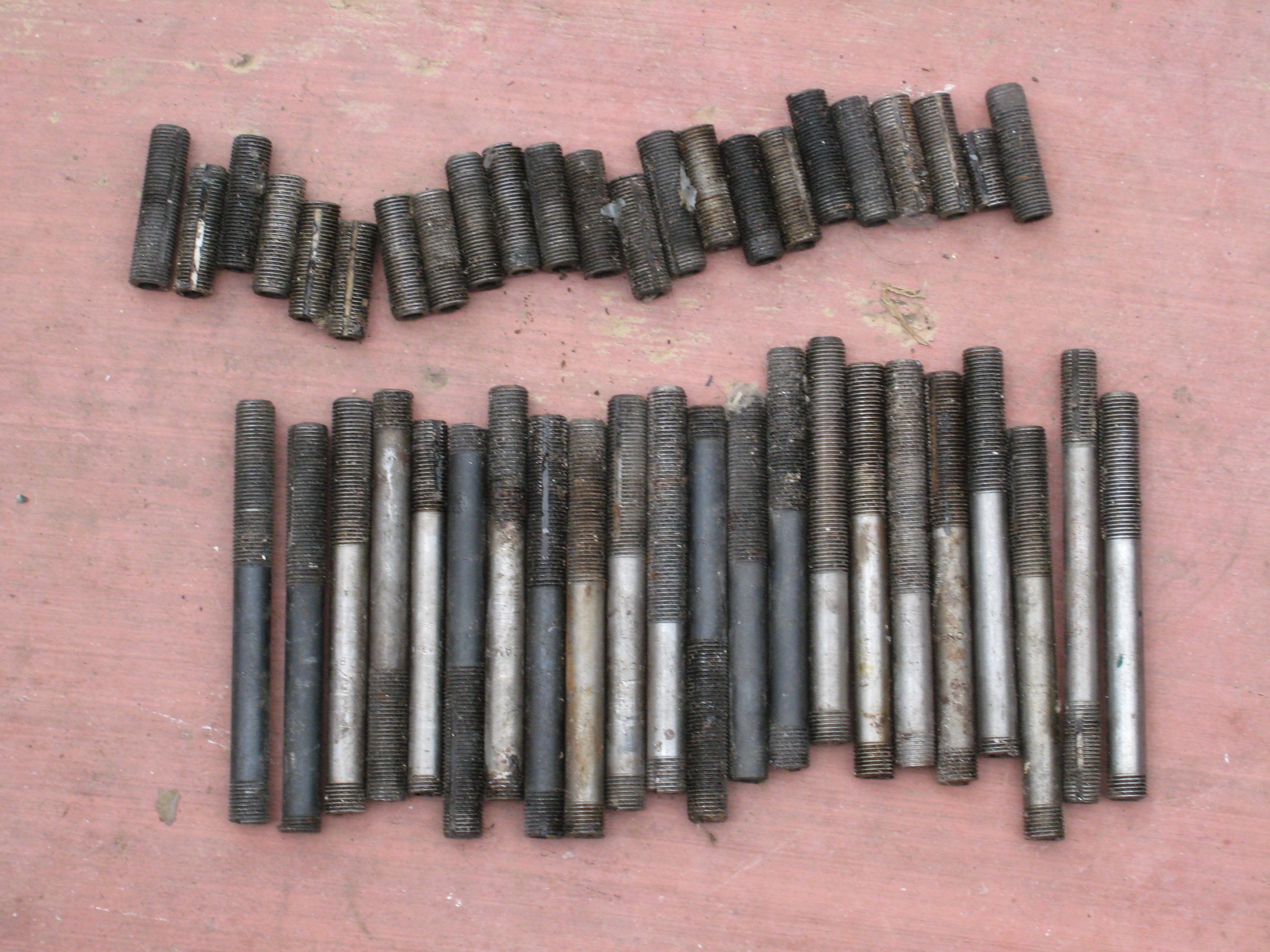 ---
More pics, including more failures here.