See also also bike pic for other bike-related technical discussions and more failed parts.
---
Originally from http://www.charnwoodcycles.co.uk/page14.html as of 2012/09.
---
News And Gallery
Aug 2012.



Diary dates: 28 -30 Sept, The Cycles Show at the NEC Birmingham. See the respective website for details.




The Workshop - Gallery Of Woe.

Here are some of the poorly bikes that have come into my workshop, all of which were repaired and returned to their owners.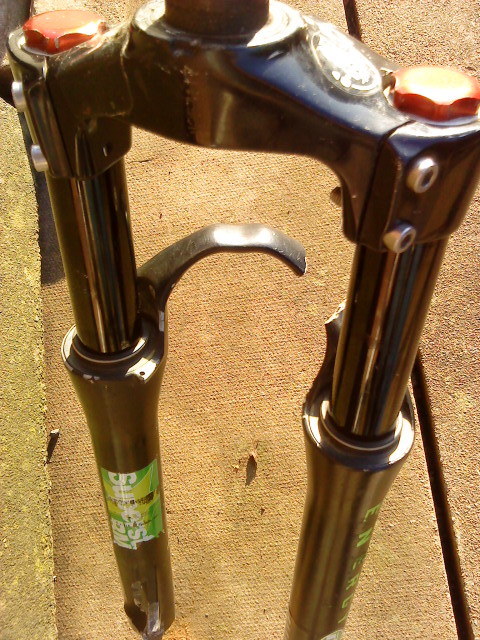 Forking hell!! Take a look at these forks that I was tasked to change recently. The centre bridge was snapped clean through reducing them to scrap.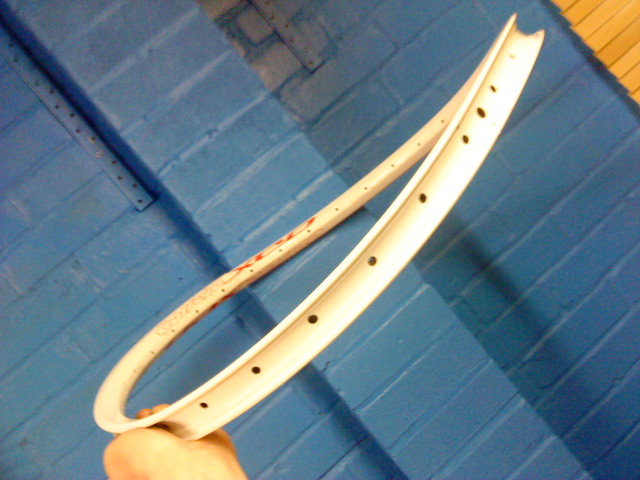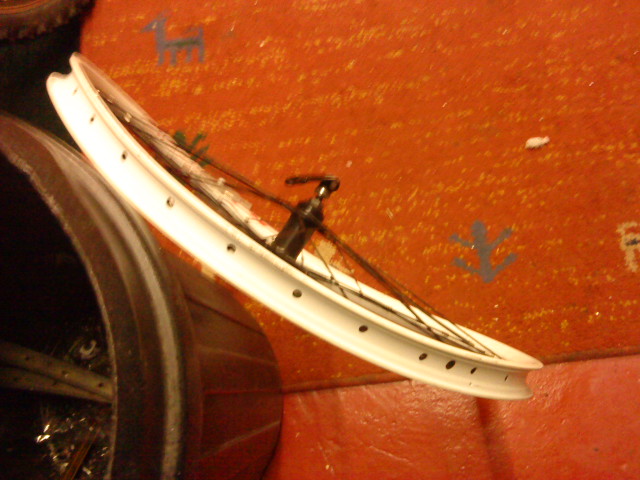 Fancy a banana? The is a front wheel from a MTB that hit a car. Gladly, the rider was unharmed, but the wheel ended up with a new rim. The original rim was buckled beyond repair but the spokes and hub were serviceable and therefore reused.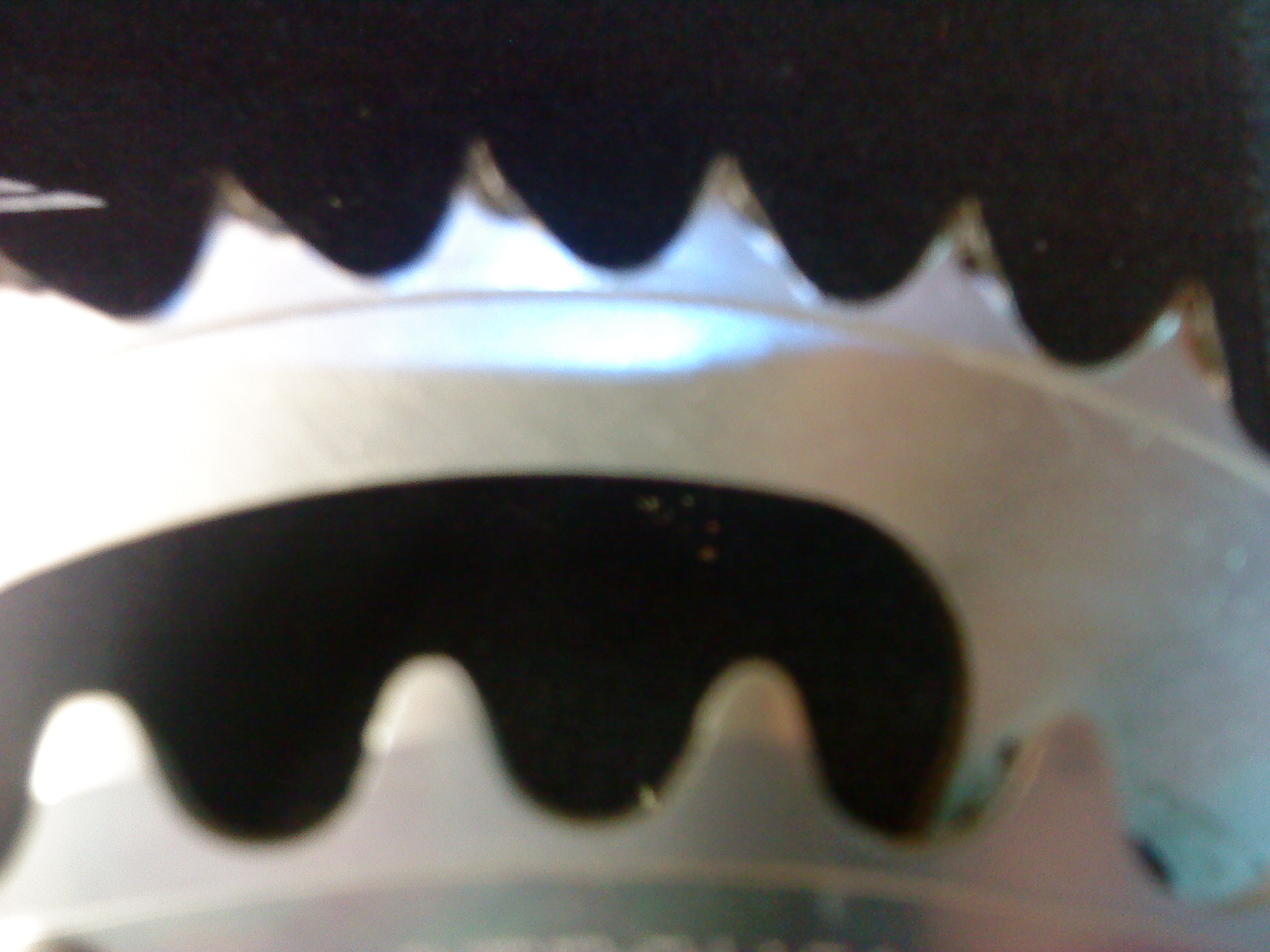 There's nothing a dentist can do about these teeth. The upper chain ring is worn to look like shark's teeth and are way beyond service limits. By comparision the lower teeth are new - that's how they should look.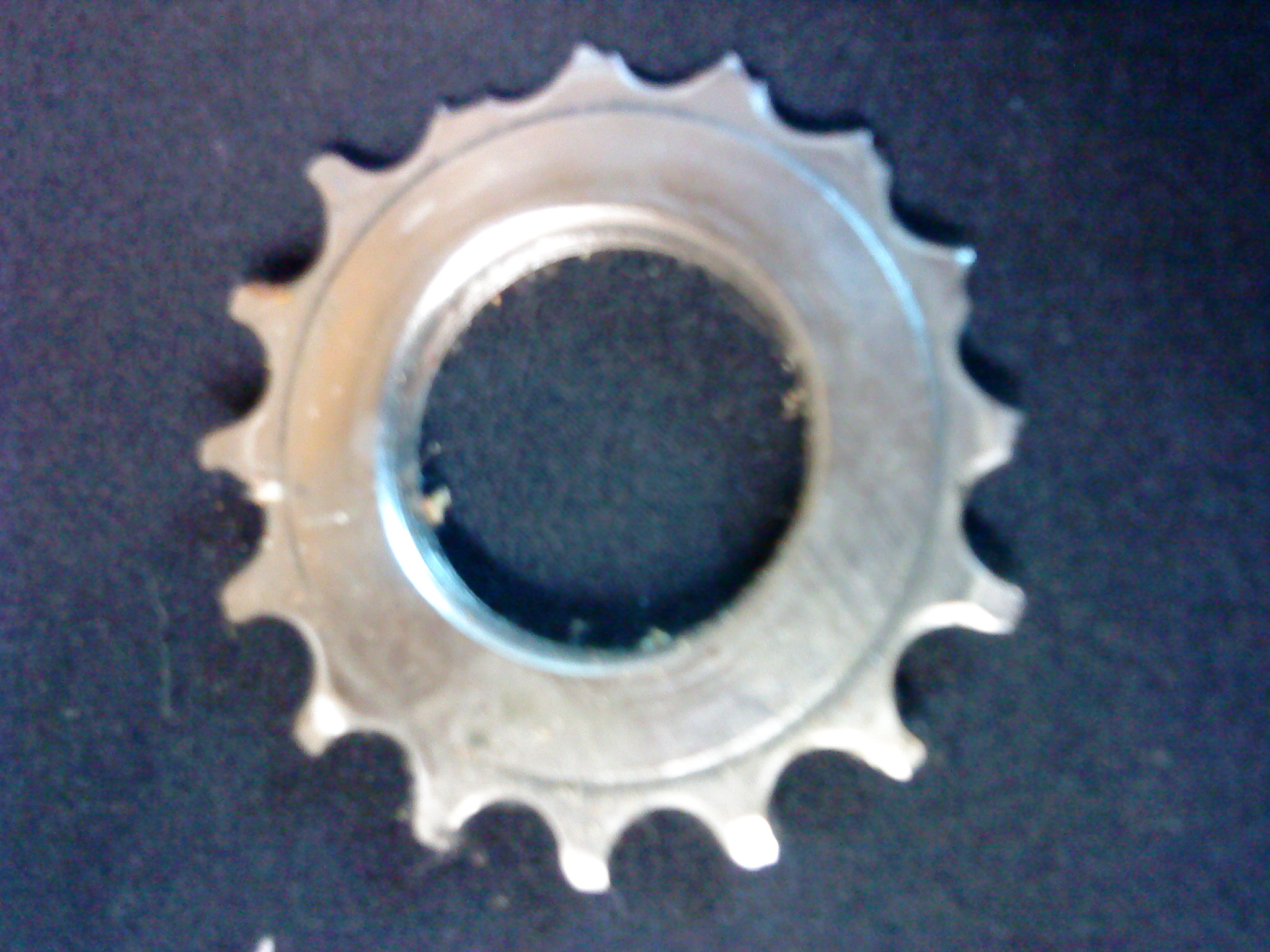 Another bike with tooth problems, this time from a fixed wheel commuter bike that does a hundred miles a week.

Wheel rims: the rims on a non disc bike are part of the braking system, like a bike rotor or brake disc on a car and they will wear out. If you are a high mileage rider check your rims for signs of failure. It starts with the braking surface becoming concave and you can feel this with your finger. The next stage is this: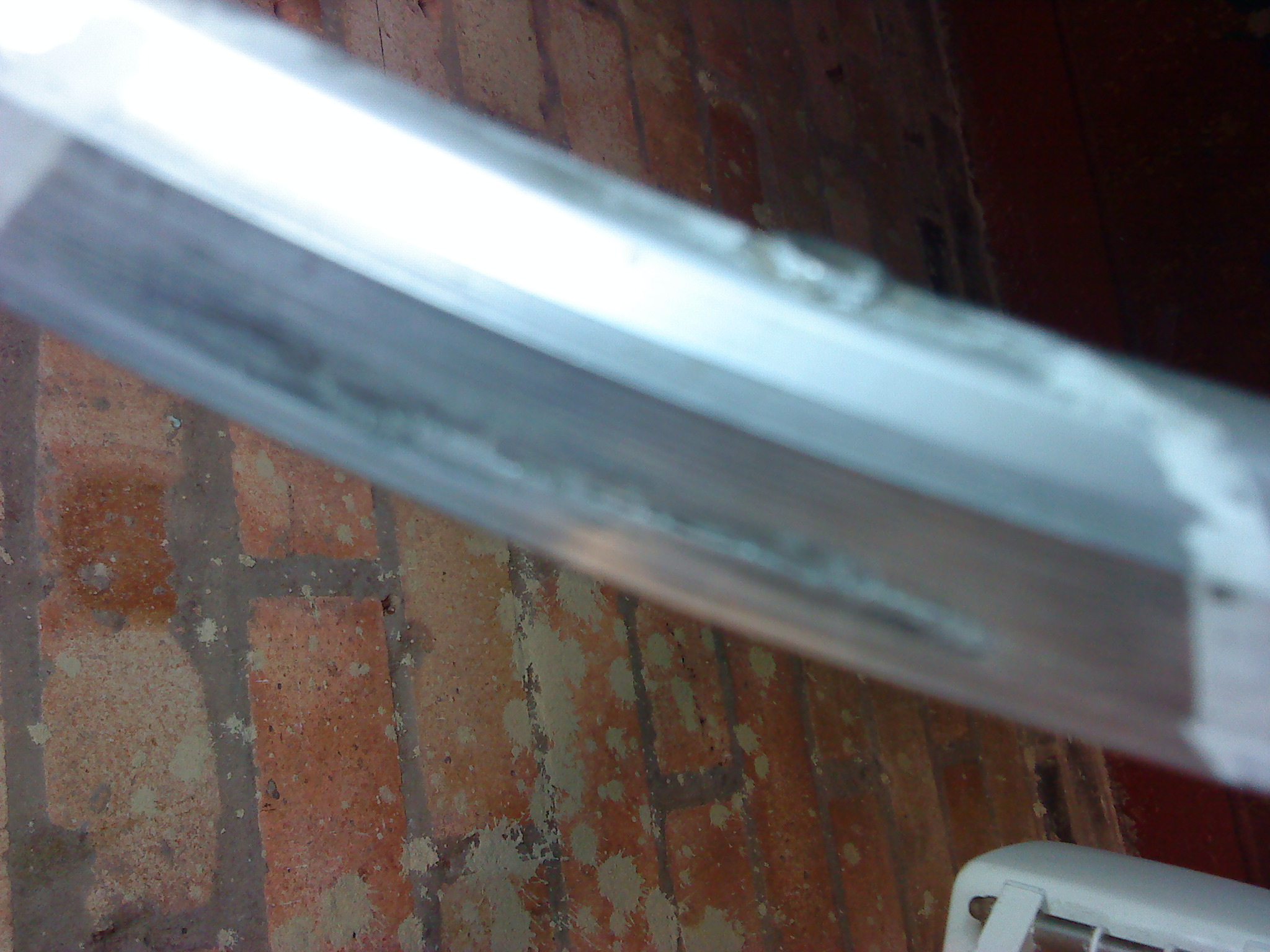 A Mavic Open Pro with a cracked rim on the braking surface because it has worn so thin. The eyelet can be seen to the top right.
This was spotted by me on a routine service but if nothing is done, this will happen: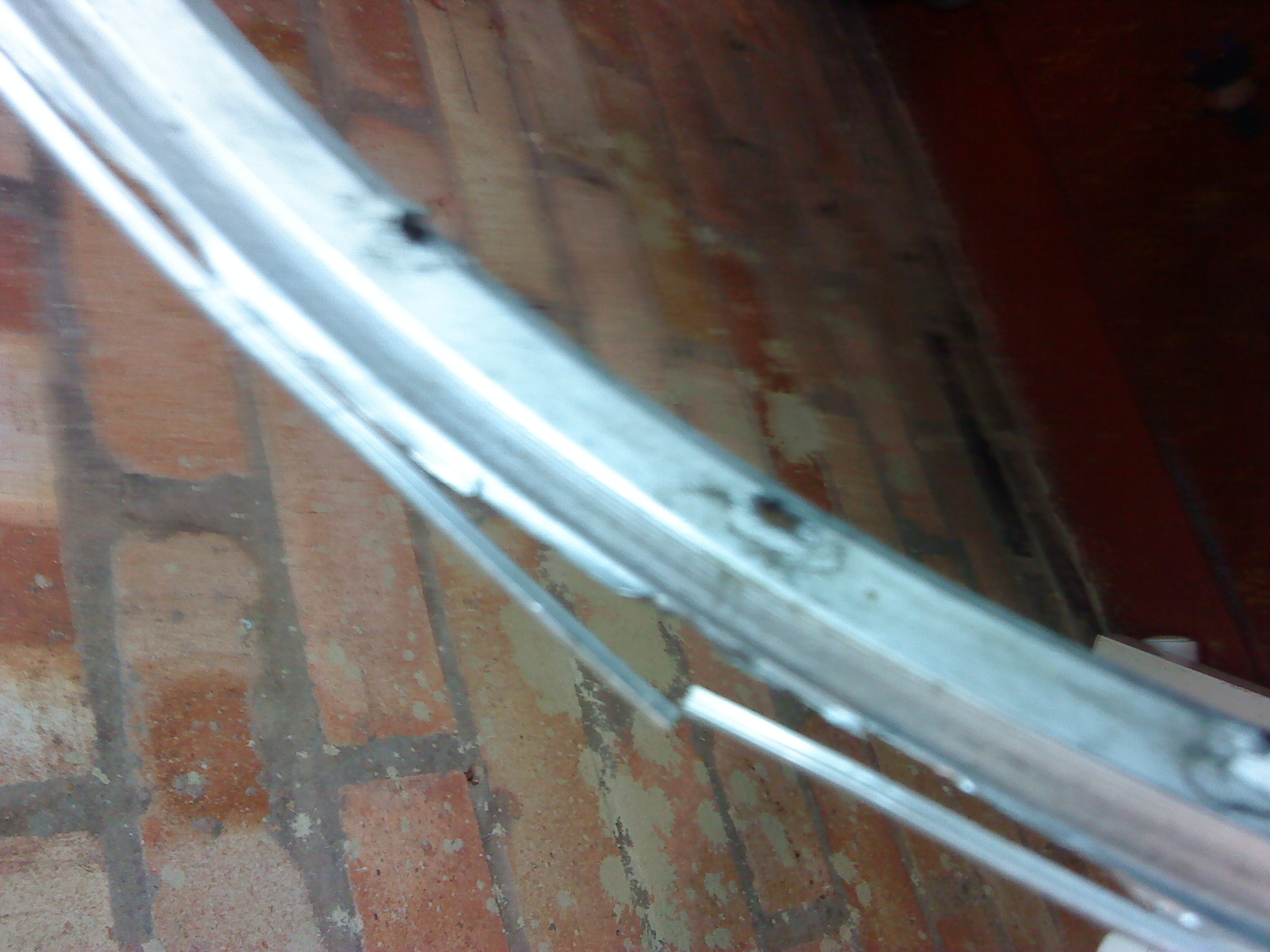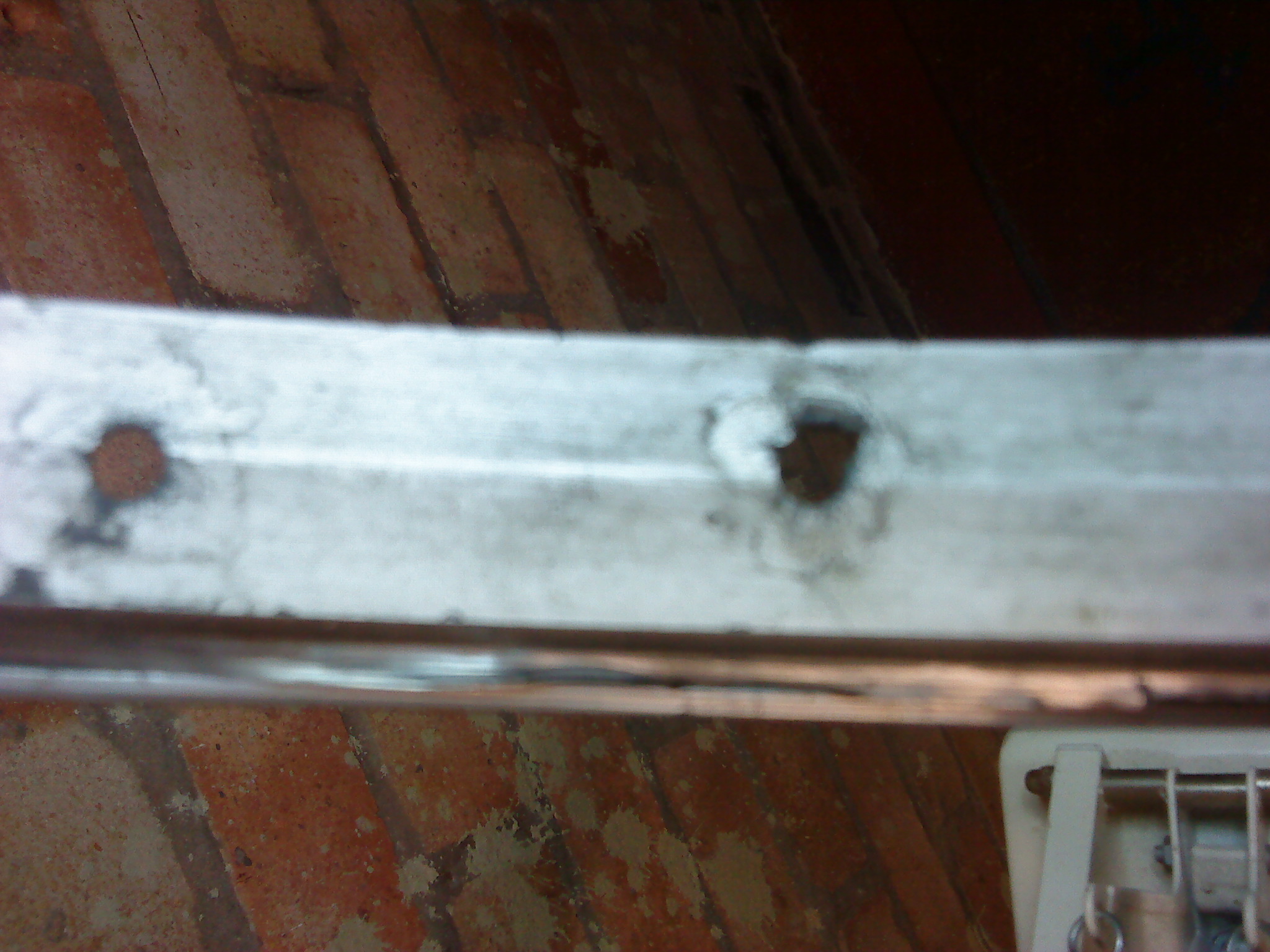 Total catastrophic failure! This occurred whilst on the move. The rim wore so thin that the tyre pressure made tube explode off the rim, ripping it outwards (left). The failure was so violent that the spokes were pulled through the rim resulting in broken jagged holes on the rim (right).

So check your rims and avoid road rash.


Bottom Brackets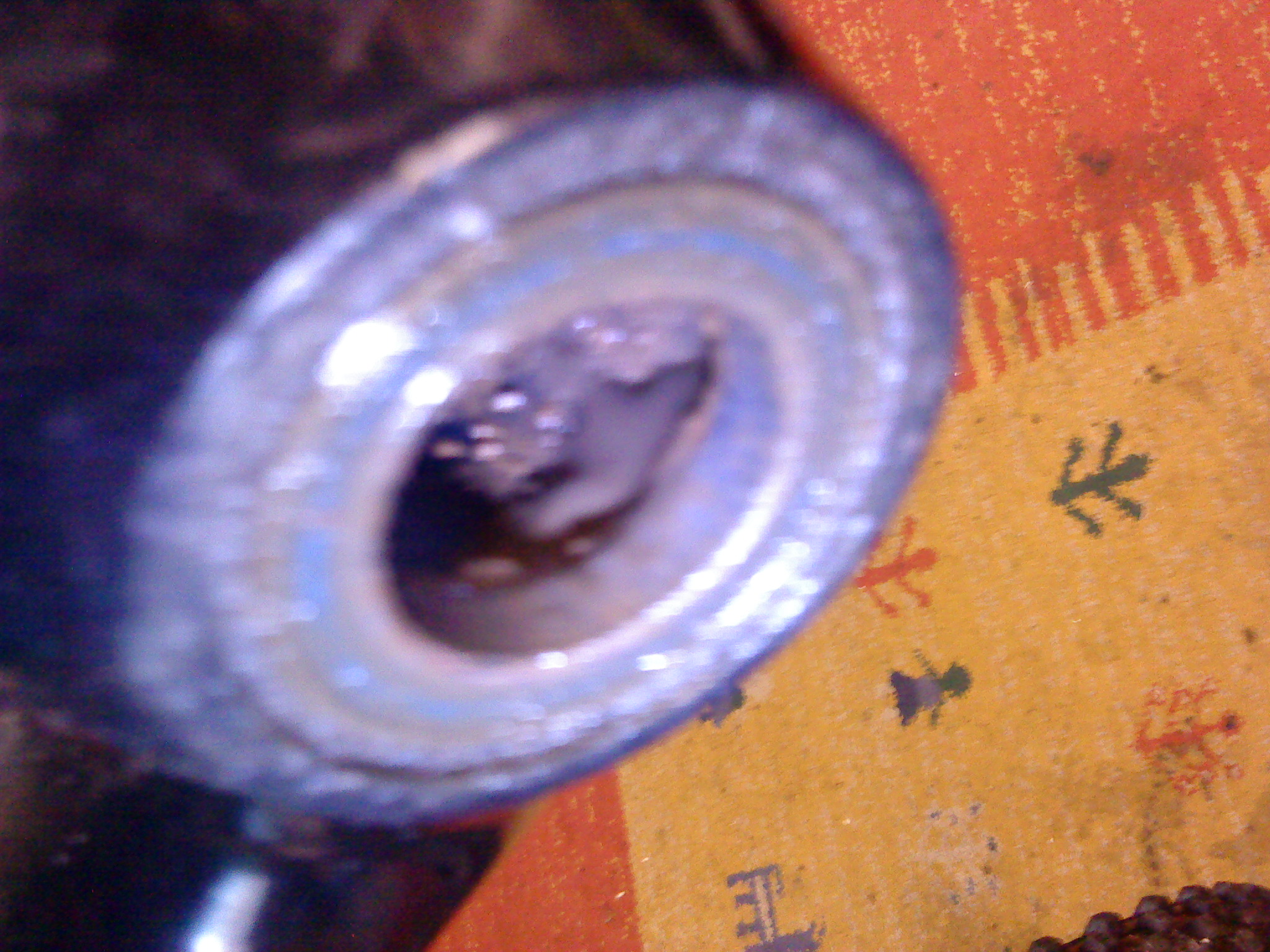 Bottom brackets. Above is the botttom bracket shell of a quality MTB frame. The rider reported that the cranks did not turn freely and here is the reason: a seized bearing. you can see the rusty/muddy water laying inboard of the bearing. Despite the bearing having rubber seals on both sides, water has got in a killed it.
How can you prevent it? One tip is to drill a small (about 4mm) hole in the bottom bracket shell at it's lowest point to allow water to drain out and air to circulate. For MTBs a small rubber plug should be inserted whilst riding off road to stop water splash getting in and then removed after the post ride wash.
Cartidge type bottom brackets tend to fare better in wet conditions but water will do damage eventually. Regular removal and cleaning go along way to extend their life.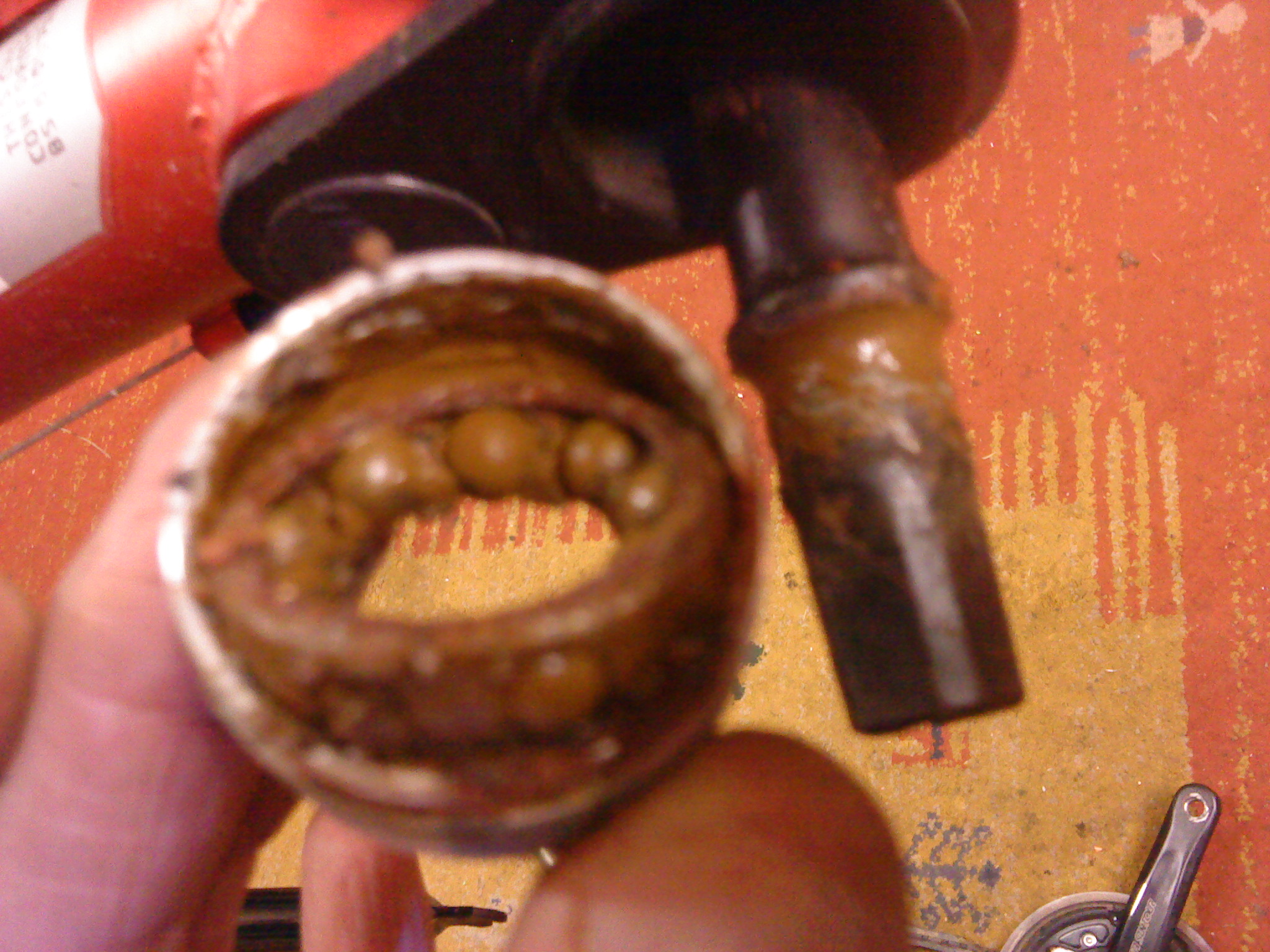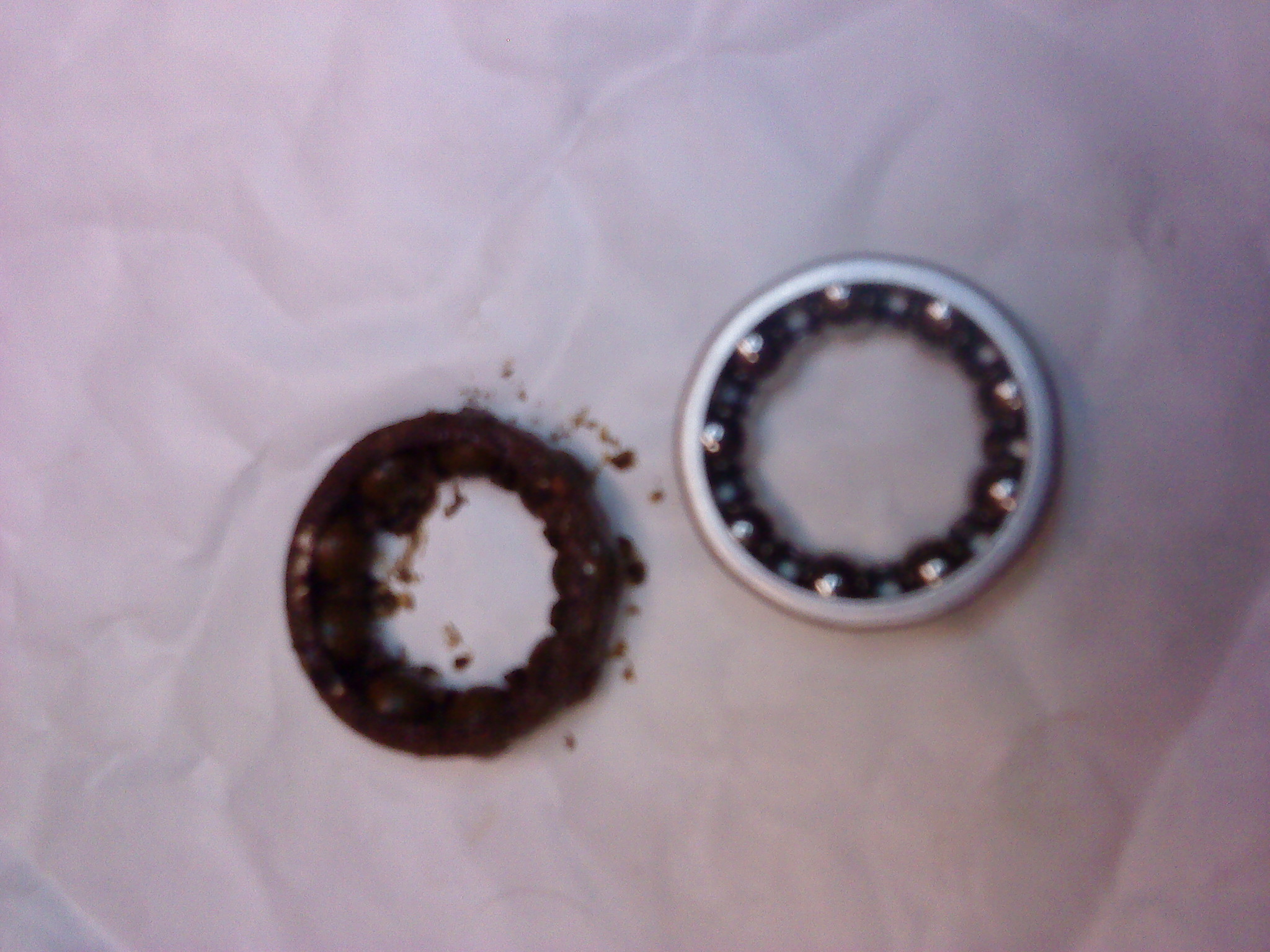 More bottom bracket horror, this time from an earlier style adjustable cup type (left). Most of them are not sealed, therefore water enters and does this. The bearing, cup and spindle are all worn due to grinding away in rust. The right picture shows the old bearing and the new one ready to be fitted.

Snapped !!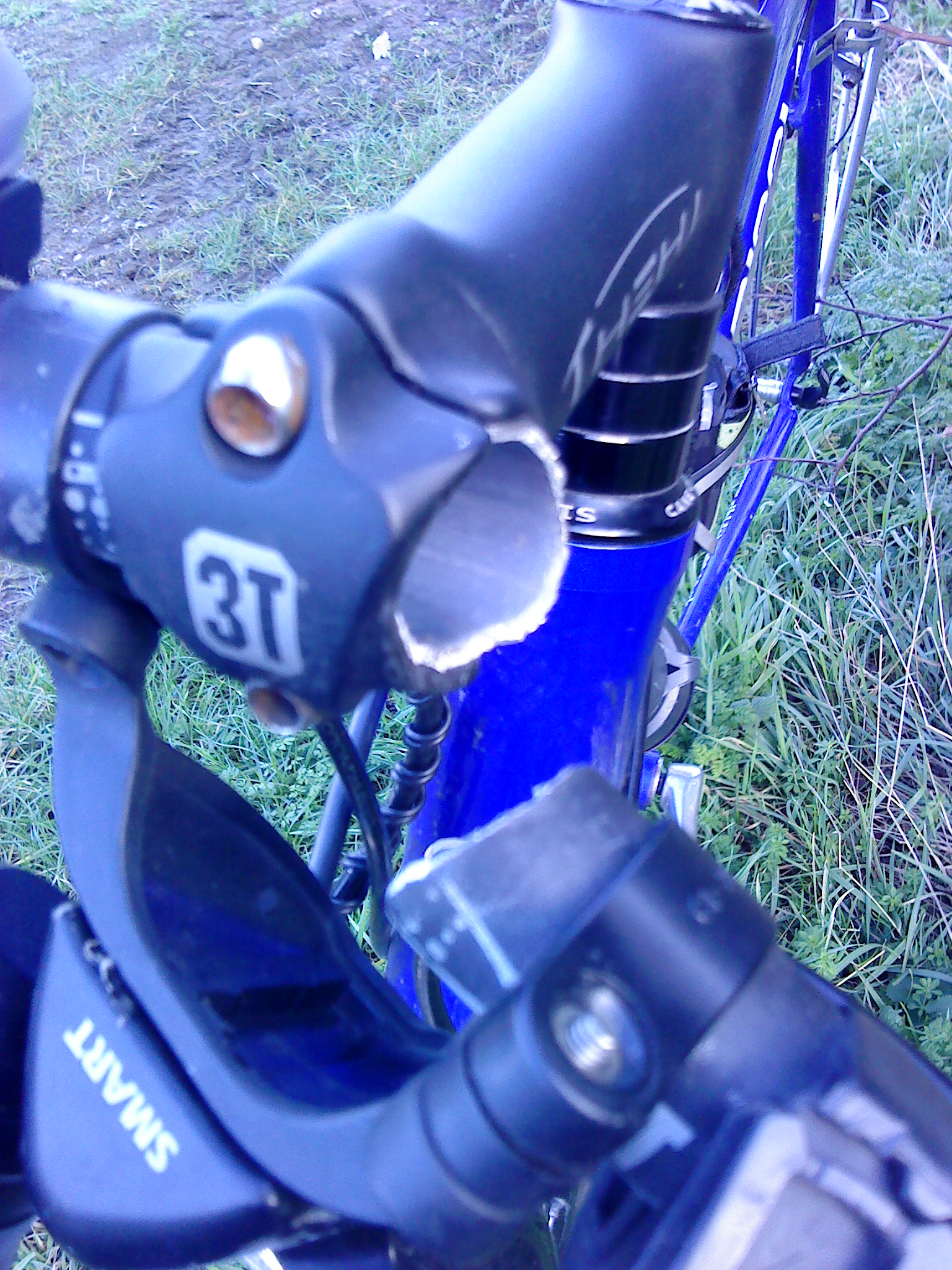 This was a road bike being riden by one of my friends on a sharp climb. These 10 year old handlebars suddenly snapped without warning whilst the rider was out of the saddle, honking. Our speed was slow so the rider managed to keep upright. Check you 'bars if they are creaking - they may be cracked at high stress areas like the stem clamp or brake levers.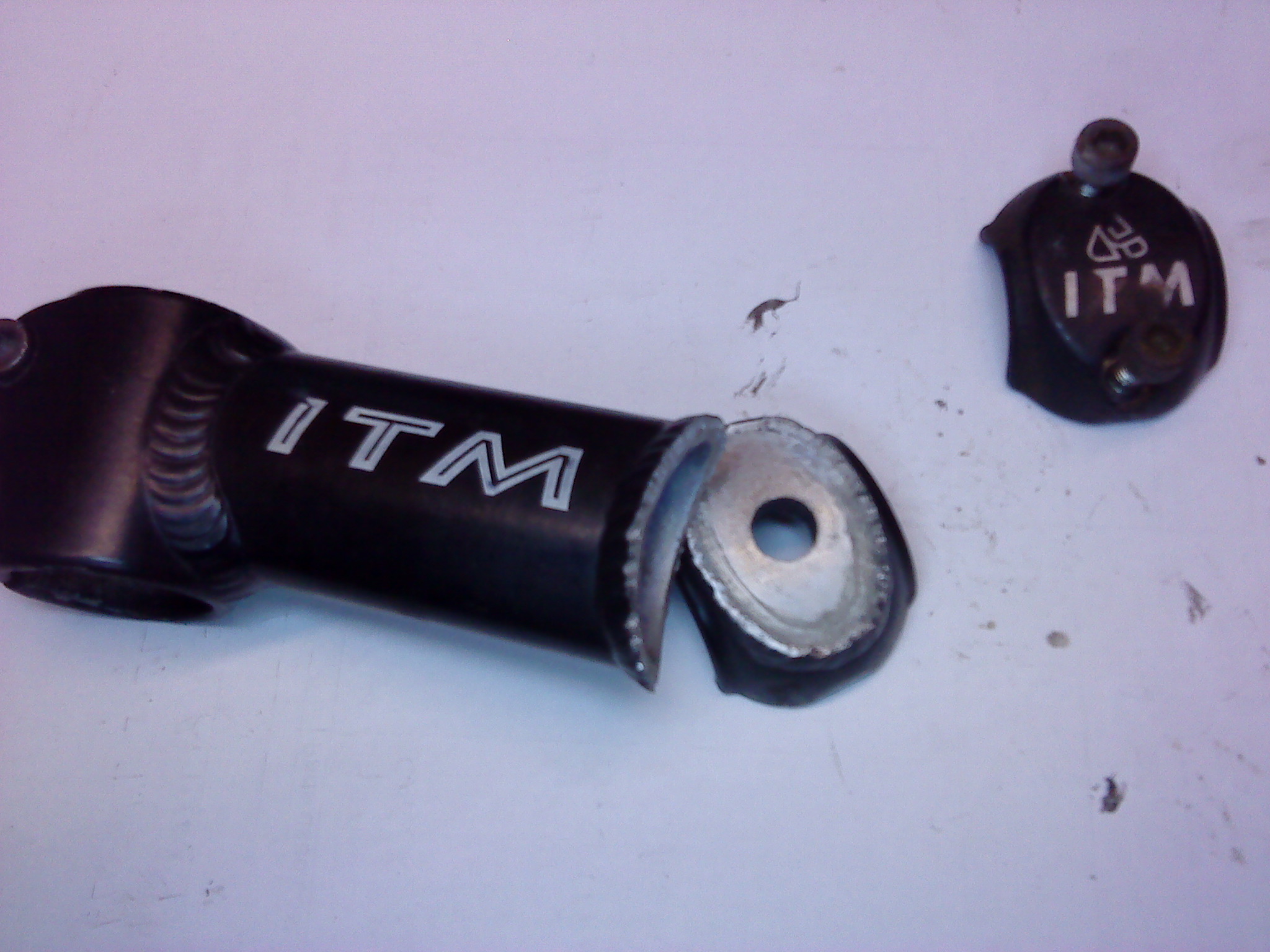 Another sudden failure. Cracked neatly around the weld on a stem. The rider was climbing Bunny Hill in Nottinghamshire when this happened without any warning, resulting in the rider losing control and doing a 'groin thrust' into the handlebars! (But he's okay now, he just walks a bit funny)

Punctures

If you're a cyclist, you will get a puncture - fact. Some tyres are 'puncture resistant' but none are puncture proof. All you can do is stack things in your favour: keep your tyres inflated correctly and replace them when worn out; the thiner they get, the more likely punctures will occur.
Low pressures can result in a classic 'snake bite' puncture as seen here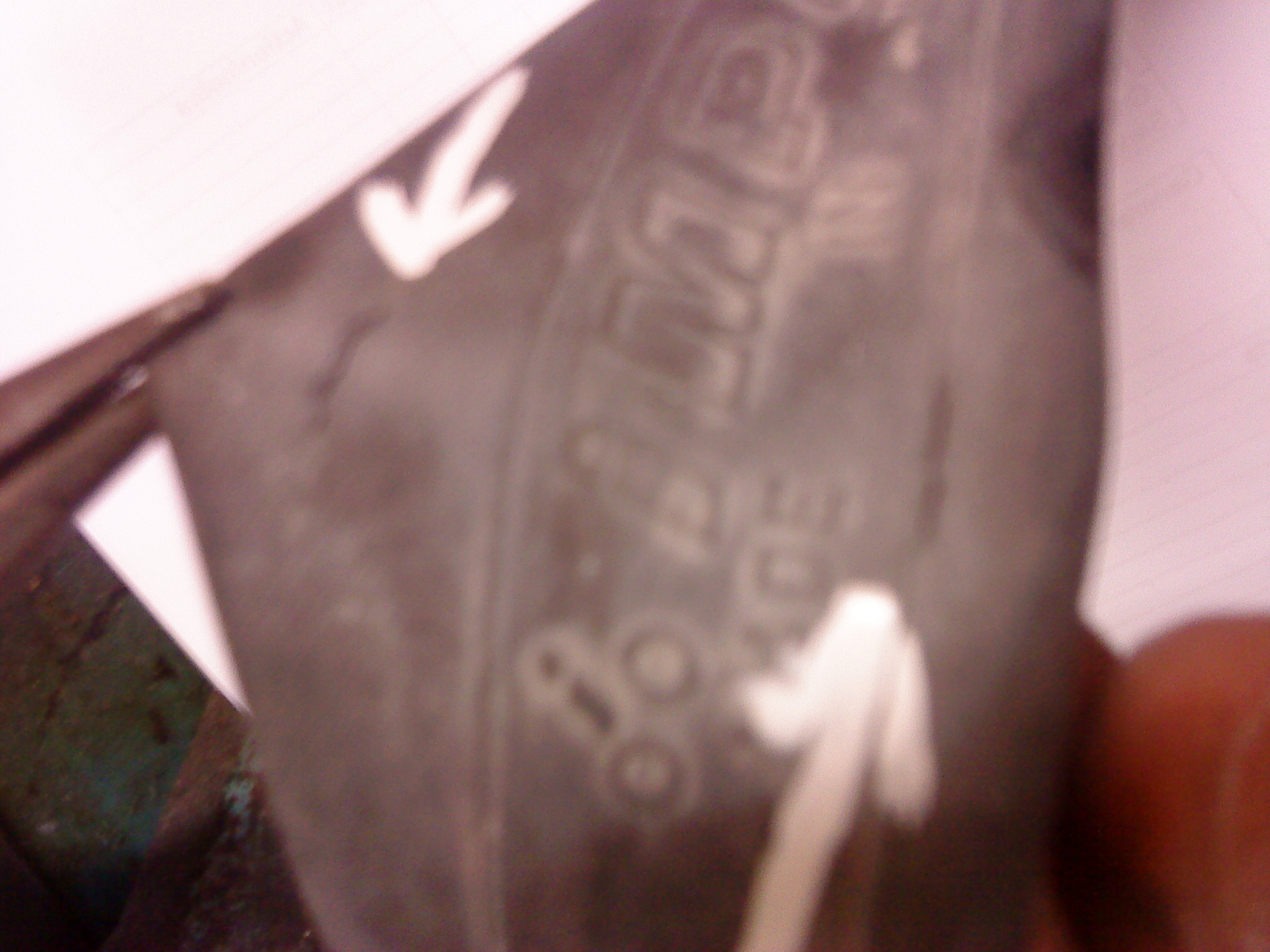 the two parallel holes were caused by the rim
cutting through the tube as the wheel rim hit a hard object such a kerb or a rock. The tube cannot be repaired properly with a snake bite puncture - it's fit for the bin. This type of puncture occurred to a riding buddy recently on hitting a drain cover - reason? soft tyres.

Each week , inspect your tyres and carefully pick out sharp objects stuck in the tread to stop them working their way in.

Anti-puncture strips can be fitted between the tyre tread underside and tube and anti puncture fluid can be injected into the tube. This liquid however had advantages and disadvantages;

Good - protects against small penetration punctures such as thorns, tacks, nails etc.

Bad - does not work well on larger punctures bigger then a few millimeters.
- adds alot of rotating weight to a wheel
- not a permanant repair
- only lasts for months before the fluid will start to solidify
- solidified fluid blocks the valve and forms lumps which unbalances the wheel.

Personally, I am not a big fan of this fluid because it causes more problems than it solves.

Wobbly Headset

Rusty water around your headset? Check out this headset that I have just removed from a road bike

the old bearings (left) and (right) 'star fangled' washers - the old and the new! The old washer crumbled away due to water and road crud ingress.