MOBI > CODA 502M Crank
---
The CODA 502M crank is two parts. One part is a square taper and three chainrings. The second part is a short arm with pedal eye.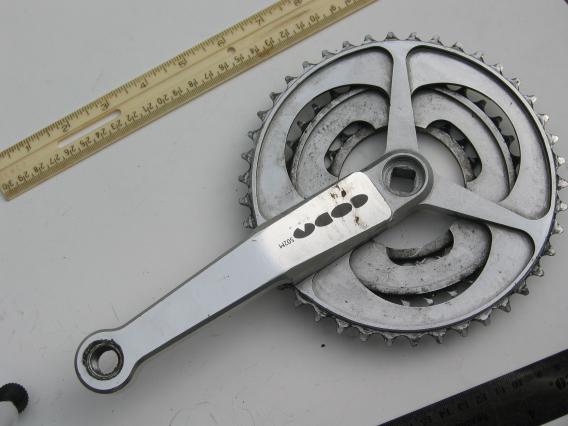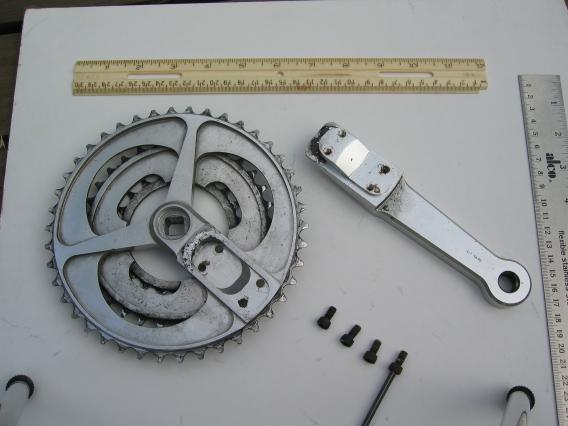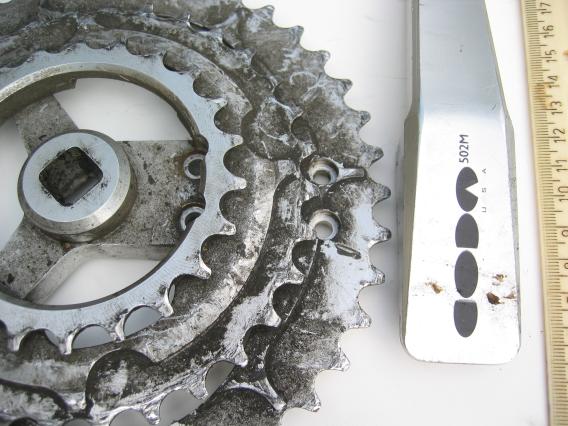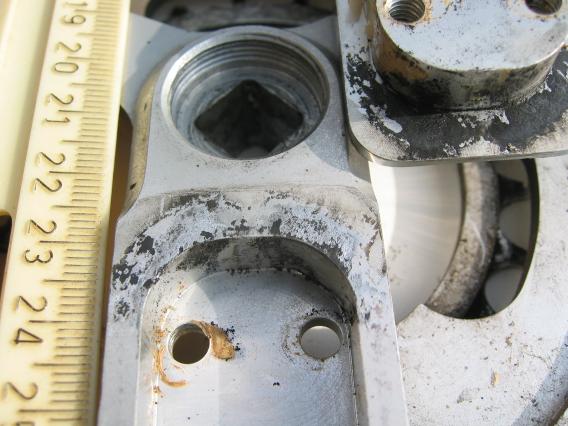 Two-piece construction potentially eliminates fasteners, allows flexibility in arm shape, and potentially makes for a light crank. However, the 502M crank is not especially light, and suffers from at least three serious disadvantages:
The selection of chainrings is fixed, limiting gearing choices.. With luck, the maker has what you want (or something close), but many riders have specific gearing preferences that do not match manufacturer's limited choice of three chainrings.

Most riders ride in a particular terrain such that one chainring wears out faster than the others. A worn chainring cannot be rotated to extend its life, and replacing one worn chainring means replacing all three chainrings — at great expense. (And when this design left production, replacement became essentially impossible, so the whole crank must be replaced.)

The joint between the chainrings and arm is a poor match to the some typical loads. This is likely to lead to microscopic motions, wear (suggested by black material shown here), and ultimately damage to the arm — thus forcing arm replacement.
These problems were easily forseen when the crank was introduced. When you consider buying new designs, you may want to take a few minutes to reflect on long-term ownership. The owner of this crank apparently did not, and was displeased that replacing a worn chainring would have cost US$40 on another crank, but here required purchase of either a new three-sprocket unit costing over US$150, or new US$120 crank and chainrings from another maker — better, but still a lot more than just a worn chainring.
---
According to VeloBase, Colnago made 5 custom cranks (year unknown) for a time trial bicycle raced by Tony Rominger. These cranks are one piece with the chainrings. This "disposable" construction is understandable for "at any price" racing, but make no sense for bicycles in ordinary use.
---