MOBI > Hidden Bad Fender Eyelets
---
Hidden Bad Fender Eyelets
As of 2019/06, there seem to be various large and small makers of bicycle frames and forks offering "hidden fender eyelets" aka "hidden fender mounts".
It seems like a MOBI idea!
Background
Once upon a time, most bicycle frames and forks were made with holes (threaded or non-threaded) for attaching fenders and/or racks. These are commonly called "fender eyelets".
Some pictures to show the general idea: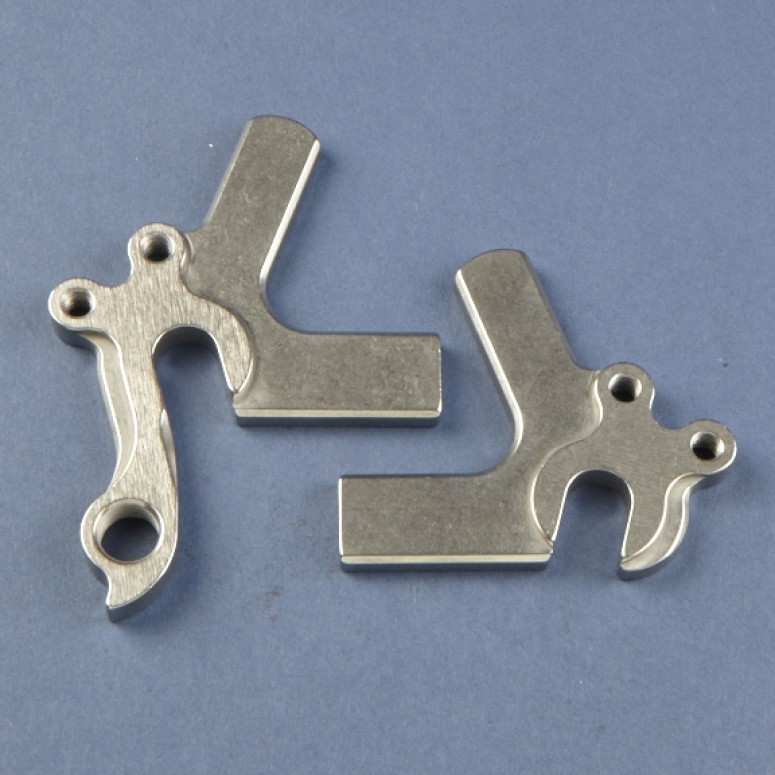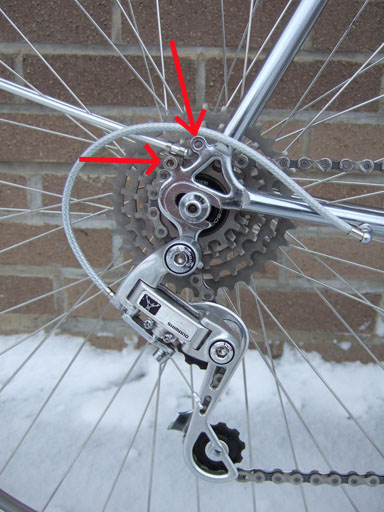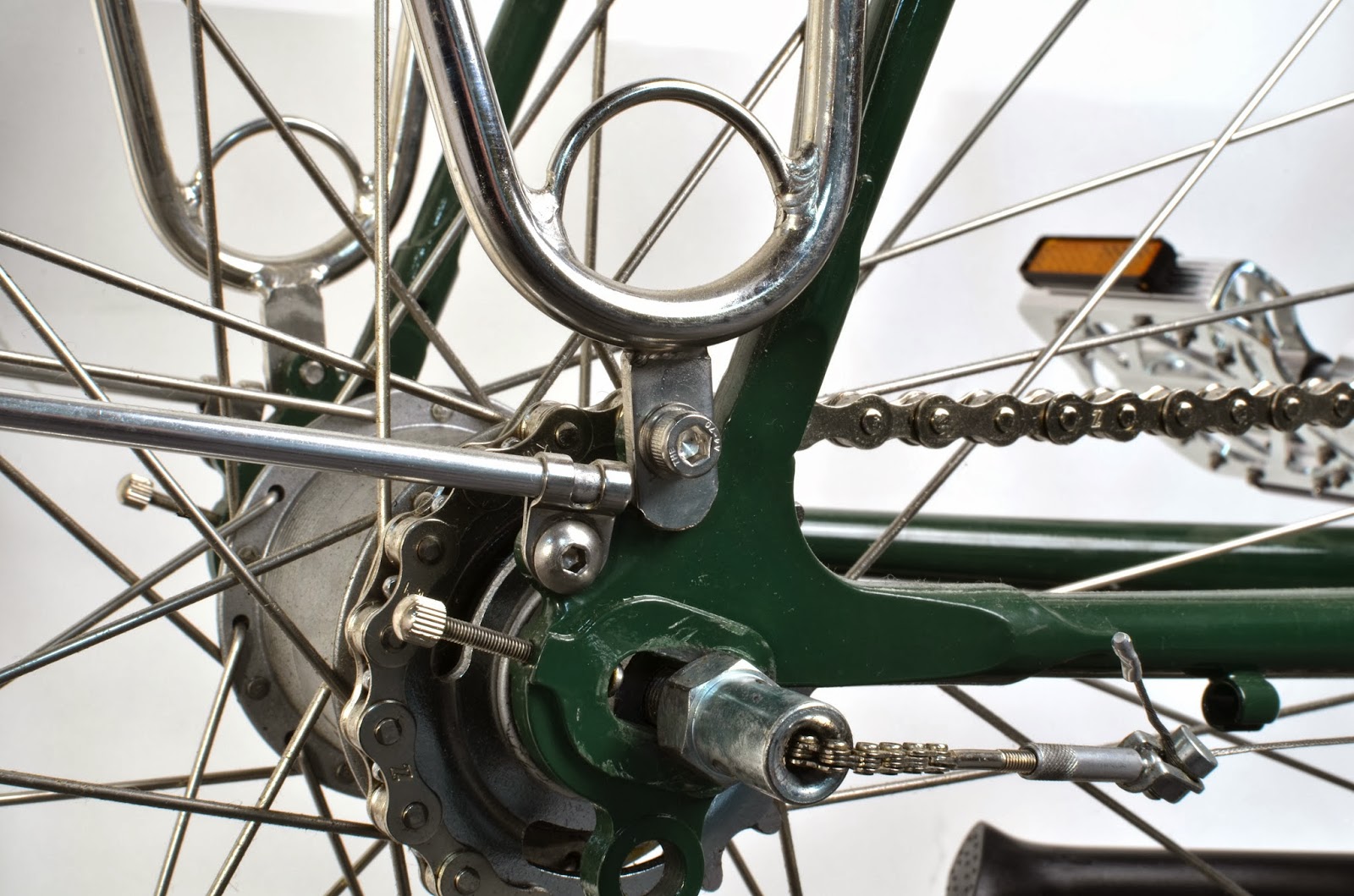 Images from https://www.paragonmachineworks.com/frame-building-parts/dropouts/rear/dr1045-stainless-steel-frame-components-for-vertical-rear-dropout.html https://hubandbespoke.wordpress.com/2014/04/08/im-new-to-seattle-what-kind-of-bike-should-i-get https://velo-orange.blogspot.com/2014/01/vo-rear-rack-installation-with-pictures.html as of 2019/06.
Progress! Progress?
Over time, it became common to build forks and frames without fender eyelets.
Why? History does not record why, but it seems likely because:
it is a few cents cheaper for the maker;
it often saves more than 2 grams — and "lighter is better";
many buyers were "casual" riders and did not immediately notice the omission;
it is a few cents cheaper for the maker;
it is a few cents cheaper for the maker.
In other words, fender eyelets got dropped, but not because removing them improves the bicycle in any significant way.
However, when makers took away fender eyelets, they did not take away the reason why they were there in the first place: they are useful.
And so lots of folks started adding back the missing eyelets, using a hodge-podge of after-the-fact "gadgets". Here are a few of the many(!) attempts to re-create fender eyelets: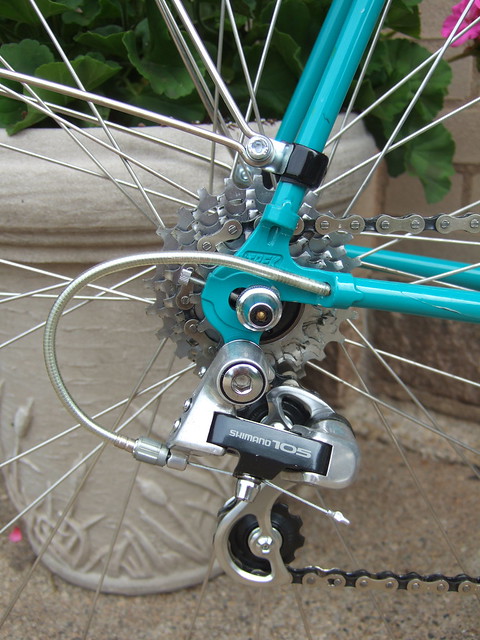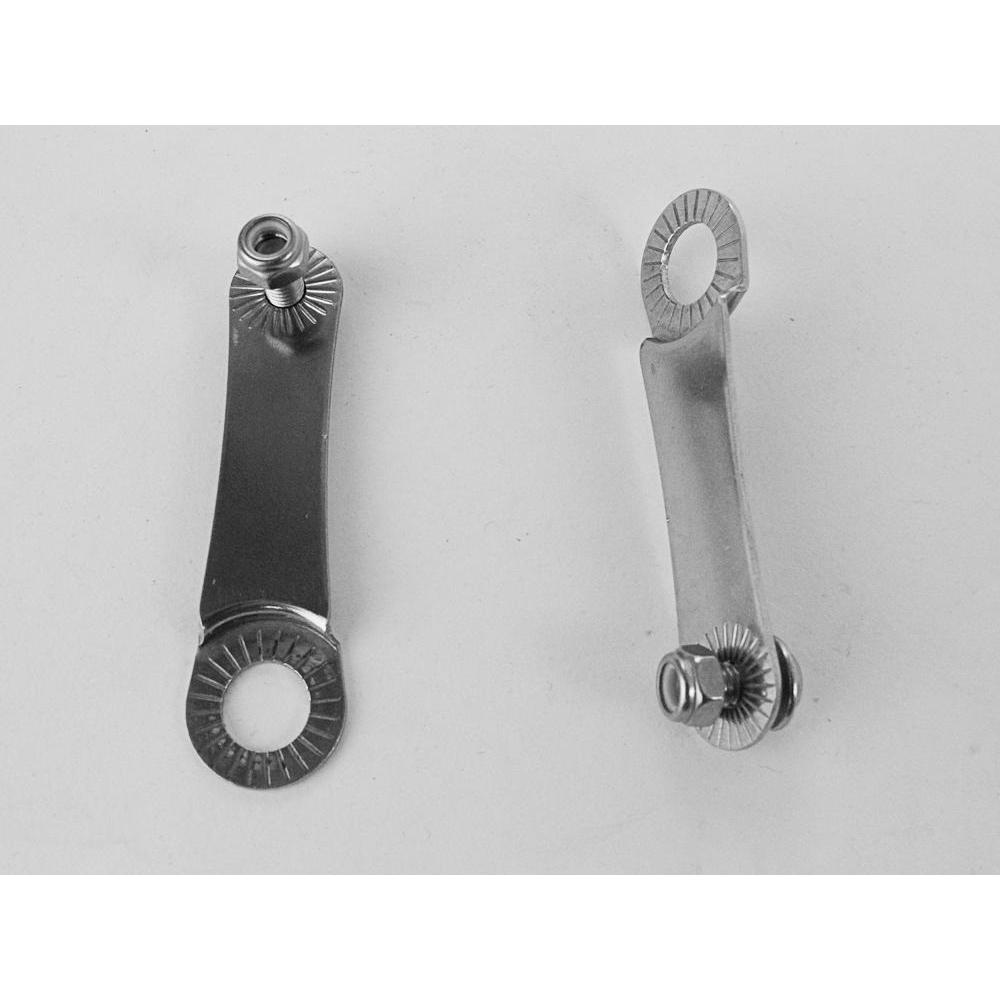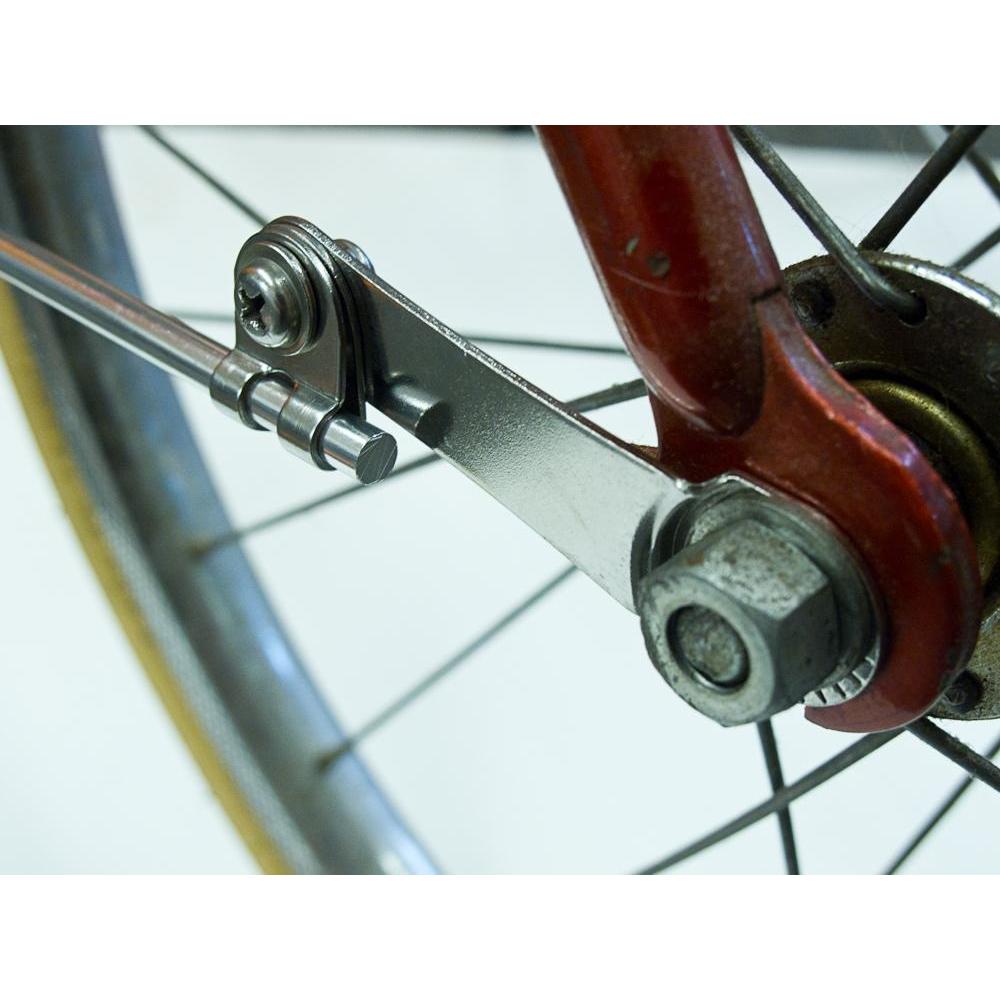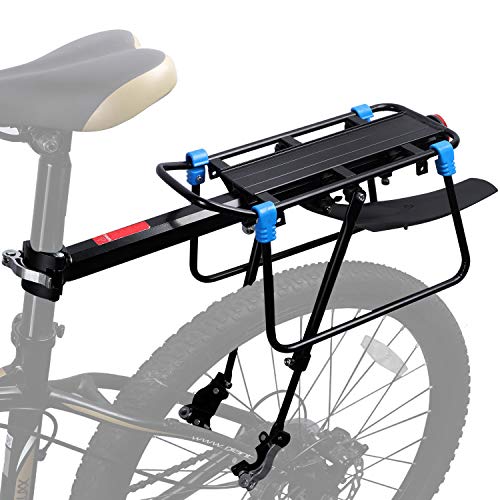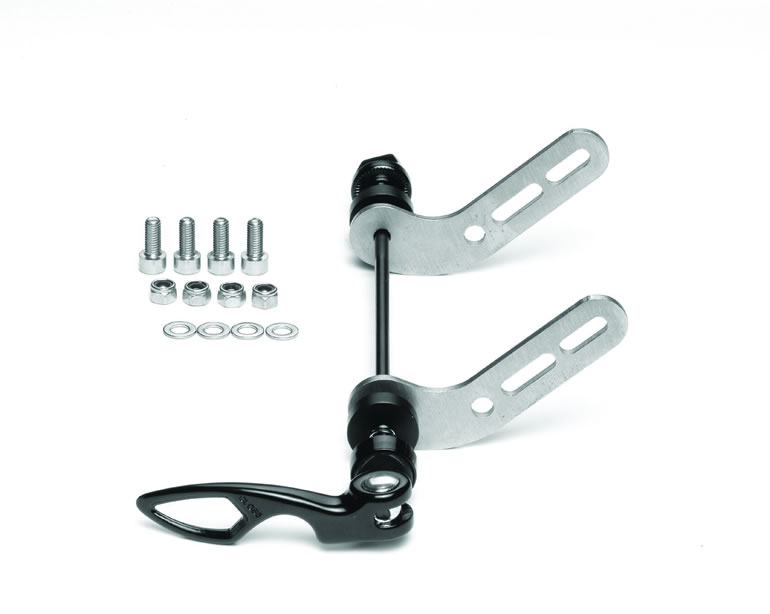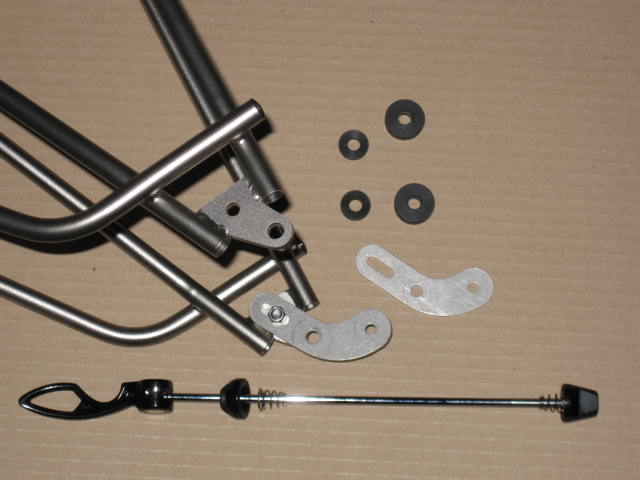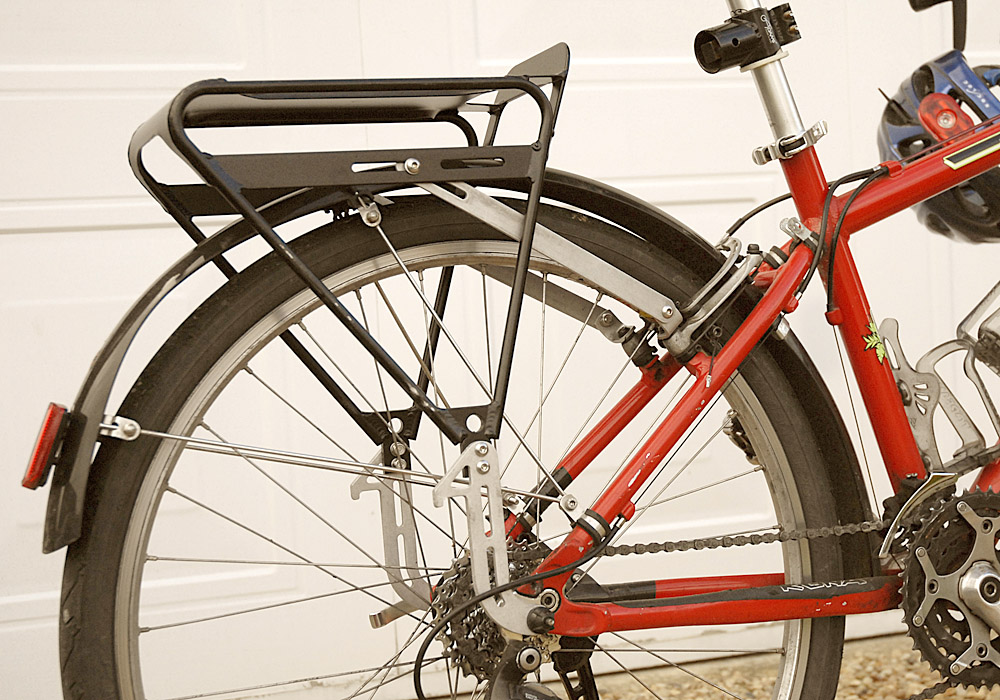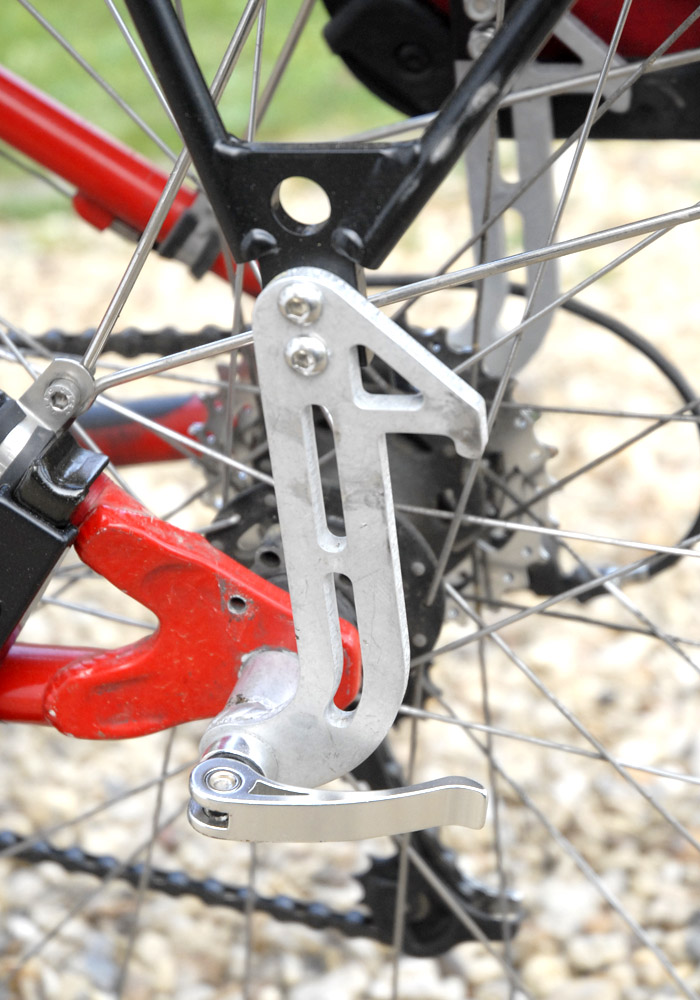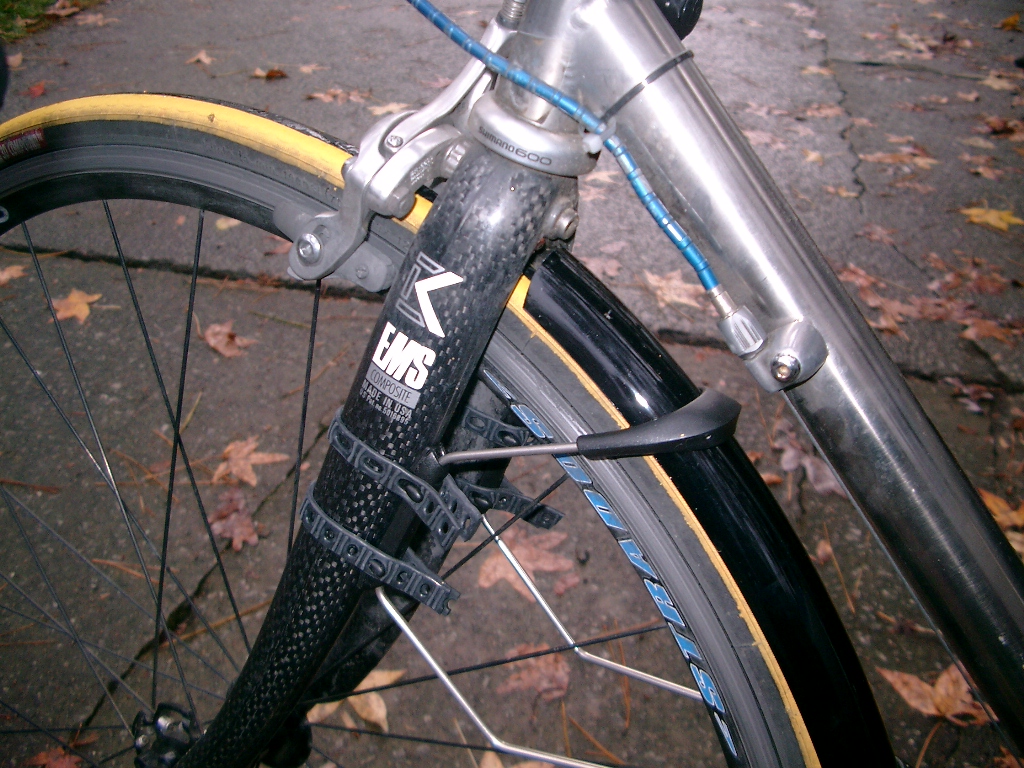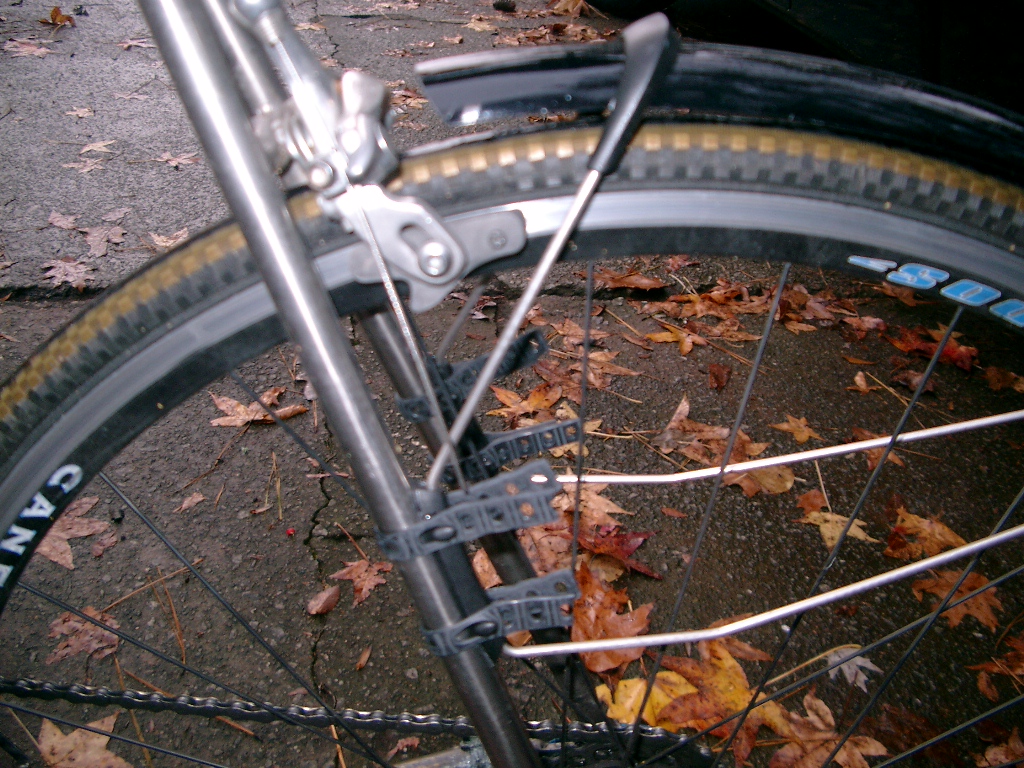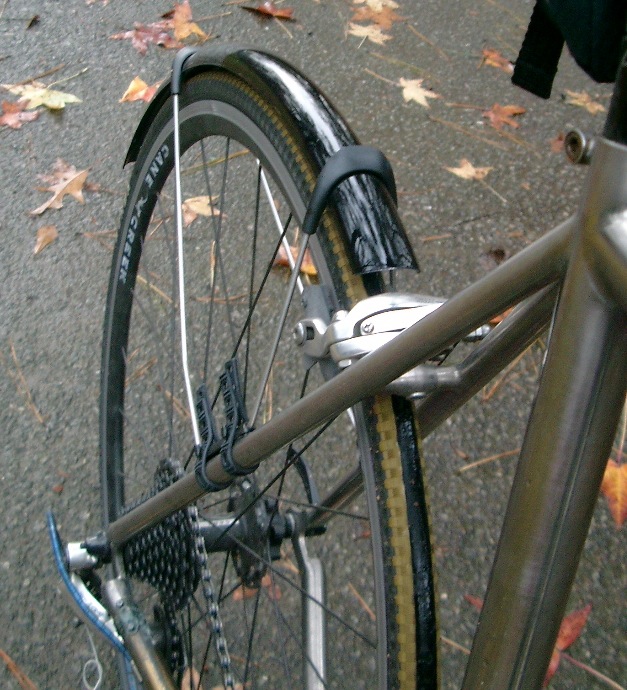 Images from https://www.bikeforums.net/classic-vintage/740725-fender-stay-add-eyelets-dropouts.html https://velo-orange.com/collections/fender-parts/products/vo-fender-stay-mount-for-eyeletless-frames-10mm https://www.desertcart.ae/products/83875356-icocopro-bicycle-touring-carrier-with-fender-broad-frame-mounted-for-heavier-top-side-loads-bike-cargo-rack-quick-release-height-adjustable-cycling-equipment-black https://ortliebusa.com/product/qr-adapter-set http://biketouringnews.com/touring-bike-accessories/bags-panniers/tubus-quick-release-adapter https://www.thebikelist.co.uk/reviews/cycle-touring-equipment/old-man-mountain-cold-springs-rear-rack https://www.amaincycling.com/sks-raceblade-bike-fender-set-carbon-look-700-x-18-23-10093/p310187 http://mtbandy.blogspot.com/2011/11/sks-raceblade-fenders.html as of 2019/06.
It is great to see folks being clever and coming up with ways to cope with "no eyelets".
However, that is a lot of effort just to work around "maker was too lazy/cheap/something to make a few holes."
Worse, "deal with it" or "coping" solutions are often inferior to built-in fender eyelets. For example:
Workarounds like strap clamps ("Wadel clamp", "rubberized p-clamp") can shift over time. That can cause the fender to rub, etc.

Some workarounds clamp under axle nuts or quick release. Every time you remove or re-install the wheel, they are in the way. Also, with the wheel out, the fender and/or rack can flop around and possibly damage itself and/or other things.

Many workarounds are not sturdy enough to support a loaded rack.

Workarounds can weigh more than whatever got saved by omitting the fender eyelet in the first place.

Adding something after-the-fact costs more than if the maker had just built it in to the frame in the first place.
What to do?
Innovation! Innovation?
Finally, a solution! Introducing: the "hidden fender eyelet".
Which is, basically, a threaded hole just like a fender eyelet, except in order to "hide" it, it is placed/oriented so that it is useless for most rack and fender mounting.
And since it is in the wrong place, you use it by buying an extra gadget that threads in and provides something sort-of like a conventional fender eyelet.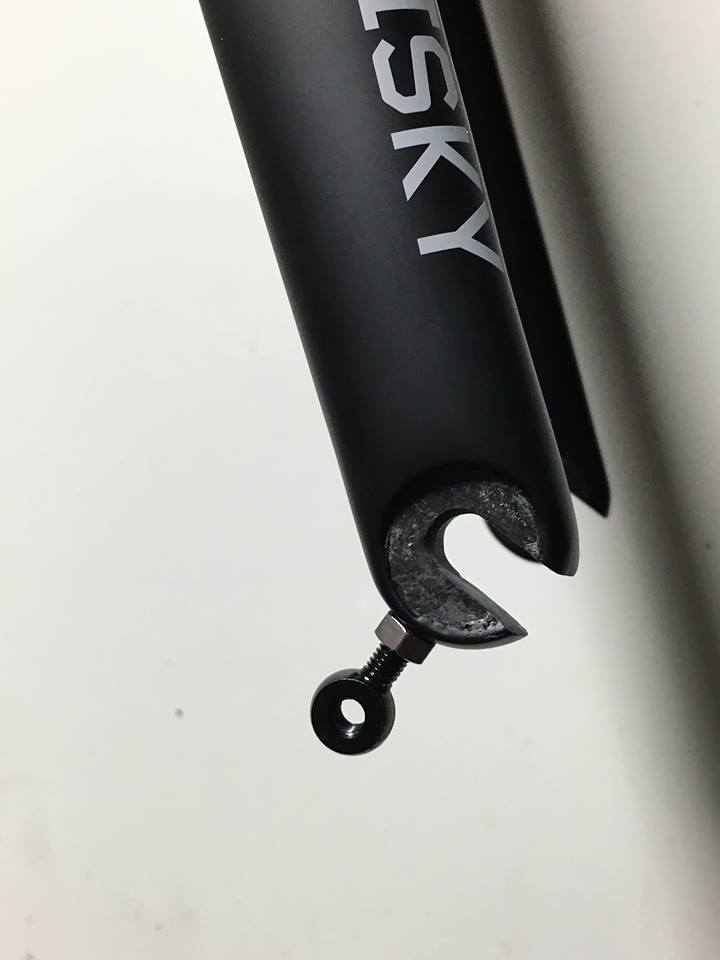 Images from https://theradavist.com/2017/01/whisky-parts-co-no-7-road-fork https://bikerumor.com/2017/01/17/whisky-no-7-rd-fork-provides-option-straight-steerer-rim-brake-650b-road-plus https://www.jensonusa.com/Whisky-Removable-Fender-Mounts as of 2019/06.
Problem solved!
Although: I think the "problem" being solved here is "looks".
And, I don't recall anybody complaining about the looks of regular eyelets.
Also: once the "hidden" eyelet is installed, many may find it "looks" stupid.
...
Of course, if it doesn't hurt, then no reason to care.
However: it hurts. Some possible problems are:
One more non-standard part. A great thing about eyelets is things attach using nuts and bolts. With a hidden eyelet, you have a special majik bicycle-specific part that no hardware store will have and even most bicycle shops will not have. "Good luck" if you lose or break one out on the road.

The "hidden" hole weakens the dropout. If a regular eyelet is designed in to the dropout, it can strengthen it. The hidden hole might also be designed in to strengthen it, but at least some of the photos suggest the hole is placed in a way that weakens the dropout.

There are more things to come loose, make noise, and go in to the spokes and injure the rider.

Injury is probably very low odds, but low odds times lots of years of riding could turn out to be your personal stay in the hospital. When risk comes with some obvious gain, then some risk is worth-while. When there is no obvious gain for it, extra risk seems dumb.

Conventional eyelets can be used to mount racks, and thus make your bike more useful/fun/etc. It seems likely the maximum load on these hidden eyelets is fenders, but not racks.[1]

More cost — a conventional fender eyelet is super cheap. Basically: a hole. Or if you want to get fancy, a threaded hole.

So the cost of hidden eyelet's threaded hole may be similar cost to a conventional eyelet.

But: you also pay for the removable threaded eye that the bike maker threw in "for free", even if you never wind up using it.

And if you wind up needing to buy replacements for the now-lost removable eyelets, you pay even more. (And be sure to include this in the cost when you buy a used bike or frame.)

More hassle, since attaching fenders first means attaching fender eyelets and then attaching fenders.

Which is more hassle, but first there is the hassle of finding the eyelets or getting new ones. A Gary Fisher video [https://www.invidio.us/watch?v=mj-1G4NVqFU as of 2019/06] notes the new bike included removable mounts, and "Just be sure to keep your fender mounts someplace where you won't lose them." [2:00].

And then if you ever want to take off the fenders, the way the hidden eyelets are designed, you need to first remove the fenders from the eyelets, and only then can you remove the eyelets from the frame. More hassle.

Of course you could just leave them on the bike. Hey, I have an idea: to save weight, we can have "integrated hidden fender eyelets". Brilliant!

More risk of frame damage

A Gary Fisher video [https://www.invidio.us/watch?v=mj-1G4NVqFU 0:50; as of 2109/06] notes the threaded frame mounts have setscrews you need to remove and set aside where they won't get lost.

Presumably the setscrews are there because you need them in order to avoid frame damage. So if you remove the fender eyelets but do not re-install the setscrews, you may risk frame damage.

More eyelet failures — v1: once you attach the eyelets, the easiest way to dis-mount fenders is to remove the normal fender bolts and leave in-place the "hidden" eyelets. However, they hang out in space where they are likely to get bent or broken during ordinary handling, such as putting the bike on some fork-clamp bike racks.

More eyelet failures — v2: even with the fender in place, some "bike rack bash-o's" are likely to bend and break the threaded removable part (which is at the point of greatest leverage), while a conventional fender eyelet will resist the load and instead the plain aluminum or steel fender stay will bend... and can be bent back without problems.

Extra weight: a hole is going to have similar weight, whether it is an "eyelet" or a "hidden eyelet mount". But then to mount the fender you need to mount an extra-weight hidden eyelet.
It is amusing to note that for many years, riders won the Tour de France on bicycles with ... fender eyelets. I think this is the bicycle Fausto Coppi used to win the 1949 Tour de France. Note the fender eyelets where the seat stay meets the dropout: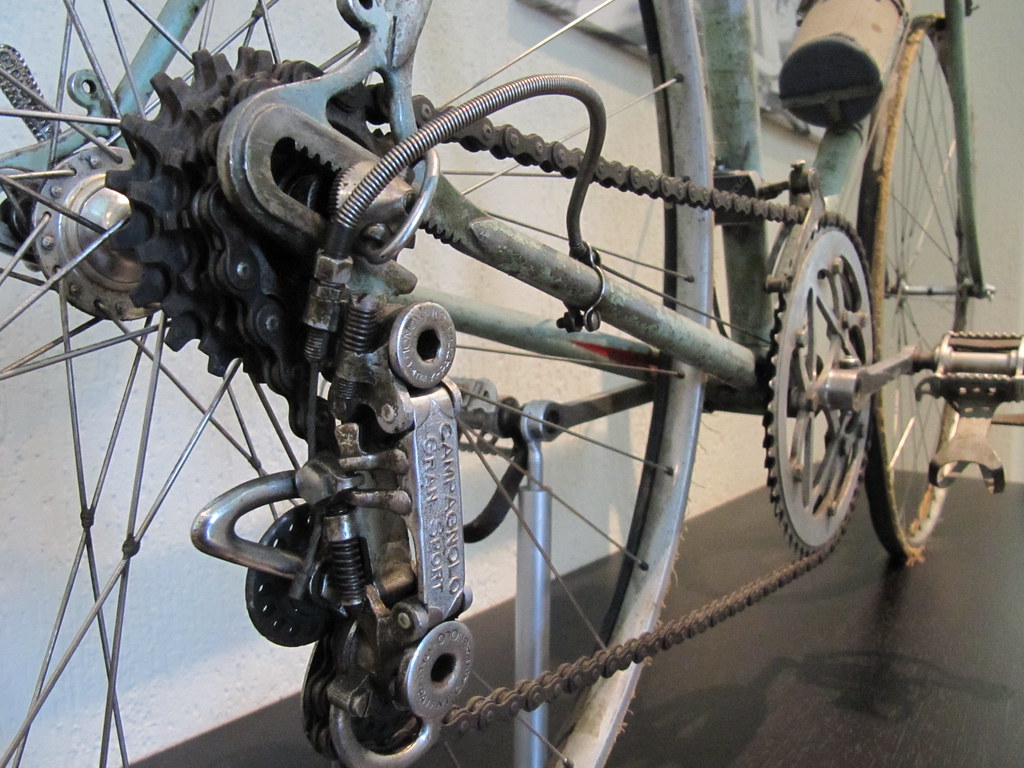 (From https://www.flickr.com/photos/rentalbikeitaly/5961757898/in/photostream/ as of 2019/06.)
So let's see. The old kind of eyelet has the "disadvantages" that it is cheaper, can make the dropout stronger, is more convenient, is more durable and reliable, weighs the same if you don't use fenders, and weighs less if you do use fenders.
It seems one thing that is well-hidden about the new design is whether it is worse for the rider in every way, or if there actually is some advantage to it.
[1] Update: New Trek Domane "passes" eyelet test By Gene Bisbee in Bicycle Industry, Main Page 2010/03/30. https://www.bikingbis.com/2012/03/30/new-trek-domane-fails-eyelet-test as of 2019/06.
[T]he eyelets wouldn't support racks [...].
---