MOBI > Mavic 571 Hubs
---
Mavic 571 Hubs
Mavic 571 hubs use a face ratchet. The MTB version of the hub was reported to have ratchet failures and Mavic replaced at least some with freewheel hubs.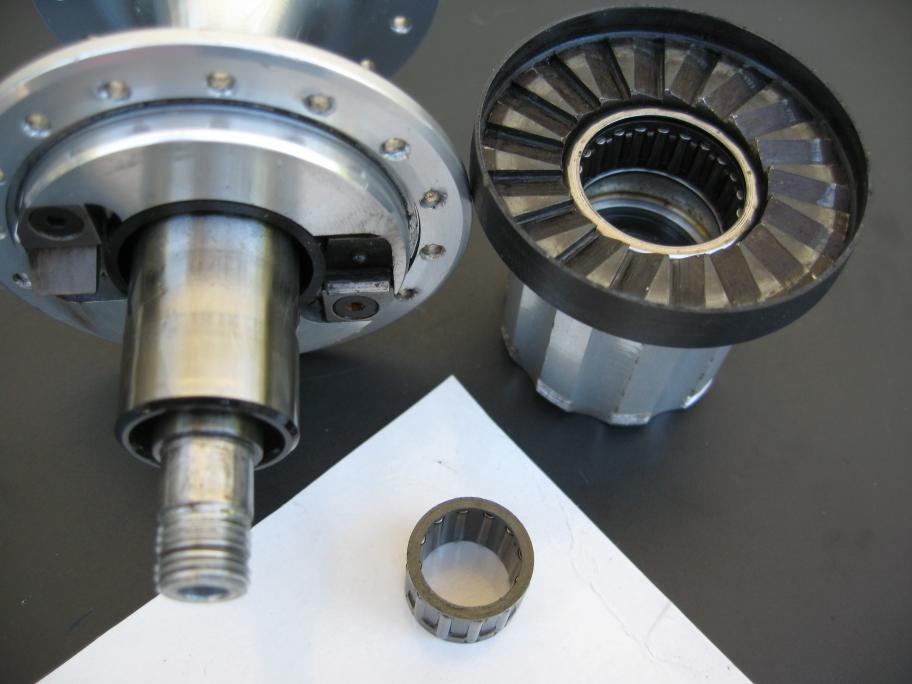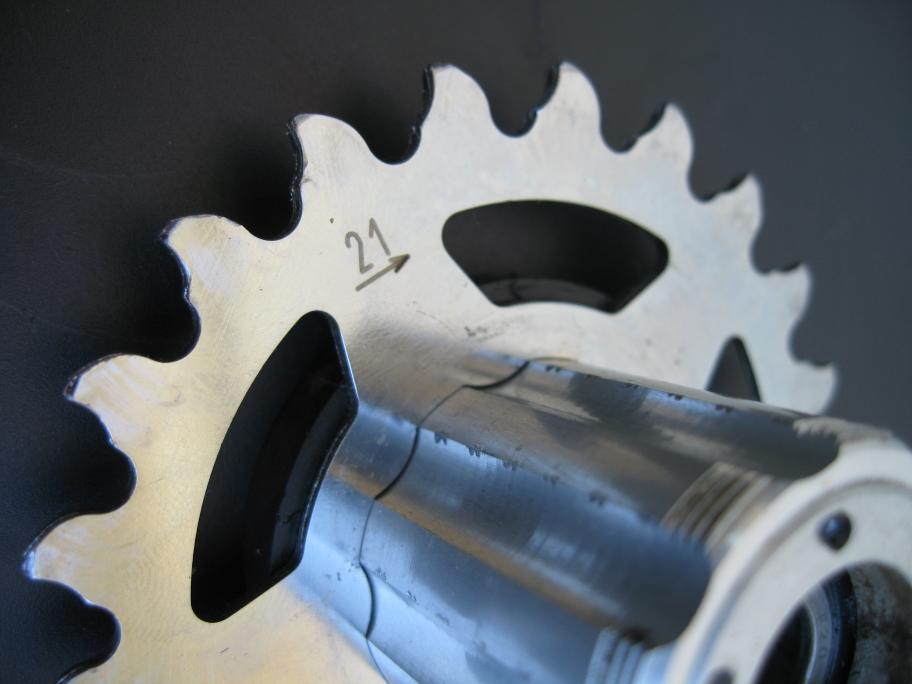 The root cause of failures is unclear. It seems plausible the ratchet is more sensitive to radial misalignment than a conventional hub. It also seems plausible grit intrusion led to failures.
The use of a face ratchet also means the driving load tends to spread the cassette body from the hub shell. This may increase bearing drag and/or the rate of bearing failures. A larger gap tends to also increase pawl loading, as the pawl becomes inclined poorly to carry load.
In comparison, a conventional radial ratchet has some of the same problems, but when two pawls are engaged simultaneously (which is not always, but happens commonly in many designs) the forces tend to balance somewhat. Also, bearings which fit readily in hubs tend to support larger radial loads than axial loads.
The hub also uses an unusual bearing layout: the axle has a cylindrical inner race pressed on to it, and the hub shell has an integral steel tube that has the outer race for a needle bearing. The left side uses a cartridge bearing that provides both radial and axial support. The cassette body similarly runs on a needle bearing that is supported by the same tube in the hub shell and a "cup" race pressed in to the aluminum cassette body. The outboard bearing is a 6000 bearing which is clamped between the hub shell race on the axle and a screw-on end cap that rests on the dropout.
The ratchet is protected by a labyrinth seal, built using a cup that runs in a groove inside the spoke holes. Unfortunately, there is not also a contact "lip" seal to resist immersion.
According to the service manual, there is an oiler that is used by removing the QR, inserting the oiler, and the oiler forces oil through a small hole in the axle to lubricate thebearings and, presumably, the ratchet. It might also tend to clean the ratchet. Such a mechanism is probably lighter and more aesthetic than an oil fitting in the hub shell, but a fitting would tend to inform riders that oiling was an option; remind them to oil; and improve convenience by avoiding any need to remove the QR.
The hub was offered in both standard Hyperglide™ and Mavic-specific driver shapes. The Mavic shape allows use of an aluminum body with less denting from the sprockets. Unfortunately, the radii are slightly mismatched in a way that concentrates sprocket load at the edge of the spline, leading to sprocket embedding anyway. Were the sprocket's spline radius slightly smaller, it would tend to have a longer contact patch and thus better avoid denting. The Mavic sprocket also uses a thread-on smallest sprocket rather than a locknut, allowing use of a chainwhip to remove sprockets, but causing the sprocket to self-tighten, making it difficult to remove. The proprietyary sprocket spline makes them hard to replace, and sprockets have a "shark fin" profile that means they cannot be flipped when worn to extend their service life.
The hub has a right flange center-to-flange distance (wR) of about 15mm (for the 8-speed 130mm OLD hub), so wheels built with this hub are substantially weaker than those built on many other hubs. For example, many Shimano hubs for the same dropout spacing have wR over 20mm. The front hub has wL/wR of about 27.5 mm, compared to about 35 for many other front hubs and as much as 45 mm for some.
Some "bad ideas" here are:
A novel ratchet mechanism. It might be fine, but anything novel is risky. Cyclists are advised in the future to avoid such face ratchets until they have had extensive testing and have demonstrated durability. (Not all face ratchets are problematic — Hugi-style face ratchets have a reputation for good durability.)
A ratchet mechanism that is not well-protected against grit.
Non-obvious lubrication.
Proprietary sprockets without obvious benefits over standard sprockets.
Poor wheel dish in back, poor flange separation in front.
Mavic 571 Hub service manual: MAV571A, MAV571B, MAV571C. From http://www.yellowjersey.org/mavic571.html as of 2009/08.