Bullseye crank; old enough it lacks the axial adjuster bolt, new enough it has a hole for a "key" to hold the arm from walking off. At a guess, from 1984-6. Note the pinch bolt threads have been stripped or drilled and it now uses a metric bolt and separate nut. THe axial location is adjusted using an IRD "keeper" (below).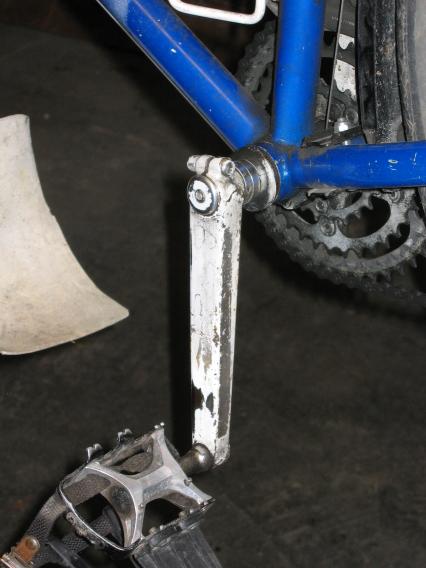 ---
Another view, showing the arm section is rectangular.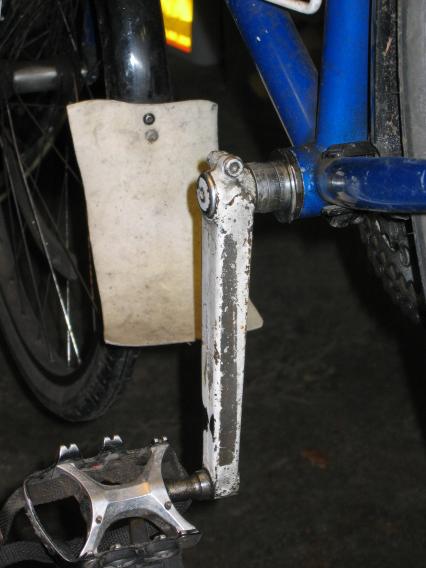 ---
Spline that goes inside the pinch clamp, and hole the key fits through.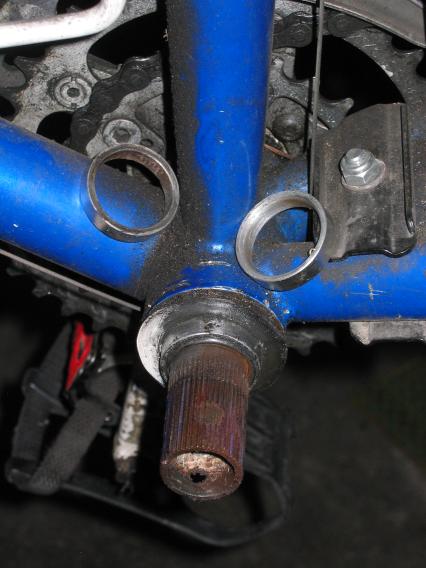 ---
IRD "keeper" — note the two ends are different diameters since one overlaps the spindle to press on the left arm.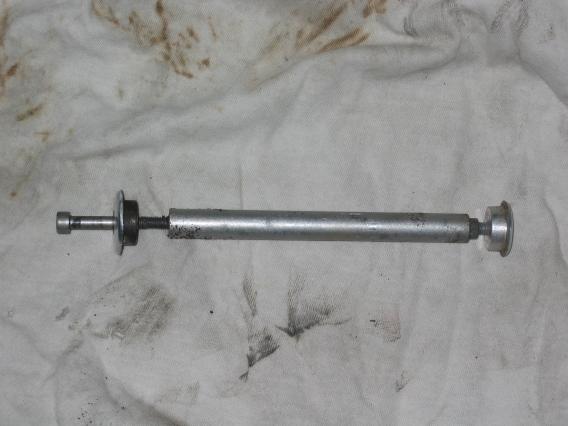 ---
Underside view showing right arm welded to spindle.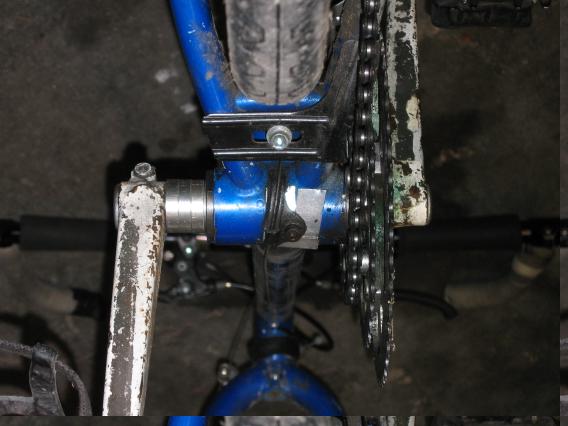 ---
Newer crank with welded-in threads to use an axial bolt. This one replaces the usual Bullseye hex bolt or button screw with a countersunk Allen-head bolt.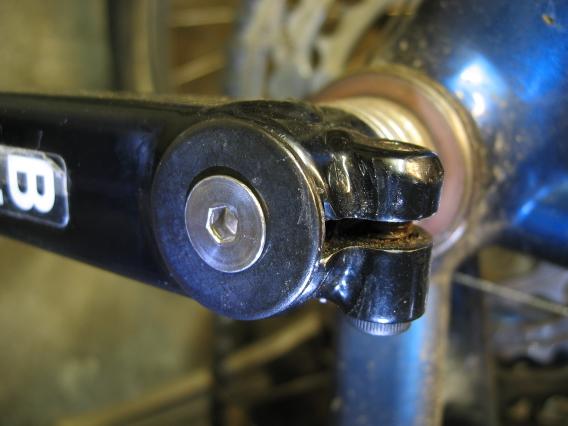 ---
Here's a different model, the "Safety" crank, which uses an oversize right arm that bolts on to a flanged spindle.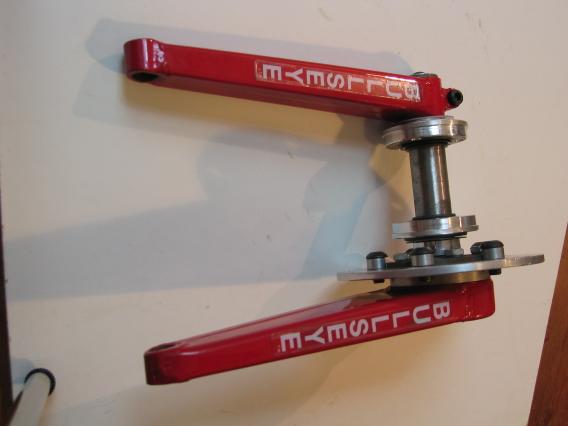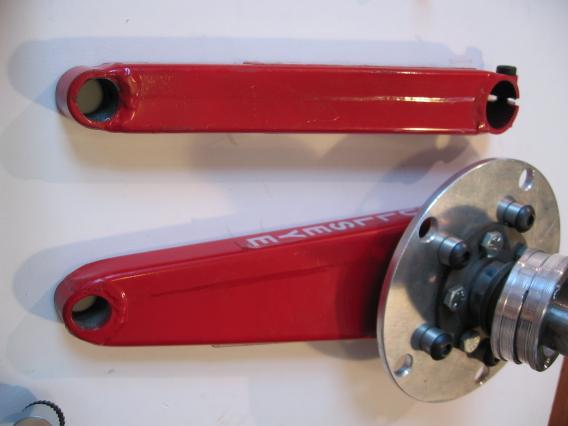 ---
Bullseye inspired many other cranks — here is a BMX crank using two arms that bolt on with pinch clamps and which uses an axial bolt. The pinch bolt uses fine threads and a much larger bolt that can be much tighter.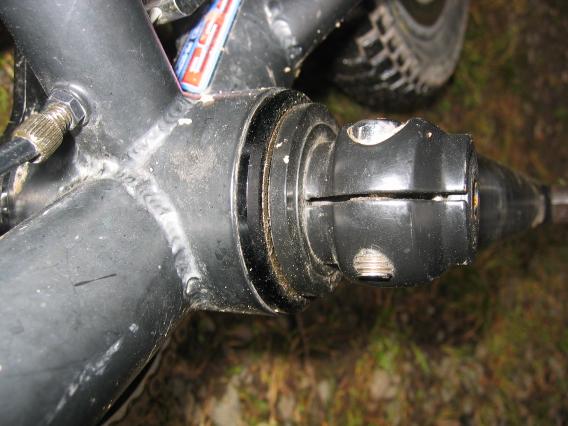 ---
Shimano Ultegra SL modification — Shimano supplies a knurled tool to tighten the axial bolt from 0.7 N-m to 1.5 N-m. However, there is no way to use a torque wrench on it. Here, the axial bolt is drilled and a bolt taking a 4mm Allen key is run through with LocTite&tm; and a nut on the back side. The original tool no longer fits, but this allows use of a torque wrench and means field service, installing and removing the cranks for travel, etc., no longer requres the special tool. It also means thieves don't need the special tool...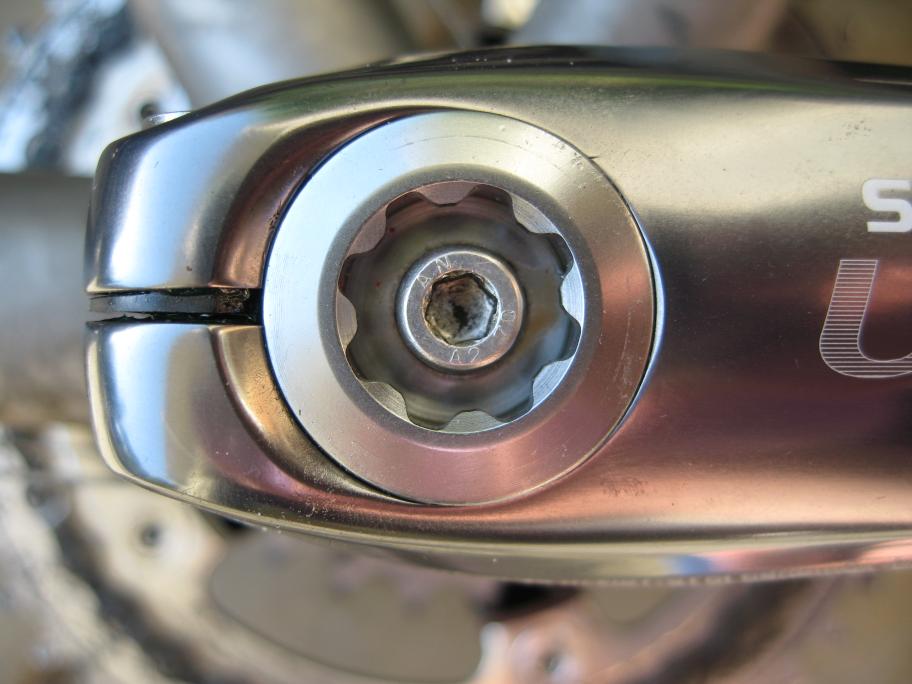 ---
Mavic 631 "starfish" crank: