Broken Campagnolo Crank
See other failures under 000.html.
---
Campagnolo "Grand Sport" crank, failed near pedal eye, at the end of the vanity groove.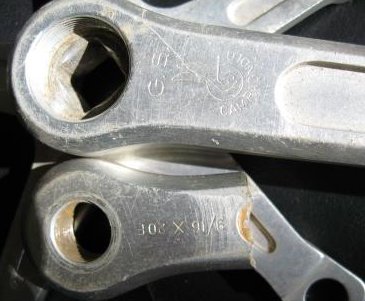 Crank failed after less than three years of vigorous use by a rider weighing about 80 kgf.
Failed while climbing a hill; rider was thrown suddenly to the ground.
Rust on the pedal portion is due to sitting in rusty water and was not present at the original failure.
"Beach marks" indicate a crack progressing from the outer face to the inner until the section was reduced enough to cause sudden failure.
---
See also FAIL-118.html